Jacob Oliva
Associate Content Editor
Jacob is a poet, a singer/musician, and an enthusiast of anything with wheels. He has a passion about cars and writing, which sprung from his ability to create music and poetry. A bit of a stretch, yes, but it plays out for him as AutoDeal's Associate Content Editor.
@jacobo_sing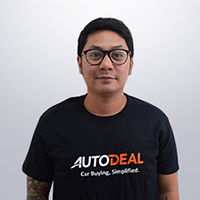 Even bigger than the now-defunct Tribeca.

Yellow lanes are for yellow plates. Easy, right?

What best way to commemorate 100 years than a special edition pickup truck.

Yes, trillion. And a huge chunk of the investment is for electric mobility.

We can feel the midsize SUV's presence in this all-new off-road concept.

Nissan's people-mover gets a new face.

And Musk is dead-solid about this claim.

From smaller than subcompact to 8-seater midsize.

But seriously, what's up with hexagon grilles?

7-seater SUVs are popular to family car-buyers. Should the mu-X be one of your top choices?

3.9

/

5

Banking convenience at its finest.

Heading out during the long weekend? Take note of these roads to avoid.

Well, that's one classy pickup truck.

4 cars from Kia are contending to be the highly-coveted World Car of the Year.

With words coming out of Honda's CEO, we can't help but wonder.

Get Notified

Do you want to be the first to know about the latest automotive deals? Just subscribe with your email address and we'll send you alerts on the most incredible deals as they happen.

HUDs promote safety…and a whole lot of coolness.

This new powertrain tech embodies the future of Hyundai cars.

Does the Accent stay true to its original charm to Filipino buyers?

3.6

/

5

This year, there are more electric car concepts than ever, which tells us that we are heading towards an electrifying future for mobility.

The Honda Civic Type R might feel a little nervous right now.

We seldom write about the SEMA auto show. But this time, we'll make an exception.

The future of Mazda cars is here.

Don't let your eyes do the talking.

4.0

/

5

But still mum about the Eclipse Cross releasing outside China.

Great cars that come with even greater deals — what more can you ask for?

Owning a blue oval is going to be a lot easier with these offers.

It's now safer than ever without changing its price tag.

Clowns shouldn't be given driver's licenses, really.

Motorists, please be advised.

Audi Philippines aims to challenge the luxury compact SUV segment with their best-selling model.

The new concept vehicle aims to redefine what you currently know about vehicle classifications.

This is the first-ever PHEV from Land Rover…and it's looking really good.

The Isuzu Crosswind-Mitsubishi Adventure rivalry is about to bid goodbye.

Here's a throwback to one of the greatest rally cars to ever roll the streets.

The blue oval is reducing costs and will make more models that customers demand.

It was a night of music, celebrity appearances, and prizes to delight enthusiasts and bikers alike.

The roadshow features immersive Sony PlayStation games that's open to the public.

The Japanese automaker revealed their would-be lineup at the show, particularly an all-new sports car concept.

Could this be the dark horse of the emerging subcompact crossover segment?

4.2

/

5

It looks like the EV trend catches the attention of non-carmakers as well.

Typical subcompact crossover styling with impressive tech features up its sleeve.

For businesses, a safe and efficient workhorse is a vital part of their operation — and that's when Pioneer comes in.

The new dealership is under Regis Global Cars, Inc.

Who says 7-seaters can't look sporty?

4.0

/

5

With increasing demand for SUVs comes a higher need for high-performing tires that can get the job done.

It's a 6-year strategic accord by the 3 carmakers to increase revenue and productivity.

If you're a fan of this iconic 4x4, you probably haven't moved on from its demise yet.

Yes, it has practical uses you may not know of.

With this year's "Experience Sheer Driving Pleasure" theme, it looks like ACC is ready to show us what the true joy of driving is all about.

The 2018 X-Trail is now here with a new face and a lot of advanced safety features that car buyers will surely love.