Jacob Oliva
Associate Content Editor
Jacob is a poet, a singer/musician, and an enthusiast of anything with wheels. He has a passion about cars and writing, which sprung from his ability to create music and poetry. A bit of a stretch, yes, but it plays out for him as AutoDeal's Associate Content Editor.
@jacobo_sing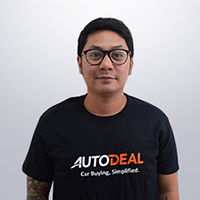 For businesses, a safe and efficient workhorse is a vital part of their operation — and that's when Pioneer comes in.

The new dealership is under Regis Global Cars, Inc.

Who says 7-seaters can't look sporty?

4.0

/

5

With increasing demand for SUVs comes a higher need for high-performing tires that can get the job done.

It's a 6-year strategic accord by the 3 carmakers to increase revenue and productivity.

If you're a fan of this iconic 4x4, you probably haven't moved on from its demise yet.

Yes, it has practical uses you may not know of.

With this year's "Experience Sheer Driving Pleasure" theme, it looks like ACC is ready to show us what the true joy of driving is all about.

The 2018 X-Trail is now here with a new face and a lot of advanced safety features that car buyers will surely love.

It gets redesigned from ground up, as well as added substantial updates in tech features called Nissan Intelligent Mobility.

The best part is, it covers all Hyundai vehicles even those with expired warranties.

The British marque seems to have felt the pressure brought about by UK's direction in regulating cars.

Some of the security features of the new driver's license aren't visible to the naked eye.

A hybrid C-HR is on its way in Europe…and the Philippines has yet to get a regular one.

The SSI study examines new-vehicle purchase experience based on 6 factors that contribute to overall satisfaction.

Allergic rhinitis, also known as hay fever, won't be a problem with this new technology by the German marque.

Studies show that DRLs have more chances of saving your life than making your car look good.

The MINI Electric concept is a continuation of BMW Group's electric car commitment in the past decade.

The study includes the emotional impact of the brand and model's reliability, driving excitement, and the whole dealership experience.

With the new system, driver's license cards are to be released the same day.

The new GLA compact crossover is ready to take on the more active lifestyle of the millennials.

It's the class underdog on paper, so we test one to see if it's the same with the actual drive.

3.8

/

5

It's a mandatory training program for those who drive vehicles for public transport.

With its nameplate, one can't help but think that this car is only made for the urban jungle. However, is it really just meant to be driven in the city?

4.1

/

5

A new competitor to the MPV segment has been revealed.

The next-generation smallest Kia car gets an imposing new design.

Imagine unlimited road trips without paying anything for your gas.

And the most likely to reach the Philippine shores.

Tata Motors wants to penetrate the flourishing local commercial vehicles segment.

Can Mazda's compact sedan compete with the rest of its competitors? Here's what we think.

4.1

/

5

The 1,200-square meter showroom can showcase up to 12 vehicles.

If speed is what you're looking for, this EV luxury sedan should be on your list.

Get Notified

Do you want to be the first to know about the latest automotive deals? Just subscribe with your email address and we'll send you alerts on the most incredible deals as they happen.

The all-new Mazda CX-5 is among the latest in their lineup to get the coveted rating.

It seems like Honda Cars Philippines is testing the waters by selling only 100 units of the Type R.

We are at the crossroad and we're not entirely aware of it.

It's all about not touching your phone, really.

Kilometer markers may look primitive and out-of-date but when the time comes, they can be pretty useful.

Metro Manila can use one of these…then there's EDSA.

Head on to Landers this Friday to get huge discounts on diesel and gasoline.

The midsize SUV segment gets another option with this new offering of the Kia Sorento.

The Japanese marque's small SUV and hatchback get 1-Up this year.

Honda left some for your imagination, probably to make you forget the fact that there's no more V6 for the Accord.

Along with subtle exterior and interior changes come performance enhancing updates that brings out more joy in driving.

The all-new 2018 Honda Accord goes for smaller engine options.

MMDA Chairman Lim sees 'discipline' is the main solution to our country's worsening traffic problem.

Here's what we think about MINI's first and only diesel-powered model sold locally.

4.0

/

5

Does it really have an Asian heritage?

The new and improved V-Power fuels will make your drive more powerful and fuel-efficient.

The move was uncalled for yet necessary, as MMDA disclosed that from October 2016 to May 2017, a total of 1,263 Number Coding exemptions were released.

These special deals are for select Chevrolet vehicles such as the Trailblazer midsize SUV, Colorado pickup truck, Sail subcompact sedan, and Trax subcompact crossover.