Jacob Oliva
Content Editor
Jacob is a poet, a singer/musician, and an enthusiast of anything with wheels. He has a passion about cars and writing, which sprung from his ability to create music and poetry. A bit of a stretch, yes, but it plays out for him as AutoDeal's Content Editor.
@jacobo_sing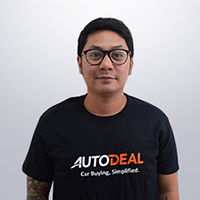 BAIC Philippines' entry to the small MPV market offers its own take on comfort and style. Meet the M50S Ultra Luxury.

3.9

/

5

The Japanese marque's newest SUV is looking good in terms of sales and popularity. Add its safety ratings to that, as well.

At long last, the fifth-generation model of Hyundai Philippines' best-selling nameplate made its way into the country.

The second wave of Volkswagen Philippines' lineup revamp is here, and the Lamando midsize sedan takes the lead.

Crossovers have become a popular segment in the Philippines. Here are our top picks of crossovers we've driven this year.

BAIC Philippines lent us its most-compelling nameplate to see if it has what it takes to tickle the hearts of Filipinos.

3.8

/

5

Mazda's compact car takes center stage in Los Angeles, with the Skyactiv-X technology breathing life to the '3'.

Mitsubishi Japan jumpstarts the D:5 Delica nameplate, and it's crossing the boundaries of SUVs, MPVs, and vans with two variants to boot.

The range-topping EcoSport EcoBoost may have a smaller engine, but it's not something to be belittled. Here's our full review.

4.0

/

5

The Philippine-spec Rodius has been secretly given an update by SsangYong to spruce up the capable family vehicle.

Ford is complying to the needs of China, including the market's hatred towards the addicting smell of a new car.

We took the Suzuki Jimny for a (really) quick spin to see if it retains its charm as a cute and boxy mini off-roader.

The 2018 ASEAN NCAP Grand Prix Awards has been concluded, and Honda's best-selling crossover takes home the bacon this year.

With millions of units sold worldwide, the Suzuki Swift is definitely an attractive compact runabout, more so, in its all-new trim.

4.0

/

5

The Philippines-spec Suzuki Swift gets another go at the ASEAN NCAP, and it did well this year with four stars to boot.

The Honda Jazz is a great car in its RS guise, but does it still bear its charm without the additional aesthetic flairs?

4.0

/

5

Is Ford Philippines' best-seller even better than before?

Learning the ropes of driving isn't really hard when you're in the right car.

Plain-looking? Yes. Ordinary? Hell no.

4.2

/

5

The forefront of my "and yet" list of cars.

3.3

/

5

Details are still vague at this point, but we're already excited.

Expect to feast your eyes on these cars next week.

It's the biggest in the brand's SUV lineup, with equally huge tech features to boot.

The crossover MPV-SUV is making its way to the Philippine shores.

Bow down to the new King.

The Chinese-made British brand has a promising set of vehicle lineup.

When mid-variants are just as awesome as the range-topper.

4.2

/

5

Plus, a chance to get discounts and a free Scheduled Service Plan.

The North American model gets minor updates for 2019.

Both are within the same price range but are in many ways different from each other.

Choose to drive this German subcompact sedan through DRAC.

Interesting news from the Japanese carmaker.

It's the seven-seater that most of you have been waiting for.

3.4

/

5

Are you ready to experience the first-ever Ranger Raptor?

Taking baby steps toward electrification in the Philippines.

Hurry! This offer lasts until the end of this month only.

It will join VW, Honda, and Isuzu in Ayala Corp.'s portfolio of cars.

These are available for a limited time only, with discounts to boot.

Pre-orders and reservations have started in Europe.

Exports from the Indonesian plant to increase from 30,000 to 50,000 units.

Five engine choices and an upcoming plug-in hybrid by 2020.

The German marque spruces up its compact crossover/MPV/minivan.

All of Suzuki passenger cars will be there, including the all-new Swift and Dzire.

This might very well be the most expensive tweet. Ever.

Well, scary for Bugatti and other hypercar-makers.

The car that started the compact crossover SUV revolution in the Philippines.

3.8

/

5

Warning: the video is kind of NSFW.

The road to electrification and optimized gasoline-powered performance vehicles for Porsche is clear.

The result is uncanny, yet somehow expected.

Is it really worth celebrating about?