Jacob Oliva
Content Editor
Jacob is a poet, a singer/musician, and an enthusiast of anything with wheels. He has a passion about cars and writing, which sprung from his ability to create music and poetry. A bit of a stretch, yes, but it plays out for him as AutoDeal's Content Editor.
@jacobo_sing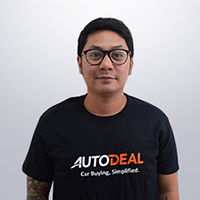 The forefront of my "and yet" list of cars.

3.3

/

5

Details are still vague at this point, but we're already excited.

Expect to feast your eyes on these cars next week.

It's the biggest in the brand's SUV lineup, with equally huge tech features to boot.

The crossover MPV-SUV is making its way to the Philippine shores.

Bow down to the new King.

The Chinese-made British brand has a promising set of vehicle lineup.

When mid-variants are just as awesome as the range-topper.

4.2

/

5

Plus, a chance to get discounts and a free Scheduled Service Plan.

The North American model gets minor updates for 2019.

Both are within the same price range but are in many ways different from each other.

Choose to drive this German subcompact sedan through DRAC.

Interesting news from the Japanese carmaker.

It's the seven-seater that most of you have been waiting for.

3.4

/

5

Are you ready to experience the first-ever Ranger Raptor?

Taking baby steps toward electrification in the Philippines.

Hurry! This offer lasts until the end of this month only.

It will join VW, Honda, and Isuzu in Ayala Corp.'s portfolio of cars.

These are available for a limited time only, with discounts to boot.

Pre-orders and reservations have started in Europe.

Exports from the Indonesian plant to increase from 30,000 to 50,000 units.

Five engine choices and an upcoming plug-in hybrid by 2020.

The German marque spruces up its compact crossover/MPV/minivan.

All of Suzuki passenger cars will be there, including the all-new Swift and Dzire.

This might very well be the most expensive tweet. Ever.

Well, scary for Bugatti and other hypercar-makers.

The car that started the compact crossover SUV revolution in the Philippines.

3.8

/

5

Warning: the video is kind of NSFW.

The road to electrification and optimized gasoline-powered performance vehicles for Porsche is clear.

The result is uncanny, yet somehow expected.

Is it really worth celebrating about?

This pickup truck isn't for those with faint hearts.

Ford Philippines' best-seller just got better.

Base variants aren't such a bad deal after all.

3.6

/

5

Shots fired at you, Mercedes.

The multi-year, global partnership will take effect by 2021.

The Italian brand begs you to not call its biggest car an SUV. Ever.

It's not just about the colors, but with the bold flavors as well.

The inspection and replacement will be free of charge.

Wouldn't it be nice to see this concept become a reality?

Seriously, what's up with these radical-looking EV concepts these days?

The Vision Urbanetics sits on an all-electric, self-driving modular platform.

We ran out of French to describe this well-crafted and versatile seven-seat crossover.

4.2

/

5

Here's a car that should come here sooner than later.

Hate to say this but we told you so, right?

Filed under: Things you see on the road.

Because regular sound systems are so last year.

Price is king, but your life depends on these features you often neglect.

A bold move from a brand that's trying to break a stigma.

3.5

/

5

Whether during or after sales, customer satisfaction is an important factor in car buying.