Jacob Oliva
Content Team Lead
Jacob is a poet, a singer/musician, and an enthusiast of anything with wheels. He has a passion for cars and writing, which sprung from his ability to create music and poetry. A bit of a stretch, yes, but it plays out for him as AutoDeal's Content Team Lead.
@jacobo_sing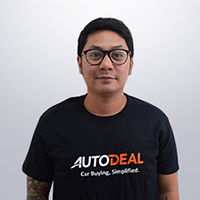 Take a Ford Ranger Raptor. Remove the more rigid chassis, Fox suspensions, and the gritty body kits – you get a 2.0 Wildtrak 4x4 Biturbo.

4.3

/

5

Someone gave us the pricing of the 2019 Suzuki Jimny, although let us still take this with a grain of salt.

Armed with its new look, will the 2019 Hiace continue to be the best-selling van in the country?

We got the all-new Toyota Camry for a week and here are our thoughts.

4.0

/

5

The Xpander-derived Nissan MPV is set to be revealed on February 19, 2018.

Toyota's midsize sedan is inching closer to the edge when it comes to the tech features it offers.

Whether you're off to a road trip or just on a casual city stroll, car features are an essential part of a successful Valentine's date.

Compact crossovers have become a niche market, but the GS4 is here to change the game.

4.1

/

5

The GS4 has its fair share of flaws – tech and safety features aren't part of them.

The all-new Camry gets a perfect score in the latest ASEAN NCAP rating, but there's a catch.

The brand's well-loved compact crossover gets a full-blown makeover inside out.

We took the newly-launched Toyota RAV4 to a quick spin, and here are our thoughts.

The Hyundai Kona is the brand's third entry to the Philippine subcompact crossover segment.

3.9

/

5

We dug deeper to see if the 2018 Kona has the right mix of tech and safety features in relation to its price.

If minimalist interior amenity is what you're looking for, you're in the right place.

The production of Supra's little brother has been confirmed by Toyota Australia's boss.

Spy shots and renders of the all-new Hiace surfaced the web, and it looks like it's going to be unveiled soon.

Subaru has unveiled the all-new 2020 Subaru Legacy at the Chicago Auto Show.

Filipinos are addicted to seven-seaters. In fact, four of the best-selling cars in the Philippines in 2018 have seven seats.

The MMDA has been deputized to handle anti-jaywalking ordinances across Metro Manila.

Hours after the 2019 Kia Soluto made its Philippine debut, Hyundai Philippines released its Reina sedan online. Shade.

Poster-worthiness is one thing, but the actual number of inquiries is the one that should matter, even for premium brands.

With an all-new model, two facelifted cars, rebooted after-sales service offerings, and revamped pricing for the whole range, the future of Kia Motors Philippines looks good.

We checked the 2019 Soluto's spec sheet to see if its relatively small price tag comes with great value.

We take a look back at the automotive photographs we took last year to see which ones stood out.

Armed with compelling looks and several tech features, the S3 is an attractive alternative in the sea of crossover options today.

3.7

/

5

The S3 is filled with features that should make it an attractive choice among car buyers who are into high-tech and convenient stuff inside their cars.

The quality of materials and the way each part of the car's cabin radiates its overall vibe is almost as essential as its ride comfort.

With its array of high-tech features, the 2019 Forester is more capable than before even with its 2.0-liter engine.

The Autocentral Group is bringing the 2019 Ertiga to its patrons in the Queen City of the South.

New face, new engine, new cabin – the all-new Suzuki Ertiga gets a major revamp for this year.

Road usage is not limited to cars, motorcycles, and bicycles – we should be wary of pedestrians as well.

Against all odds, the GA4 compact sedan can change your mindset about Chinese cars.

4.2

/

5

It's a newcomer in the compact sedan category and yet, it can outdo the mainstays when it comes to its list of tech and safety features.

The car's interior is one of the reasons why you'll keep a vehicle for a long time, and the GA4 is a winner in this regard.

Introducing, G-Vectoring Control – the first in the series of SKYACTIV-Vehicle Dynamics that aims to further improve the experience of driving.

There's a new Toyota coming – and here are our guesses on what it would be.

Is the Veloster N really up for grabs for the local motoring enthusiasts?

The Toyota Supra makes a commanding return after almost two decades of absence, along with countless teasers and leakages.

Oxymorons, when it comes to describing cars, don't always work, but SsangYong did it anyway with the Tivoli Premium Sport.

4.3

/

5

The SsangYong Tivoli is more than just good looks – it's a well-specced crossover at its price point.

Aside from its great exterior design, the 2019 Tivoli employs a neatly-styled cabin to satisfy your daily drive.

The Blue Oval's full-size crossover is now more powerful and goes back to its roots.

Why buy a midsize seven-seater SUV if minivans are the better choice for your family?

The HR-V is good, but is it good enough for its price?

4.0

/

5

The facelifted HR-V kept its plethora of tech features to match its hefty price tag. Good deal.

With its upgraded interior amenities and commendable cargo area, the Honda HR-V remains to be a livable subcompact crossover.

In the agency's Roadmap 2021-2025, the safety of other road users such as motorcyclists have been given a priority.

Aside from supercars, here are the cars we're really excited to get our hands on soon.

Lexus' flagship sedan scored a stellar 4.7 out of 5 points, the highest in our in-depth reviews. Here's why.