Jacob Oliva
Content Editor
Jacob is a poet, a singer/musician, and an enthusiast of anything with wheels. He has a passion about cars and writing, which sprung from his ability to create music and poetry. A bit of a stretch, yes, but it plays out for him as AutoDeal's Content Editor.
@jacobo_sing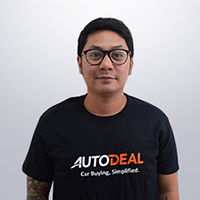 The result might surprise you.

We really like how the Fiat engineer stayed in character during the testing.

Aside from being safer, it's also easier and more convenient.

The second best-selling Honda in 2017 proves why it's popular to Filipino buyers.

3.7

/

5

An executive sedan with a massive and unique spindle grille.

Available in sedan, hatchback, and wagon.

A luxury family car powered by a V6 — that's the RX 350 for you.

4.6

/

5

Patience is indeed a virtue.

And it comes with a manual transmission variant.

Now, where is its hatchback brother?

You won't be left drooling for the country's hottest cars at the auto show. Go ahead and apply for one.

The brand's midsize sedan looks incredibly stunning.

The only BMW M1 in the Philippines will be on display. Period.

The fourth model to sit atop the all-new Subaru Global Platform is here.

Believe it or not, this midsize SUV is value-packed, even with its hefty price tag.

4.2

/

5

New standardized pricing starts April 2018.

Small high-output engine with frugal fuel economy figures? Check.

4.0

/

5

Available in the nearest Isuzu showrooms soon.

These are the future of Philippine public transportation.

You can't really judge a book by its cover, especially if it has VGT under its hood.

3.9

/

5

The VIZIV concept is a pretty thing to look at, even in its wagon form.

Can this car still offer great value even after almost a year of being in the market?

3.9

/

5

"I bless the rains down in Africa."

Ford Philippines sure felt the surge for pickup trucks last month.

All thanks to the Dynamic Torque Vectoring and ratchet-type dog clutches.

We now have the complete Philippine-specs, photos, and details.

Without losing its value, the Wildtrak gets a lower price this year.

4.1

/

5

These can be shipped worldwide, by the way.

You can now reserve for one of the hottest cars of the year.

And they're looking really great.

Does the change of target market affect the integrity of its nameplate?

3.8

/

5

Get Notified

Do you want to be the first to know about the latest automotive deals? Just subscribe with your email address and we'll send you alerts on the most incredible deals as they happen.

These limited edition variants really look good.

Which of these MPVs would you go for when they hit the local showrooms?

What can Porsche's sport estate offer aside from its 5-seating capacity?

We tried hard to explain these things in layman's terms. Well, we tried.

It's diesel-powered and a 7-seater. What else can this all-new crossover offer?

4.3

/

5

Is the smaller pony car really something that should be frowned upon?

4.2

/

5

A comfortable car boasting more than a handful of guns, that's the all-new CR-V for you.

For us, this is the best-looking mini subcompact hatchback sold locally.

3.9

/

5

Seems like the South Korean marque can't contain their excitement.

How well do you know your car?

The all-new MPV is expected to hit the showrooms by mid-2018.

We drove the dressed-up Jazz RS to find out if it's worthy of its sticker price.

4.1

/

5

Or any busy road, for that matter.

The Tivoli subcompact crossover led the way for the South Korean brand.

Visayas and Mindanao prices are to follow.

It's a fast, diesel-fed Korean crossover that comes with uniquely good looks.

4.2

/

5

Take note, though, that fuel price adjustments in the world market also affect its local retail value.

This 34-km 6-lane highway aims to alleviate traffic flow in EDSA and C-5.

It looks tough and beefy but we really don't know what to feel about that rear bed.