Jacob Oliva
Content Editor
Jacob is a poet, a singer/musician, and an enthusiast of anything with wheels. He has a passion about cars and writing, which sprung from his ability to create music and poetry. A bit of a stretch, yes, but it plays out for him as AutoDeal's Content Editor.
@jacobo_sing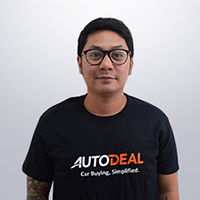 Does the change of target market affect the integrity of its nameplate?

3.8

/

5

These limited edition variants really look good.

Which of these MPVs would you go for when they hit the local showrooms?

What can Porsche's sport estate offer aside from its 5-seating capacity?

We tried hard to explain these things in layman's terms. Well, we tried.

It's diesel-powered and a 7-seater. What else can this all-new crossover offer?

4.3

/

5

Is the smaller pony car really something that should be frowned upon?

4.2

/

5

A comfortable car boasting more than a handful of guns, that's the all-new CR-V for you.

For us, this is the best-looking mini subcompact hatchback sold locally.

3.9

/

5

Seems like the South Korean marque can't contain their excitement.

How well do you know your car?

The all-new MPV is expected to hit the showrooms by mid-2018.

We drove the dressed-up Jazz RS to find out if it's worthy of its sticker price.

4.1

/

5

Or any busy road, for that matter.

The Tivoli subcompact crossover led the way for the South Korean brand.

Visayas and Mindanao prices are to follow.

It's a fast, diesel-fed Korean crossover that comes with uniquely good looks.

4.2

/

5

Take note, though, that fuel price adjustments in the world market also affect its local retail value.

This 34-km 6-lane highway aims to alleviate traffic flow in EDSA and C-5.

It looks tough and beefy but we really don't know what to feel about that rear bed.

We test the refreshed X-Trail with its whole new arsenal of intelligent features.

4.1

/

5

All from the eyes of car nuts.

Maximizing the individuality and creativity of MINI owners.

More chrome for Toyota's luxurious MPV.

This SUV's cabin feels like home even on long drives.

4.1

/

5

The hatchback loses its 'stache but gets a better-looking grille.

A bigger and more mature Tivoli for your family.

4.0

/

5

4 electrified engines were chosen for this year.

Sometimes we wish we live in Europe.

Can this midsize pickup truck deliver on different types of roads? Read along.

More EVs on the road means less CO2 emissions.

Guess it's high time people carpool to work.

South Korean carmakers sure made a statement after this year's Fuel Eco Run.

Get Notified

Do you want to be the first to know about the latest automotive deals? Just subscribe with your email address and we'll send you alerts on the most incredible deals as they happen.

Not to mention, it's a whole lot sexier than before.

Even bigger than the now-defunct Tribeca.

Yellow lanes are for yellow plates. Easy, right?

What best way to commemorate 100 years than a special edition pickup truck.

Yes, trillion. And a huge chunk of the investment is for electric mobility.

We can feel the midsize SUV's presence in this all-new off-road concept.

Nissan's people-mover gets a new face.

And Musk is dead-solid about this claim.

From smaller than subcompact to 8-seater midsize.

But seriously, what's up with hexagon grilles?

7-seater SUVs are popular to family car-buyers. Should the mu-X be one of your top choices?

3.9

/

5

Banking convenience at its finest.

Heading out during the long weekend? Take note of these roads to avoid.

Well, that's one classy pickup truck.

4 cars from Kia are contending to be the highly-coveted World Car of the Year.

With words coming out of Honda's CEO, we can't help but wonder.