Joey Deriquito
Content Writer
Nothing excites Joey more than a tank full of gas and an open road. He yearns for knowledge, always studying and researching about cars. Many of his friends would say that his car is an extension of himself, always able to observe when even a single bolt is out of place.
@AutoDealPH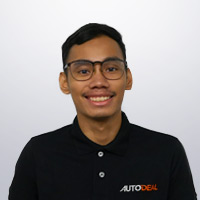 Suzuki launches its new Across plug-in hybrid crossover based on the RAV4.

Volvo issues a recall for 2.18 M vehicles that may have defective seat belts.

It appears that the updated Nissan Terra has been spotted doing public testing with a reworked rear.

Hyundai officially releases the new engine options of the 2021 Santa Fe.

Nissan is ready to unveil is all-electric crossover in the form of the Nissan Ariya on July 15, 2020.

A quick guide for understanding the differences between PS and HP

The online racing series will be open to all as long as they have a PS4, PSN, and the Gran Turismo game.

Jeep Philippines will soon be introducing its pickup truck the Jeep Gladiator into the local automotive market.

Images of the possible 11th generation Honda Civic sedan have surfaced online.

The actor will be using a Chery Tiggo 8 as his vehicle of choice for both his personal and professional use.

Mazda is set to launch a new variant of the Mazda 3 that now comes with a turbo.

The new leasing program will let users lease a Vios, Rush, Fortuner, or a Corolla Altis hybrid for a set time with a fixed monthly rate.

Toyota is set to launch a new Corolla based crossover by July of 2020 in Thailand.

The LTO will stop its issuance of student permits as it makes way for the roll-out of its new ACES system.

The new compact MPV is set to face off against the likes of the Toyota Innova.

The all-new Ford F-150 has officially been unveiled that now features a new front face with better and newer technology.

Kia introduces a new intelligent Manual Transmission that it says can improve your fuel economy by 3%.

The Honda City will now come with a turbo-diesel motor for the Indian market.

Based on the Hino 500 the FL 10-wheeler truck boasts impressive power and payload capabilities.

The Honda Civic sedan has been discontinued and is no longer on sale in its home market of Japan.

Toyota is giving back to Grab drivers with a new specific promo just for them.

It's big, it's long and it's back after originally being introduced into the Philippines in the late 90s.

Honda Japan launches the refreshed CR-V with a new variant dubbed the Black Edition.

After initially making its global debut in Thailand the Nissan Kicks is finally on sale in Japan

Hyundai, Kia, and LG Chem support start-ups for better battery technology in the future.

The Chery Tiggo 8 proves that it has got what it takes to satisfy its customers in terms of performance, design, and service.

Apple wants to change the game with regards to using your smartphone with your vehicle.

The new Geely sedan comes with the brand's signature styling along with Volvo's technology under the hood.

Kia's popular crossover the Seltos has been confirmed to get a new EV variant.

A small hatchback that is not only easy to drive but also comes feature-packed for its size.

Nissan puts a little more 'sporty' appeal to its Livina over in Indonesia.

The Nissan GT-R 50 shows off its racing prowess with a lap of the Tazio Nuvolari circuit.

Mazda showcases that the elegant BT-50 can still tough it out like the rest of them.

From its smartwatch to its 360-degree camera here are 5 things we like about the Tiggo 8 that make it a good purchase.

BMW has upped its game as it unveils the new M5 and M5 Competition that now comes with better handling and updated looks.

Through the efforts of Tuason Racing School and their partner Phoenix Pulse fuels they were able to raise over P200,000 in donations.

The Honda Jazz gets a slightly altered look as it enters the Chinese automotive market.

The 2021 Chevrolet Colorado has been unveiled in its Z71 trim-level with a new front face.

The 2020 Isuzu D-Max Boondock 4x4 officially goes on sale with a big discount for interested buyers.

Lexus updates its IS sedan to feature a refreshed look and more technology.

The 2021 Nissan X-trail officially makes its debut in the US with a new design and more tech.

Ford Philippines is set to launch a new model soon, as to what it is exactly is still anyone's guess.

Straight from the source itself Nissan releases a teaser image of the new 2021 X-trail and confirms its reveal date.

Tuason Racing finishes its Race For Frontliners series with a bang with celebrities during the final round.

Toyota officially launches the refreshed Toyota Wigo now with more tech.

The newest version of the Mazda BT-50 is set to launch with Isuzu underpinnings.

These new grilles could be part of the faces of new models or upcoming refreshes.

Toyota Philippines has confirmed that the refreshed Wigo will be launching on June 15 through Facebook and Youtube.

Chevrolet Korea has given its small hatchback the Spark a couple of new updates and a new variant.

When a brand new vehicle is out of budget, a certified pre-owned vehicle might just be the next best thing.