Joey Deriquito
Content Writer
Nothing excites Joey more than a tank full of gas and an open road. He yearns for knowledge, always studying and researching about cars. Many of his friends would say that his car is an extension of himself, always able to observe when even a single bolt is out of place.
@AutoDealPH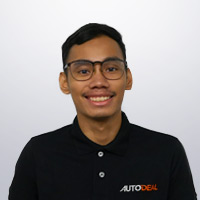 Isuzu PH aids Excel Trend Group of companies by turning over a QKR truck and D-Max pickups.

Toyota makes a docuseries about the Vios Racing Festival, which focuses on two different drivers from two different spectrums of racing.

Mazda launched the all-new Mazda3 but there was something missing with the car, a lack of a touch screen. Here is why we think that was a good call.

Suzuki PH starts H2 strong with 4th place in month-to-date sales and 5th in year-to-date sales thanks to its lineup of cars.

Isuzu PH brings back the Fuel Economy Challenge this 2019 featuring car clubs.

Along with the launch of the new Ford Everest, the Blue Oval also jumpstarts a service plan for the SUV and its Ranger sibling

Mazda PH finally launches the all-new Mazda3 Sedan and Sportback

Honda Philippines issues multiple recalls for units that may have a problem with airbags failing to inflate if the vehicle gets into an accident.

Photos have recently surfaced of what looks to be a new Mitsubishi sedan but with a twist.

Toyota offers you the chance to see the Supra up close at personal at select GR dealerships nationwide.

Maxus Philippines will display four of its G10 and V80 vans during the Transport and Logistics Philippines event.

Nissan PH issues a statement that it won't be shutting down the Sta. Rosa Plant despite the global financial woes.

Toyota sent us an official email regarding a vehicle that would be launched on September 9, 2019 describing it as redefining a well-loved model.

Isuzu PH turns over 16 PUVs to a transport coop in Bulacan to help with Jeepney modernization

Ford Philippines recently launched the refreshed 2020 Everest with a new engine, transmission, and a host of new features.

Hyundai recently donated computers to the Marawi City National Highschool, as well as vehicles to the local Gawad Kalingan in the area.

Nissan Philippines Inc. recently opened a new dealership in Valenzuela. This makes it its first dealership in the city.

Toyota celebrates 31 years in the Philippine market with its Anniversary Extravaganza.

Knowing when to renew your motorcycle doesn't have to be as hard as you think. Here are a few tips to help you remember.

Toyota wants to help push electric vehicles into the public eye. To do this they partnered up with DLSU and other universities to show students the future of the automotive landscape.

Mitsubishi Motors Philippines Corp. announces price increase on certain models in its lineup.

Toyota PH opens its dealership in Valenzuela making it the 70th dealership they have nationwide.

Foton PH recently showcased its F-Jeepney and joined a DOTr and LTFRB run caravan event that helps the public understand the importance of jeepney modernization

The Lexus Design Awards 2020 now on its eighth year are now accepting entries. Six lucky finalists will have their design displayed at the Milan Design week.

Being towed is often not a pleasurable experience as it can be expensive on top of being stressful. Here is a quick guide of what you need to know when you get towed or if you want to tow yo...

Toyota PH is set to launch the Hiace Super Grandia on Aug to finally complete the line up of new 2020 Hiaces.

Mazda wants to re-term the Mazda3 hatchback into a Sportback as a way to promote the vehicle's spotier more premium appeal.

Ford brings back Ford Island Conquest test drives with the refreshed Everest.

Hyundai PH wants to fully support the introduction of EVs into the Philippine automotive market by working closely with the government.

Honda introduces Limited edition versions of the Jazz and the City

The Muhlach family is now the new endorser of the Toyota Innova in their new video

The Land Transportation Office is taking steps in order to catch up with a backlog that started in 2014.

A recently concluded study by J.D Power found that first-time buyers are less satisfied compared to repeat buyers. The secret is in the details.

MG Motor and Liverpool FC have extended their existing long-term regional partnership to now incorporate global markets.

Suzuki has gotten to the 6th spot in auto industry thanks to sales of its top three vehicles.

Ever wonder why diesel vehicles aren't being sold with a CVT? Read the article to find out

Those who park illegally have their days numbered, President Duterte gave Metro Manila Mayors 60 days to fix the illegal parking problem.

MG Philippines teams up with ONE championship to give one lucky winner a chance to bring home a new car and other goodies.

Nissan is set to cut at least 10% of its global line up by 2022.

Hyundai gives local barangays access to mobile clinic help fight breast cancer.

Nissan ramps up their marketing for the 2020 Juke with yet another teas

With most of Toyota's lineup being fairly new, it's a guessing game as to what new model is coming.

Nissan is financial trouble thanks to former CEO but now wants to regain ground by cutting 12,000 jobs and closing down selected plants across the world.

DPWH secretary Mark Villar announces the opening of the C5 Southlink that hopes to reduce traffic between Paranaque and Taguig

Nissan celebrates the 50th Moon Landing Anniversary with a list of tech features used in Nissan vehicles today.

The Blue Oval company wants to give you five reasons as to why the Expedition is a standout car

Mark Villar announces the partial opening of skyway stage 3

BMW PH launches the X7 and it's a big car with a big price tag to match.

Hailing from the success of last year's Fun Fair Test Drive, Suzuki back at it again with test drives for all.

Ford released a video of a prototype all-electric F-150 towing more than a million pounds of weight.