Joey Deriquito
Content Writer
Nothing excites Joey more than a tank full of gas and an open road. He yearns for knowledge, always studying and researching about cars. Many of his friends would say that his car is an extension of himself, always able to observe when even a single bolt is out of place.
@AutoDealPH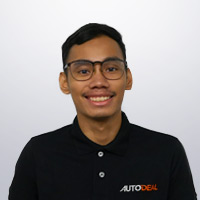 New financing options from Nissan and EastWest Bank, moving forward.

Ford Philippines offers a 20% discount to ford vehicle owners who are affected by Taal volcano's ashfall.

The Chinese-made British marque now has a total of 24 dealerships in the country.

A new feature to help with evacuation and navigation

A couple of new tweaks for Mitsubishi's popular 7-seater MPV.

Two Japanese brands to team up to make fuel cell-powered vehicles

A new innovation from Nissan that will give your car a quieter and more comfortable ride.

Electric vehicles are the future of transportation, and the Philippines will soon join the fray.

The world's number 1 automaker wants to take the fight to the skies

Kia Philippines posts an impressive sales growth in 2019, thanks to the Soluto, Seltos, K2500, and Carnival.

MG ZS gets a new face for the 2020 model year

Why the Bajaj RE could be the modern tricycle replacement.

Nissan gets a new Vice President for communications in Asia and Oceania

BYD Philippines helps you choose between which electric vehicle could be for you

What are the things you'll like about the MG ZS apart from its attractive price tag?

Suzuki finishes 2019 strong with a sales increase and new Vice President

New EVs, Outlander PHEV, and new dealership charging stations – Mitsubishi Philippines has an electrifying future ahead.

Car care tips to keep your vehicle in top shape from the Blue Oval

Read on to find out what Honda did to refresh the Civic Type R.

A couple of tips on how to help protect your vehicle from ashfall

The range of the price tag increase varies per variant, from P10,000 to P36,000.

A new product to help your drive get a little bit safer

Another dealership is added to the Japanese brand's growing portfolio.

Hino Philippines opens a new dealership in Tacloban

Rap meets '90s JDM legends in Travis Scott's newest album and music video.

Hyundai strengthens its partnership with Victory Liner with the addition of 50 new buses

The Mactan dealership will be the Diamond brand's 55th in the country.

We take a look at the meaning behind Toyota vehicles sold in the Philippines.

The Chevrolet Suburban finally gets a star along the Hollywood boulevard.

Hyundai's solution to the growing traffic problem is somewhat expected.

Another surprise from the 2020 Consumer Electronics Show coming in from Sony.

New year, new prices for select models in Toyota's lineup

2019 new global car sales are on a steep dip and here's why.

Read on to find out just how the 12th generation Corolla Altis got a 5-star safety rating

Read on to find out what the top 10 global automotive brands are for 2019

BYD changes its base of operations to Makati

Ford extends its free emergency roadside assistance coverage to three years.

Brace yourselves: More expensive fuel prices are to be expected in 2020.

Nissan Philippines gets the Nissan Global Award for 2019 for its excellent work.

Smartphone integration into your vehicle servicing experience.

10 new dealerships on the horizon for Geely Philippines.

Toyota gave us the chance to witness how the Toyota Safety Sense system works

BYD has clean and green options for your material handling equipment

Accidents happen but here are a few tips to help you out

A new option you might want to consider buying if you're looking for a diesel pickup truck.

Here is a list of 10 diesel crossovers you can buy in the Philippines

From humble carry-all truck to dependable luxury SUV, here's how the Chevrolet Suburban has evolved through the years.

Mazda Philippines brings in refreshed Mazda2 sedan and hatchback with sole variants

Public recognition for the ASEAN branch of the organization that helps with road and crash safety.

A new segment of TPLEX temporarily opens his holiday season.