Joey Deriquito
Content Writer
Nothing excites Joey more than a tank full of gas and an open road. He yearns for knowledge, always studying and researching about cars. Many of his friends would say that his car is an extension of himself, always able to observe when even a single bolt is out of place.
@AutoDealPH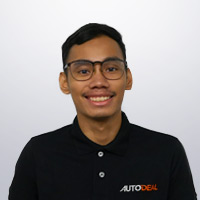 To celebrate the opening of the new facility, Ford Talisay is giving away special Ford merchandise to the first 50 customers of the dealership.

With the hatchback set to make its global debut soon, its new design could indicate what Honda has in store for the Type-R version of the Civic.

Here is a quick guide of the many types of spark plugs you may encounter and how to tell which one is in your vehicle.

The Land Transportation Management System will further aid in the LTO's 5-year plan of upgrading its information technology systems.

Looking to add a vehicle to your city lifestyle? Heed this lists of reasons why you should consider a small car for city driving compared to the other bigger options on the market.

The next-generation crossover has been unveiled with sharp new looks and a modern interior that features a large digital instrument cluster as well as a large curved infotainment system.

A quick guide to understanding tire compounds and what they can offer you in terms of performance and durability.

The Suzuki Jimny may be small, but it has what it takes to be a great off-road vehicle that can go toe-to-toe with its bigger contemporaries.

It looks like the Mach-E is worthy of its iconic "Mustang" name as Ford has produced more units of the EV compared to its gasoline counterpart.

Progress on Phase 1 of the Central Luzon Link Expressway is about to be completed in time for its planned partial opening to motorists in July.

This rubber belt holds the key to making sure your engine runs smoothly so that none of its internal components hit one another causing a costly repair.

The next-generation SUV will finally make its global debut along with its official specifications and photos.

We put the Celerio and the Brio in a head-to-head comparison. Small yet capable, either look like a great choice, but which do you go for?

These common lubricants not only help prevent wear and tear but also create a thin film of protection for your car's moving parts.

The Maxus MIFA concept is a showcase of what the automaker can do with its electric motor and autonomous driving technology.

The P78 million project has rehabilitated the roadway by fixing problems with the asphalt and by adding new lane markings for better visibility.

A new crossover to the segment that puts an emphasis on safety features as well as its affordable price point.

From sedans to hatchbacks the small car segment in the Philippines has a lot to offer especially for those working on a budget.

This is part of the parent company Hyundai's plan to become a mobility service and mobility solution by 2025.

With construction resumed, the DOTr says travel time between the north and south is expected to be reduced by more than 50%.

We answer the question is Volkswagen a good reliable brand in the Philippines by looking at its global achievements, its local dealership network, and its parts availability.

There are still a couple of kinks to work out but given enough time self-driving technology will evolve to be on a similar playing field as a human at the controls.

We put the Wigo and the Picanto in a head-to-head comparison. Small yet capable, either look like a great choice, but which do you go for?

Ever wonder why diesel vehicles aren't being sold with a CVT? Read the article to find out

Volkswagen is also extending its special introductory price for the T-Cross until June 30, 2021, along with special discounts to be had.

The special edition model was featured in a short spaghetti western-style video alongside its Wolftrak, Stormtrak, and Ranger MS-RT siblings.

Not only is the Maxus T60 affordable but it also comes with features that make it a capable workhorse and a good off-roader.

It's a question of if you want to prevent injuring yourself and your passengers or if you want to prevent damage between the two cars

While no official announcements were made about the completion date, the DPWH has estimated it will be finished in 2022.

Isuzu Subic will feature a large showroom and a service area that will be able to cater to both light and commercial vehicles.

The Department of Transportation further enhances the EDSA busway system with the announced construction of three new concourses along the busy roadway.

We answer a few frequently asked questions about temporary license plates in the Philippines.

With the lightening of quarantine restrictions, the MMDA has brought back the truck ban in order to help with the possible increase of traffic in certain areas.

We tackle a commenter-submitted question to see if you really can use a vehicle registered in Mindanao or the Visayas in Luzon.

A veteran of the segment that still has a lot to offer thanks to its competitive pricing and the standard technology that the crossover carries.

If you want to get your hands on a Ford vehicle today, now is the time as the Blue Oval is offering low monthly promos of the Ecosport, Everest, and Ranger.

The new Montero Sport could also be co-developed with Nissan as both companies may soon share the same SUV platform.

The new Mazda2 will reportedly be a rebadge global version of the Toyota Yaris granting it access to Toyota's hybrid technology.

Here are the safest vehicles you can buy in the Philippines today according to their crash tests done by the ASEAN NCAP.

After an 11 year-long hiatus, Mitsubishi's performance sub-brand is expected to make its come back with two new models set to debut in 2023.

A quick guide to help you safely stop your vehicle in the event that you encounter brake failure while driving.

Ford has expanded its Explorer lineup by adding a new off-road-centered model that comes with upgraded suspension components as well as bigger wheels and tires.

A large vehicle that comes big on power and big on technology that ticks all the right boxes for those looking to get an advanced 7-seater SUV in the Philippines.

If you are looking for an affordable 7-seater vehicle that comes affordably priced then look no further than the Suzuki Ertiga and what it has to offer.

Another EV has officially launched in the Philippine market in the form of the Nissan LEAF.

This is the longest registration renewal extension yet, to come from the Land Transportation Office.

While it may no longer be definitive "the king of torque", it is still a popular option in the pickup truck segment.

The highly anticipated sedan that first launched in China back in September of 2020 is now making its way to the ASEAN region starting with Thailand.

We compare two popular and affordable MPVs in the Philippines to see which one you should consider putting on your vehicle shortlist.

Sitting inside a hot vehicle can be a very uncomfortable experience, but don't worry as we have created a way to help you cool down your car as quickly as possible.