Joey Deriquito
Content Writer
Nothing excites Joey more than a tank full of gas and an open road. He yearns for knowledge, always studying and researching about cars. Many of his friends would say that his car is an extension of himself, always able to observe when even a single bolt is out of place.
@AutoDealPH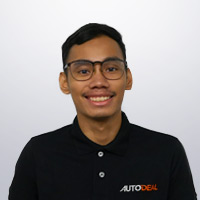 This could be what the locally available Toyota Fortuner could look like in a couple of months' time.

Remember that road surfaces can get slippery when wet and driving in the rain takes more concentration than driving in the dry.

With Toyota accepting preorders for the GR86, it appears that its launch may happen soon as it builds hype for the next-generation sports car.

Our stoplights could become even smarter reducing the need for timed stoplights while still being enforced traffic regulations.

Now could be your chance to test drive your dream Mitsubishi vehicle as the Reimagine Your Ride event returns to Luzon.

With its pricing now made public, the Nissan Kicks has made the hybrid segment even more competitive with its set of features.

Cars and coffee can be had at the MG MOA, the brand's newest facility to join its ever-growing dealership network in the country.

You have asked for it and Toyota has delivered by including a passenger an FX Utility van and an Aluminum Van variant to the Lite Ace model range.

The spirit of American muscle lives on but with an electrified future on the horizon with high torque and high horsepower numbers to still be expected.

We were recently given the opportunity to take out the 2023 Ford Ranger for a quick test driver, here is what we thought of the all-new pickup truck.

Chevrolet seems to be doubling down on the off-roading capability of its popular pickup truck as it launches the 2023 Chevrolet Colorado.

It's a great shuttle van that delivers on its name of being a comfortable vehicle that can get you from point A to point B.

3.7

/

5

After months of teasers, the Next-Gen Ford Ranger and Ford Everest have arrived in the Philippines.

If you're in the market for a Vios substitute, then this article can help you find the right alternative to the popular Japanese sedan.

It's the Ford Equator in other markets, but once it enters the ASEAN region it will be called the 2023 Ford Territory.

Both turbocharged crossovers are ready to take on one another and the segment to secure themselves a piece of the crossover segment market pie.

If there is one vehicle to look out for coming with a new generation soon, it's the upcoming all-new Toyota Vios.

Clean and green is still Isuzu Philippines' mantra as the brand turns 25 in the local automotive market.

The Maxus G50 1.3 Comfort is the new entry-level model from the automotive brand that has a lot to offer especially with its competitive sub-P1 million price point.

3.6

/

5

Want to get a Volkswagen sedan today? Then these two deals could be the ones for you to get you a Lavida or Santana.

Make sure to take note of these routes and to leave early as you could encounter heavy traffic in these areas.

Experience the new Kia look and its vehicle lineup at the brand's newest showroom in the heart of BGC.

It comes with many safety features that are typically found above its class at an excitingly affordable price point.

The IS 500 F Sport Performance will soon make its homeland debut with a launch date set for July 21, 2022.

The Peugeot Traveller Premium 8-seater takes on the role of being a great family vehicle and succeeds at giving it a premium twist.

4.2

/

5

After a long hiatus, the old nameplate has officially returned to the Philippines, as a light commercial vehicle in a panel van and pickup truck configuration.

It's even better than what it was before while still carrying a smooth yet exhilarating ride and drive.

After several teasers, the 2023 Honda CR-V has officially made its debut in the American market.

If you want to get a Kia Forte today, now could be your chance as Kia Philippines has an exciting lineup of discounts for the sedan.

A fight between two MPVs to see which one will come out on top and to see which one is worth getting.

After a long absence in the local market, the Toyota Lite Ace will return on July 15, 2022, as a light commercial vehicle.

Thrill and excitement dominated the racetrack last weekend as TMP welcomed the public back in the grandstands

The Chevrolet Tracker has a lot to offer especially with the feature set that it carries.

Mazda's new turbo diesel engine looks to be promising as it produces great numbers with great reported fuel economy to boot.

Even with its many safety features, having comprehensive insurance for your CR-V is always a good idea.

The new update to the Kia Seltos aims to make it more competitive and safer as well.

Daimler trucks tests out its new liquid hydrogen fuel truck as it continues with its goal of achieving sustainable transportation with hydrogen-based drives.

Isuzu Philippines is continuing its brand expansion in the country with its new BG Gallery facility

Geely seeks to further expand its reach in the country by adding more dealerships to its ever-growing lineup.

It may not be the top dog in the Lexus Philippines lineup but it has everything that you will need from a great luxury car with a reasonable price tag.

Zero-star rating no more as the Suzuki S-Presso now has a better crash safety rating after the global NCAP retested it,

Investing in comprehensive insurance can help protect your vehicle and your finances from costly repairs and accidents.

It's your one-stop shop if you want any from Honda, Isuzu, Kia, or Volkswagen.

Cebu is one of many other areas that have slowly modernized their transport force with Fuso products.

Find out who wins as we compared the Suzuki Dzire and the Mitsubishi Mirage G4, two equally equipped sedans that come with frugal gasoline engines.

No-contact apprehension is set to fully go live in Quezon City as the local government has finished with its trial run.

The Chevrolet Colorado gets a new version in the form of the ZR2 with a teaser being dropped by the automaker itself with a launch date targeted for July 28, 2022.

The Mitsubishi Strada Athlete recently received a Black Series version, is it worth the hype or is the standard version already great as is?

3.8

/

5

Make sure to check if your vehicle is affected by the recall as safety should be your number one priority even with older models.

Nissan's popular 7-seater is successful for a reason as many owners are happy with their purchase of the vehicle.