Joey Deriquito
Content Writer
Nothing excites Joey more than a tank full of gas and an open road. He yearns for knowledge, always studying and researching about cars. Many of his friends would say that his car is an extension of himself, always able to observe when even a single bolt is out of place.
@AutoDealPH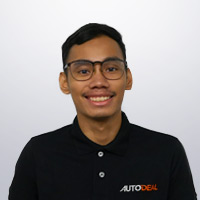 If things go well and with health and safety protocols being considered, public transportation may soon return to 100 percent capacity.

Rain may seem harmless but it can have long-lasting damaging effects on your car if left alone for a long enough time.

With the new trains already set on the tracks, this puts the MRT-7 project on track for its estimated opening at the end of 2022.

The Mazda CX-8 comes with all the right markings to be a great 7-seater crossover that you should look out for.

It looks like September was a good month for Mitsubishi as it was able to post triple-digit growth in its sales figures.

A new PUV that promises to bring performance, flexibility, and dependability to commuters.

It looks like Toyota is further expanding its GR Sport lineup of vehicles in the Philippines with the addition of new variants to the Fortuner and Hilux.

The Dealer of the Year Awards is an annual event that Nissan Philippines holds to celebrate the achievements of its partners and to motivate them for the coming year ahead.

A battle between two new MPVs that each bring their unique features to the table.

If you want to get insurance for your Toyota Rush, then heed this list of options before you go out a buy.

The Korea plant is one of the other remaining facilities that Chevrolet has near the ASEAN area that can supply vehicles to the area.

If you avoid these driving habits your vehicle will last longer and you won't have to deal with possibly expensive repairs.

The 2022 update gives the 2022 GAC GS8 more features while retaining and enhancing the elements that its customers love.

The new automated transmission will allow the driver to focus more on the road and will let them worry less about shifting gears.

It may not come in the traditional SUV form that many have come to love but it now comes in a more compact and technologically loaded form factor.

The 2022 Isuzu mu-X is here to meet your needs whether you need it to be a great family car or a capable off-roader, it's a great and well-balanced SUV to get.

The new promo makes the Tiggo 7 Pro an even more attractive vehicle to buy as it can now be had for a little over P1,000,000.

Expect to see celebrities and racers alike battle it out this weekend at the Clark International Speedway for the 2nd leg of the Toyota Gazoo Racing Vios Cup.

The Chevrolet Trailblazer is making a comeback in the Philippines but this time as a 5-seater crossover.

A quick guide to help you understand what to check for when your car's door rubber goes bad and what you will need to do when it comes time to replace it.

The 2022 Kia Forte has just been updated to feature the brand's new more angular design language and has also been upgraded with more features.

Changing your stock rims can bring you a lot of benefits but there are other important negative effects that you have to take into consideration as well.

Chery Philippines has stepped up its game with smartphone connectivity by making Android Auto connectivity a new feature for the Tiggo 7 Pro.

This is the biggest order yet to come from the Swedish automaker's trucking division from one of the largest shipping companies in northern Europe no less.

It looks like Mazda wants in on the lucrative SUV segment as it plans to release its lineup of these vehicles in the coming two years.

This will open a new era of smart trucking that will help revamp logistics not only for China but for other countries as well if the technology is applied correctly.

Finding the right suspension setup can be a tricky process that can entail a lot of trial and error but here is a quick guide to help you out.

The new facility will be under the management of the Gateway Group that already owns two other dealerships with Suzuki.

Adding the right kinds of aftermarket parts will help enhance the performance and drive of your vehicle.

Being towed is often not a pleasurable experience as it can be expensive on top of being stressful. Here is a quick guide of what you need to know when you get towed or if you want to tow yo...

It features a design that harks back to its older iteration with a host of new features that help make it even more competitive in its segment.

It's a quick first look at the upcoming performance version of the 11th generation of the Honda Civic.

MG Philippines launches a new ZS T Trophy model that is set to take on the competition with more power under the hood and a host of new features.

A new look that will help bring in more customers to better showcase what Isuzu Philippines has to offer.

This Euro 5 rated lineup of trucks is now more fuel-efficient thanks to improved Selective Catalytic Reduction and a fuel economy coaching feature.

Expect to see more dealerships from the Japanese automaker rise in the coming months and well into 2022 as it expands its network in the country.

The 2022 Isuzu mu-X brings with it more features, better safety, a new design, and more power under the hood, which new customers and old owners will surely enjoy.

It's a battle of the three newly upgraded popular SUVs in the Philippines that have all seen new features added to them in 2021.

Suzuki Philippines has updated its pricing for its line of 7-seater MPVs in the Philippines with a P15,000 to P30,000 increase across the board.

From its classic 2-door hatchback design, the new Honda Integra could soon launch with a new 5-door Sportback look.

A couple of nameplates we want to see make a comeback in the near future.

It's always advisable to put just the right amount of oil to prevent any damage from occurring to your car's engine.

The new truck could make it even more convenient to transport your goods thanks to an automatic gearbox.

Tuason Racing has revived the popular race series for another year thanks to Phoenix Fuels, GITI-Tires, PLDT Home, Family Mart, Limitless, Brembo brakes.

It looks like plans are moving forward as more and more laws are being passed to help the electric vehicle industry grow in the Philippines.

From their size to their fuel economy and maintenance costs, here are a couple of reasons why you shouldn't get an SUV.

All of these traffic violations come with hefty fines and associated risks that you definitely should avoid.

The launch of the refreshed Yaris Ativ could indicate what the Japanese automaker has in store for a feature update to the locally available Toyota Vios.

Smoke-belching isn't only harmful to the environment and the people around your car, but it's also detrimental to the health of your vehicle itself.

From its initial spotting doing road testing in the country, the 2022 Almera could be well on its way to an official launch in the Philippines soon.