Joey Deriquito
Content Writer
Nothing excites Joey more than a tank full of gas and an open road. He yearns for knowledge, always studying and researching about cars. Many of his friends would say that his car is an extension of himself, always able to observe when even a single bolt is out of place.
@AutoDealPH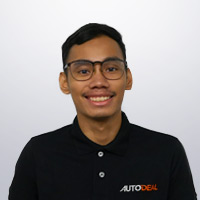 Read this list for the best light commercial vehicle that is available in the Philippines for your business needs.

It's the brand's entry into the subcompact segment that boasts unique styling, a unique set of features, and a frugal 1.2-liter engine that isn't small in power.

3.8

/

5

The Civic has evolved to be a comfortable yet sporty grand tourer vehicle that is both comfortable and quick.

4.3

/

5

It's the company's way of giving back to motorists on Christmas Eve and New year's Eve.

The win adds to the electric crossover's already long list of accolades that make it a cut above the rest in terms of the features it offers along with its driveability.

It's that time of the year to spread some Christmas cheer with Ford Philippines and Gawad Kalinga's special program for children from underprivileged communities.

This is the brand's way of giving back to the community as it continues with its nation-building efforts focused on sustainable development, health and nutrition, community development, and...

Nissan recently participated in the annual Christmas Tree lighting of Ormoc City to spread joy and hope to Ormocanons using the Nissan LEAF.

Jeep vehicles are rough and tough but are still weak against car accidents that's why it's important to get insurance for them. Here is how much it will cost you to insure your beloved off-r...

If you want a frugal and compact highway cruiser then heed this list.

Peugeot Philippines is now of the biggest growing brands in the Philippines as it sees a 297 percent growth under its new leadership.

It's one of the newest MPVs in the market that has a lot to offer in terms of space, storage, and even features.

2023 looks to be a good year for Mazda as it plans to reveal the all-new CX-90 that comes with PHEV performance plus a new inline-six motor.

The fourth-generation Suzuki Jimny is still proving to be a hit for the Japanese automaker as its appeal is still as strong as ever despite the price increase and the evolution of the market...

The Japanese automaker is intent on keeping its number one spot with new sales records plus new models coming in 2023.

Toyota's popular MPV takes on Hyundai's newest star with our comparison of the Toyota Avanza versus the Hyundai Stargazer.

Here is a quick and comprehensive guide to help you understand AutosSweep and Easytrip RFIDs.

It's the brand's newest dealership to join its network after the change in leadership.

It's another effort of the government agency to get rid of corruption within its new system.

Want to insure add an extra layer of protection for your high-end car? Check out this list to help you out.

This makes the Hyundai Creta one of the safest crossovers available on the market that you can buy today.

The Peugeot 5008 offers you a great set of amenities and features befitting of its price tag but lacks a bit in certain areas where you would expect there to be a bit more.

4.3

/

5

It's the ideal runabout vehicle for those looking for a versatile pickup truck for their next daily driver.

Equally long and impressive feature sets, but the quality and useability of these features are what separates the Creta from its Tiggo 5x rival.

In order to deal with traffic the Quezon City government has opened a zipper lane along Quezon Avenue for westbound motorists.

GR Power but with hydrogen fuel is what the Corolla Cross H2 concept brings to the table, proving that hydrogen performance could work in the future.

It's only a matter of time as Suzuki Philippines is also set to launch the Ertiga hybrid in the country sometime next year.

The aim of the new payment scheme is to help lessen traffic on the tollways and to cut down the stops that motorists need to do.

Hyundai Stargazer is the brand's entry into the MPV segment, but does it have what it takes to stake a claim in the highly competitive market?

This new variant of the Ranger slots over the Wiltrack and just under the Raptor in terms of features and power.

While the turbo model is the one to get for a better driving experience, the 1.2 G offers you a better value-for-money proposition for what it offers.

3.8

/

5

All that is left now is for the president to sign this and we could see prices of select electric vehicles in the country go down soon.

Class 1 vehicles are expected to pay P35, class 2 vehicles are expected to pay P69, and class 3 vehicles are expected to pay P104.

The Indian division of Toyota will still sell the older Innova diesel units albeit with just the lower variant and fleet spec models available.

It's Nissan's entry into the hybrid segment but with a twist that helps separate it from the rest of its competitors.

4.3

/

5

There are ways to help your passengers have an extra layer of protection in the event of a crash, this all depends on your policy and what it can do to help them.

The electrified pickup truck comes with a powerful electric motor, decent range, a great set of features, plus an interesting vehicle and battery warranty.

The 2023 MG ZS EV looks to be sleeker than ever thanks to leaked images of its patent for its upcoming facelift.

It's a new application that will help you keep track of your vehicle at all times and help you make sure it is safe.

The new facility will provide easy access to MG products, promos, and aftersales services to the progressive Municipality of Minglanilla in the Queen City of the South.

The winners of the FIFA World Cup test drive promo have been announced with the two winners getting to see the tournament live.

Great prizes are up for grabs for those who buy a Ford vehicle during the brand's special anniversary promo.

Making sure your truck bed is protected can help save you front expensive repairs later on from rust and use.

It appears that the next-generation Toyota Innova is set to not only be gasoline and hybrid but more premium as well.

It's the brand's newest crossover that delivers a premium experience without the expensive price tag all at a reasonable cost.

This new teaser could be for the top-of-the-line model of the upcoming 2023 Toyota Innova.

The Mazda CX-5 2.5 AWD Turbo is the newest variant in the model lineup, but does it have what it takes to impress? Find out with our review of the crossover.

4.4

/

5

This limited edition model gives the Mitsubishi Mirage G4 a dose sporty style update to the humble sedan.

The Sorento brings Kia's latest technology to the table with turbo-diesel power, while the CX-5 brings its stellar lineup of engines plus its great feature set.

The bridge will only be passable for vehicles coming from C5 that are headed to Eulogio Amang Rodriguez Avenue.