Mark Vincent Villa
Videographer
Vincent used to be in car photography and film-making until he realized he preferred letters and words. Besides writing, he is also into music, particularly progressive metal and blues.
@AutoDealPH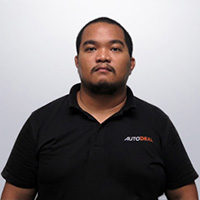 Its wanted all-over the world but Suzuki Ph managed to get the all-new Suzuki Jimny here.

Nissan claims the Terra can go anywhere, so they took us to the outskirts of Mayon volcano for some playtime.

The new XC40 is a city dweller that doesn't compromise in any aspect.

Closing sales isn't easy, but Jennifer says doing it with AutoDeal definitely helps

Toyota updates their iconic RAV4 with new colors, a new engine, and the same flawless aesthetic.

The only monster we know of that has two wheels, stylish, but just as intimidating.

Click to see why celebrities and other well-off people like the Alphard as their cradle in city traffic.

Suzuki Ph took us for a quick spin inside the new Ertiga.

The new Strada likes it dirty, even in its debut.

The all-new Hiace makes its global launch in the Philippines, and it's very handsome for a van.

Infinite aggression is what the 1290 will bring you once you ride it. Check out what makes it special in this unboxing.

Just how many free breakfast meals can you have in one morning?

LICA has recently expanded their partnership with AutoDeal to include more dealerships.

Kia is now under a new leadership and what other way to flaunt that but with a new car.

The company behind MG took Caco out to China to have more experience with their cars.

The all-new Forester is in town, but with the familiar pricing.

AutoDeal does not only help customers, but agents as well.

Just like Taylor and her legs, there are certain things that make the Swift stand out.

Take a closer look at the latest SUV in the Philippine market.

The Ertiga moved away from its heritage looks and now has a European appeal

Chevy owners will always have a good start every Thursday this January

Yes, your fuel affects your car's performance but one brand can also clean it.

Just how far can luxury go if you're on a budget? BAIC tries to redefine luxury with the M60.

3.8

/

5

There's a lot going on inside the M60 that makes its price tag seem like a bargain.

The M60 tries to offer more than the average MPV, but it shines in practicality.

The BJ20 looks different from previous BAIC offerings, and it's confident in taking on the SUV market.

Toyota PH starts the year with the all-new Camry

You might think we'll just drive some really expensive cars, but no - though that is a good idea

The MG ZS attempts to captivate crossover lovers with an attractive package

The Yuchengco Group of Honda dealerships goes for their third year with AutoDeal.

This M60 is a 7-seater that goes beyond carrying people, it does so in style.

Hyundai welcomes 2019 with a refresh of its lineup, and the introduction of the Ioniq hybrid car.

Laus Group unveils the 47th Ford Dealership, this time north of Manila.

The new Ranger Wildtrak gets updated, and here's a close look at the 4x2 trim.

Your gateway to a Merc just got sweeter. Meet the new A-Class.

The all-new CR-V kept up with the times with its diesel engine and seven seats, while the S CVT boldy defies that trend.

It may not be the Raptor, but the new Ford Ranger has enough angst to keep its edge in the pickup game

Spanning eight generations that started from 1925, the Rolls-Royce Phantom is the epitome of luxury and doesn't want to change that.

MG joins the fray of crossovers with two offerings.

Hot rides were teased during the 7th PIMS

JAC tries to undercut the competition by offering a crossover at a subcompact price point.

Mercedes-Benz Philippines redefines what happens in a media drive and took us out for a real adventure.

You might've seen our articles and video reviews, but we're more than that.

The MX-5, Mazda6, and CX-9 gets new bling for 2019

It's not merely aesthetic improvements, the Ranger Raptor was built with one thing in mind - to dominate the unbeaten path.

Good things come to those who wait, especially for those who kept requesting for this video.

BAIC Philippines updates their lineup with a new MPV and good-looking crossover SUV

Isuzu was able to squeeze the same power of a 2.5L into a 1.9L for more fuel economy.

Launched, and now tested. Here's Caco's first impressions on the new HR-V that now comes with an RS badge.

Honda has a slew of 7-seaters across different price ranges now, but hasn't forgotten about the HR-V.