Mark Vincent Villa
Videographer
Vincent used to be in car photography and film-making until he realized he preferred letters and words. Besides writing, he is also into music, particularly progressive metal and blues.
@AutoDealPH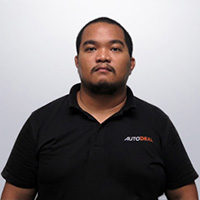 Mercedes-Benz Philippines redefines what happens in a media drive and took us out for a real adventure.

You might've seen our articles and video reviews, but we're more than that.

The MX-5, Mazda6, and CX-9 gets new bling for 2019

It's not merely aesthetic improvements, the Ranger Raptor was built with one thing in mind - to dominate the unbeaten path.

Good things come to those who wait, especially for those who kept requesting for this video.

BAIC Philippines updates their lineup with a new MPV and good-looking crossover SUV

Isuzu was able to squeeze the same power of a 2.5L into a 1.9L for more fuel economy.

Launched, and now tested. Here's Caco's first impressions on the new HR-V that now comes with an RS badge.

Honda has a slew of 7-seaters across different price ranges now, but hasn't forgotten about the HR-V.

The BAIC M50s is the answer to small families with a limited budget.

With bold claims from the start, the new Primacy 4 screams supremacy.

Italy is know for its high-end cars and superbikes, but the Corsaro 1200 ZZ treads a new path for itself.

The EcoSport finally got the refresh it needs and is finally available, to the dismay of your bank account.

Honda's gorgeous crossover comes back with better apparel.

A closer look at one of the more formal looking crossovers in the market.

The Vitara moves to the growing crossover segment, determined to be your next everyday ride.

The Assurance TripleMax 2 promises better performance on wet roads.

If you're still on the fence on the CR-V, here's a closer look at the top variant.

One thing's for sure – it has more than meets the eye.

The MX5 got some new toys to increase its street cred and fun driving.

Changing tires sounds easy until you're on the side of the road and don't know how to do it.

A short clip to celebrate Toyota's 30th year in the country.

Toyota was a bit late in updating their favorite child, but they made sure it was all worth it.

The benchmark for high performance sedans is back, and raises the bar again.

Distracted driving is bad enough on your own, what more if you have your whole family with you? Ford increases awareness for safe driving in the 11th Driving Skills for Life Program

Mazda answers the desires of those who want the CX9 but doesn't want to pay for the AWD they'll never fully utilize.

All British Cars has finally unveiled the new home of Jaguar and Land Rover in the Philippines

Suzuki Philippines officially launched their new twin of subcompacts with very desirable price tags.

The new RS5 skips on another V8 and suits up with a turbo V6 that go from 0-100kph in under 4 secs.

The first official dealer of the iconic British brands finally opens its doors to their new showroom.

One of the pillars in German automotive engineering is merrily celebrating its 70th year

Ferrari calls the body style a 'shooting-brake' but to us mere mortals, it's the hottest hatch in the world.

Volkswagen Philippines tapped some of their successful models from China to encourage Filipinos to switch

Cars, bikes, and more machines were customized and showcased at this year's TransSport Show and Big Bike Expo.

Nissan maybe late in the game, but they are confident that the Terra will tear the competition in their favor.

We asked some drivers really important questions.

We went outside of the metro to unwind with nature using some badass wheels

It's not yet June but there's a new class already - for racing that is.

You've heard of defensive driving, but tactical? Hmm.

Maserati Philippines took us out for a date with other friends to experience how they roll.

0-100 km/h in 2.9 seconds. You're welcome.

We understand that most customers are very detailed in choosing a car, but that doesn't have to be manually done.

With the new tax on cars, more are considering motorcycles as the new primary means of transport. The number of attendees in the IR Bike Fest proves just that.

Porsche's flagship SUV is now in its third generation and PGA Cars is more than happy to bring it in.

Our partner dealers in the Used Car market is growing, and here's what two of them have to say.

We simplified asking for a test drive from dealers so you'll be sure if a car is meant for you.

Isuzu brought in a new economical engine but oddly, it has more power.

From the people that brought in the Philippines Vespa and Aprilia, Moto Guzzi is also one of Italy's finest.

We were invited to try some British cars and of course we said yes.

Shopping for a car can be a bit cumbersome so we made it a bit easier.