If you are looking to buy a new car in the Philippines but you have a tight budget to consider then hatchbacks might just be the vehicle of choice for you. These compact but feature-rich vehicles have evolved past their previous notion of being just a commuter car. They have evolved into something better and come with modern amenities that can be found in bigger vehicles. These vehicles offer great value for money with the added bonus of practicality all for the price of just under P700,000. Thanks to their form factor these vehicles are easy to park, affordable to maintain, fuel-efficient, and come with practical space on the inside.
While these vehicles are indeed compact they can easily seat up to five individuals comfortably offering plenty of room for luggage at the back. Despite its city-oriented looks, these vehicles can also be great long haul vehicles thanks to their light steering and ease of maneuverability. We created a list to help you pick which hatchback could best suit you and your budget in no particular order.
Mitsubishi Mirage GLX MT (P704,000)
A relatively seasoned veteran to the segment, the Mitsubishi Mirage still brings with it a great value for money proposition to Filipino buyers. It brings with it dual airbags, a modern 1.2-liter gasoline engine, and a CVT to give you better fuel efficiency. A great combination for those who want to make the most out of their budget. The Mitsubishi hatchback also comes with a good balance between its exterior look and its interior cabin space. Like with many vehicles in its segment, it comes with space for five adults on the inside and with enough space for their luggage.
While some may say that the design may have not aged well, it is important to note that a refreshed model is coming into the country soon coming in with a revised front and new taillights at the rear.
Kia Picanto 1.0 LX and 1.2 EX MT (P590,000 - P700,000)
The Kia Picanto presents itself as being one of the more compact vehicles in its segment that sports a bold exterior design. It comes with Kia's signature "Tiger-nose grille" that helps give the small vehicle more character. It also helps it look a bit bigger than it really is. On the inside, you get a well-integrated dashboard that comes with a black and grey color scheme that comes with durable plastics. If more space is needed then the Picanto's second row can easily fold down giving you more space to put cargo in.
Two power options are available for the small hatchback. It can be had with a 1.0-liter 3-cylinder engine or a 1.2-liter 4-cylinder motor. The 1.0-liter pushes out 67hp and 96 Nm of torque, while the 1.2-liter makes 84hp and 121 Nm of torque. It is important to note that for under P700,000 the bigger motor can only be had with a 5-speed manual transmission. The LX variants, on the other hand, can be had with either a 5-speed manual or a 4-speed automatic transmission.
Chevrolet Spark 1.4 LT MT (P694,888)
The Chevrolet Spark is one of the more affordable vehicles that the Golden Bowtie is offering in its local lineup. It comes with a youthful design while still maintaining a sporty appeal. Inside you get a modern compact interior with the benefit of a 7-inch infotainment system that comes with Apple CarPlay and Android Auto capabilities.
Powering the hatchback is one of the larger engines in its segment—a 1.4-liter naturally aspirated motor. The 1.4-liter mill produces 98hp and 128 Nm of torque. For its price point, it can only be had with a 5-speed manual transmission.
Suzuki Celerio (P558,000 - P628,000)
The Suzuki Celerio is one of the brand's more popular selling vehicles. With its compact size, it comes with good practicality and notable fuel efficiency. It is important to note that the Celerio is one of the few vehicles on this list that can be had with an automatic transmission while still being priced under P700,000.
Despite its size, it still has generous interior space even for the second-row seats. Speaking of interiors the Suzuki Celerio comes with a touchscreen head unit. Unfortunately, it does not come with Android Auto and Apple CarPlay support. Fortunately, however, you do get access to offline navigation as standard for the entire variant line-up.
It comes powered by a 1.0-liter 3-cylinder gasoline-fed motor that produces 67hp and 90 Nm of torque. Two transmission options are available for the hatchback and they are a CVT and a 5-speed manual.
Suzuki S-Presso GL MT (P523,000)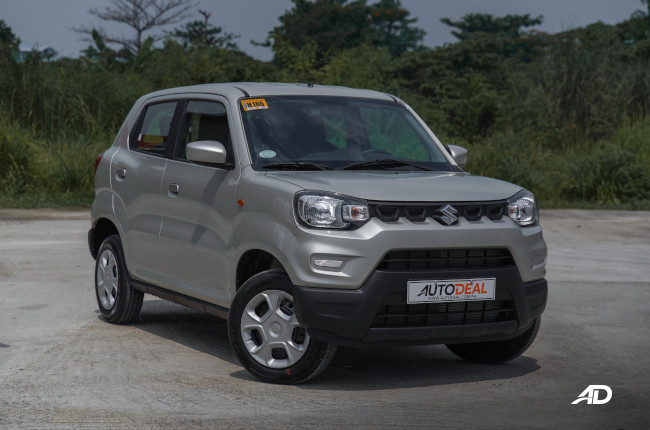 A relative newcomer to the segment the Suzuki S-Presso is the ultimate vehicle for those looking for a tall-riding hatchback on a tight budget. It comes with 180mm of ground clearance impressive for a vehicle of its size. Despite its compact exterior, the interior is pretty good.
There is enough space to seat five occupants, however, we highly recommend just seating four and the interior amenities are also great for its price point. You get a 7-inch touchscreen at the center that comes with Bluetooth and Aux connectivity.
It comes powered by the same 1.0-liter motor found in the Celerio which produces 67hp and 90 Nm of torque. While not a lot on paper due to its size and weight the engine is more than a suitable match for the vehicle. The Suzuki S-Presso can only be had with a 5-speed manual transmission.
Toyota Wigo (P568,000 - P700,000)
The Toyota Wigo has recently undergone a facelift for the 2020 model year. It now comes with a more angular and aggressive face that gives the vehicle a sportier look. It still carries over the previous shape as the pre-facelifted model, however, it does get a new bumper and revised head and tail lights.
On the inside, the small hatchback gets access to a new infotainment system, a revised gauge cluster, along with new climate controls for the higher variants. The seating material has also been revised slightly featuring a new design.
Under the hood, the Toyota Wigo is still powered by the same 1.0-liter 3-cylinder gasoline engine found in the previous model. Now power upgrades have been given to the facelift. Like before the Wigo can be had with either a 5-speed manual or a 4-speed automatic transmission.
Honda Brio 1.2 (P601,000- P661,000)
The Honda Brio is also one of the other vehicles on this list that has recently gotten a facelift. It now comes with a more angular front face that resembles that of its bigger brother the Mobilio. Along with the revised front is a new rear end that replaces the glass back on the previous model.
The interior has been revised and now comes with color accents in the cabin. Fabric seats are still the material of choice for the vehicle along with durable plastics. A black and gray theme is still present with the vehicle. As far as amenities go, you get manual air conditioning as well as a 1-Din head unit that supports Bluetooth and USB connectivity for the entry-level variant. For the V variant, you get access to a 7-inch capacitive touchscreen that also comes with Bluetooth and USB connectivity.
Under the hood of the Honda Brio is a 1.2-liter engine that produces 89hp and 110 Nm of torque. The small Honda hatchback can be had with either a 5-speed manual or a CVT for the S and V variants respectively.
Each of these hatchbacks come with their own unique ups and downs but are capable of giving you the best value for money possible. If any one of these hatchbacks strikes your fancy then we highly recommend using our Buy Online feature to make the process of buying your new vehicle go as quickly and as smoothly as possible.
Latest Features
Despite its age in the segment, the Kia Forte is still a great sedan to go with as it comes with many features that tick the right boxes.

If you're on a budget and in need of a reliable workhorse for pretty much anything, the Suzuki Ertiga is the perfect choice.

Unsure about the Number Coding scheme in the Philippines? Our complete guide provides comprehensive details on everything from coding days to window hours in all locations affected by the Nu...
View More Articles