Mazda Philippines News
Mazda Philippines has soared to new heights since they introduced the SkyActiv technology and the Kodo Soul of Motion design language. As a testament to this, the Mazda2 SkyActiv R sedan was named the Car of the Year – Philippines by the Car Awards Group, Inc. (CAGI). Locally, Mazda offers the 2, 3, 6, CX-5, CX-9, MX-5, and the BT-50.
---
By Martin Aguilar · Oct 11, 2017
Mazda will debut its next-gen technology and design at Tokyo Motor Show.
Read More
By Yabee Dee Eusebio · Oct 10, 2017
The list includes production vehicles all the way up to prototype race cars.
Read More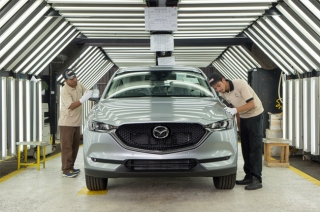 By Martin Aguilar · Sep 28, 2017
Mazda Malaysia is now assembling the 2nd generation CX-5 at the INOKOM facility in Kulim, Penang.
Read More
By Dan Pabustan · Sep 22, 2017
Mazda has promised a wheelchair-friendly package on the MX-5 Miata, with a hand lever acting out as the gas and brake pedals.
Read More
By Dan Pabustan · Sep 15, 2017
Mazda Motor Corporation is now accepting orders for the new CX-8 crossover – unfortunately, only in Japan.
Read More
By Caco Tirona · Sep 15, 2017
A stunning piece of art, but can its performance match its looks?
Read More