Autodeal Car Comparison
Kia Seltos 2.0 LX IVT vs. Volkswagen T-Cross 180 MPI S AT vs. MG ZST 1.3 Trophy
Volkswagen T-Cross 180 MPI S AT is the cheapest
Transmission Category
Intelligent Continuously Variable Transmission (IVT)
6-Speed automatic with Triptronic
Kia Seltos 2.0 LX IVT has a bigger engine
Acceleration Rate (0-100 km/h)
MG ZST 1.3 Trophy is more powerful
MG ZST 1.3 Trophy has more pulling power />
Sponsored
The 2020 Kia Seltos recently released and we got our hands on a quick test drive.
Kia Seltos 2.0 LX IVT is longer
MG ZST 1.3 Trophy is wider
MG ZST 1.3 Trophy is taller
Volkswagen T-Cross 180 MPI S AT has a large wheelbase
Kia Seltos 2.0 LX IVT has a tighter turning circle
Kia Seltos 2.0 LX IVT has a larger trunk capacity
Volkswagen T-Cross 180 MPI S AT has a larger overall cargo capacity
Electronic Brake Distribution
Lane Departure Warning System
Blind-Spot Detection System
Air Conditioning System
Dual-Zone Automatic Climate Control
Electronic Temperature Control
Entertainment System
8-inch touchscreen AM/FM/MP3/USB with Apple CarPlay and Android Auto via 6 Speakers
8-inch infotainment system
10-inch touchscreen multimedia display with Apple CarPlay and 3D sound effect via 6 speakers
Connectivity
USB, Bluetooth, Apple CarPlay, Android Auto
Aux-in, Bluetooth, USB, and Apple CarPlay
Bluetooth and USB
Electric Adjustable Seats
Steering Wheel Audio Control
---
Important: AutoDeal.com.ph aims to provide the most accurate and updated vehicle information as possible. However, please note that vehicle specifications, prices, and images may be changed by the manufacturers and dealerships without prior notice. If you spot a potential mistake, feel free to contact us at info@autodeal.com.ph.
Car Comparison
Compare thousands of cars available in the Philippines and find out which has the best performance, safety equipment or economy and much more.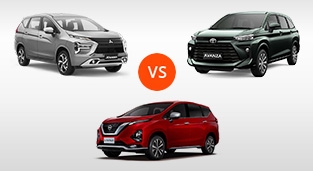 It's a close battle among these Japanese contenders. Which would you go for?
View Comparison
These crossovers brag impressive styling and advanced features at a competitive price tag. Which one will you choose?
View Comparison
These midsize SUVs are popular for their dependability and functionality. If you're going to pick one, what would it be?
View Comparison