Ford Ranger 2022
Php 1,155,000 – 1,758,000
Image Gallery
View Ford Ranger 2022 interior, exterior & road test images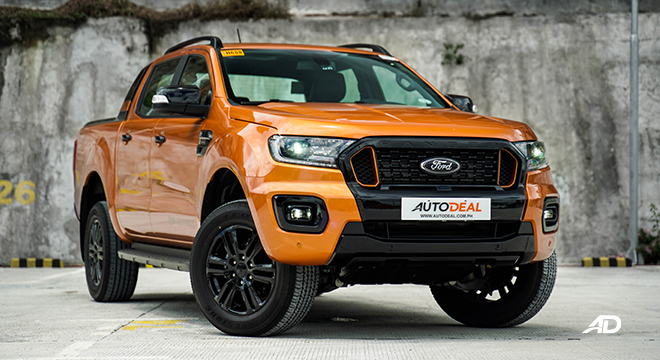 Ford Ranger Overview
The Ford Ranger is a stylish and muscular midsize pickup truck from Ford and part of the Truck Wars that have been waged in the Philippines. Characterized by its wide stance and beefy appeal, it's one of the most sought-after pickup trucks in the country today, which makes it Ford Philippines' current best-seller.
The Ranger is available in several variants with three engine options to choose from. First is the turbocharged 2.2L Duratorq TDCi diesel mill, which was a carryover from its pre-facelift model. The newest additions to the list of powertrain options are the 2.0L EcoBlue diesel engine in either single turbo or biturbo configuration, depending on the variant choice.
Launch

The current-generation Ford Ranger was launched on September 21, 2018 in the Philippines, refreshing the local lineup of Ford Ranger and adding the first-ever Ranger Raptor. The replacement Ranger came with a new fascia and a new set of powertrains to replace the 3.2-liter Duratorq in the Wildtrak variants. The current engine setup is either the 2.0L biturbo diesel with a 10-speed automatic transmission or the single turbo trim while retaining the 2.2L Duratorq option for the lower variants.

On January 23, 2020, the Ford Ranger lineup got a substantial update in terms of infotainment and safety features. The Ranger model lineup also got two snew variants added to its ranks in the form of the Ranger FX4 and an automatic version of the Ranger XLS 4x2. With these new additions, the Ranger lineup was extended to 14 variants giving it a wider reach for buyers who are looking into getting a pickup truck. The FX4 is the new star variant brought with it new decals, a new set of blacked-out wheels, and a bed bar to help it stand out from the rest of the lineup. It also serves as a new mid-tier variant for those who don't want a Ranger Wildtrack but want some of the key features it has.

Ford Philippines later launched the 4x4 variant of the Ranger FX4 to finally complete the FX4 trim-level. Similar in design to its 4x2 stablemate the Ranger FX4 4x4 comes with the same available colors, same available features, and same available safety features but comes with a 4x4 system to differentiate it. With the new mid-tier trim-level complete it will serve as an option for those who want a feature-packed Ford Ranger without the need to purchase the higher tier Wildtrak variant.

On February 16, 2021, Ford Philippines brings in the refreshed lineup of the Ranger pickup. With XLS, XLT, and Wiltdtrak trims carrying notable changes and upgrades such as the new grille, blacked-out rims, and a segment's first power-roll shutter that's exclusive on the Ranger Wildtrak. Fast-forward to March 10, 2021, and the Ranger lineup has been extended with the FX4 MAX that includes several off-road inclusions such as all-terrain tires, Fox shock absorbers, and a slew of other mechanical upgrades that allow it to be trail-ready and rugged.

---

Platform, Chassis and Powertrain

The Ford Ranger body-on-frame truck rides on Ford's T6 platform that is shared with the Everest midsize SUV. The four-door double cab version is the only available body configuration in the Philippines. It's available in either rear-wheel drivetrain or with 4x4 configuration, depending on the variant.

Under the hood, the Ford Ranger has three engine choices: 2.0-liter Biturbo Diesel (210 hp, 500 Nm torque); 2.0-liter Single Turbo Diesel (178 hp, 420 Nm torque); 2.2-liter TDCi (158 hp, 385 Nm torque). There are also three transmission choices, depending on the engine: 10-Speed Automatic (2.0-liter Biturbo/Singe Turbo Diesel); 6-Speed Manual (2.0-liter Single Turbo Diesel/2.2-liter TDCi); 6-Speed Automatic (2.2-liter TDCi).

The Ranger lineup, excluding the Ranger Raptor, has a double-wishbone with coil springs front and leaf spring rear suspension setup. The brakes are ventilated discs up front and drums at the back.

Chassis

Class
Midsize Pickup Truck
Body Style
Four-Door Double Cab, Body-On-Frame Pickup Truck

Platform

Layout
Front Engine, Rear-Wheel Drive or Four-Wheel Drive
Platform
Ford T6 Platform

Powertrain

Engine
2.0-liter Biturbo Diesel
2.0-liter Single Turbo Diesel
2.2-liter TDCi
Power Output
210 hp, 500 Nm torque (2.0-liter Biturbo Diesel)
178 hp, 420 Nm torque (2.0-liter Single Turbo Diesel)
158 hp, 385 Nm torque (2.2-liter TDCi)
Transmission
10-Speed Automatic (2.0-liter Biturbo/Singe Turbo Diesel)
6-Speed Manual (2.0-liter Single Turbo Diesel/2.2-liter TDCi)
6-Speed Automatic (2.2-liter TDCi)

---

Driving Performance

The Ranger's driving performance depends on the engine and transmission combo per variant. The 2.2L carryover from its predecessor delivers power more abruptly, mainly because of its 6-speed automatic transmission. The 2.0L single-turbo Ranger, on the other hand, delivers the power in increments because of its 10-speed automatic tranny. The biturbo 2.0L sends power in a linear fashion, as well, but the onset of the turbocharged boost is earlier for a more satisfying pull.

Handling is what you would expect from a truck that sits on a ladder frame chassis – moments of body roll with some pitches and dives. But ultimately, the main advantage of the Ranger is its light steering feel.

---

Technology Features

The Ranger is one of the most tech-laden pickup trucks in the Philippines. Its Wildtrak variant is the only pickup truck in the country that has adaptive cruise control, lane-keeping aid, and active park assist.

Apart from those, the Ranger also has automatic headlamps, rain-sensing wipers, SYNC 3 infotainment with Apple CarPlay and Android Auto, front and rear parking sensors, a reverse parking camera, a power-adjustable driver seat, and speed-sensing door locks. For the 2020 model year, Ford Philippines gave the entire Ranger lineup a standard 8-inch infotainment system that carries over previous connection capabilities.

All variants of the Ford Ranger now come with a SYNC 3 infotainment system that is easy to use and is easy on the eyes. It also now comes available with Android Auto and Apple CarPlay making it even easier to keep yourself connected with your phone even while driving. With the addition of these new features as standard the Ford Ranger has become more attractive to those who want an affordable and feature-packed pickup truck. Fast-forward to 2021, and the refreshed Ranger now comes available with a segment's first power-roll shutter that's exclusive on the Wildtrak.

FX4 variants are kitted out much like the middle-of-the-pack XLT trims. The lower-end FX4s are similar in their loadout to the XLTs, getting the 8-inch infotainment screen with Apple CarPlay and Android Auto, but foregoing the backup camera and adaptive cruise features as found in the Wildtrak trim levels.

---

Exterior

Known for its beefy exterior and wide stance, the Ranger is a macho pickup truck which made it a favorite among pickup truck buyers. It also has a 232mm ground clearance that employs an authoritative driving feel and the capability to wade through waters 800mm deep.

However, apart from its inherent machismo, the Ranger's top-level trims are equipped with HID headlamps with LED daytime running lights. This lighting setup makes the American pickup truck standout on the road even at night. For its 2021 model year, the Ford Ranger gets a new grille along with a range of black alloy rims.

---

Interior

The Ranger has the most attractive and most premium-looking interior among pickup trucks in the Philippines. The cabin space is abundant, as well, as it's among the biggest in its class, while ride comfort remains among the smoothest examples out there. Even better, the Ranger's NVH insulation has been greatly improved from before.

---

Safety

The Ranger, especially the top Wildtrak variants, gets the most number of safety equipment in its class. It has a full set of airbags: driver, front passenger, sides, and curtains. On top of that, it's equipped with an electronic stability program with traction control, hill start assist, ABS with EBD, driver and front passenger seatbelt reminders, and ISOFIX child seat anchors. The top of the line Wildtrak 4x4 variant also now gets camera-based autonomous braking like its Ranger Raptor big brother.

---
Pros & Cons
What you'll like about the Ford Ranger is its power delivery that's consistent with its powertrain setup. The quality of materials used in the cabin is top-notch as well. For the range-toppers, the set of tech features offered with the Ranger is among the most generous in its class.
On the flipside, the Ranger can still improve in keeping the engine noise outside its cocoon. The digital instrument cluster might also annoy some since it can be a bit cluttered.
What You Will Like
Fuel efficient engine
Great ride comfort for a pickup truck
Easy to use controls
What You Won't Like
An older design
No reverse camera
Limited passive safety features
Top Agents
Connect with the top Ford sales agents in the Philippines. These agents have good reply speeds, process transactions quickly and have good customer reviews
Ford Ranger Variant and Pricelist
View our pricelist table and select a variant to view further specifications.
Add To Comparison
Ford Ranger Colors
The Ford Ranger comes in the following colors: Absolute Black, Aluminum Metallic, Saber, Arctic White, Meteor Grey, True Red, Blue Lightning, Sunset Red, Lightning Blue, XLS Absolute Black, XLS Aluminum Metallic, XLS Artic White and XLS Sunset Red
Absolute Black
Aluminum Metallic
Saber
Arctic White
Meteor Grey
True Red

Arctic White
Absolute Black
Absolute Black
Aluminum Metallic
Meteor Grey
Meteor Grey
Blue Lightning
Sunset Red

Absolute Black
Aluminum Metallic
Arctic White
Lightning Blue
Meteor Grey
True Red
XLS Absolute Black
XLS Aluminum Metallic
XLS Artic White
XLS Sunset Red
Ford Ranger Specifications
Key specifications & features of the Ford Ranger. View engine specs, dimensions, safety and technology features in our full variant pages.
Body Type

Pickup Truck

No. of seats

5

Fuel Type

Diesel

Transmission

Manual

Automatic

Max Output (HP)
158 HP @ 3,200 rpm - 210 HP @ 3,750 rpm
Drivetrain

Rear-Wheel Drive

Four-Wheel Drive

Wheel Size

16 in - 18 in

Airbags

2 - 6
*Depending on variant

ISOFIX

Available


Front Parking Sensors

Available
*Depending on variant

Rear Parking Sensors

Available
*Depending on variant

Connectivity

USB, Bluetooth, Apple CarPlay, Android Auto and iPod
*Depending on variant

Warranty

3 Years (100,000 km)
View Full Specs
Ford Ranger Promos
View all available official car promos from across the Philippines.
Ford Ranger Comparisons
View the most compared cars versus the Ford Ranger
Ford Ranger Reviews, News and Videos
Read our expert reviews, up to date news, video features and road trips.
It may not have all the tech but it delivers on the basics of being a comfortable lifestyle and workhorse pickup truck.
The perfect springboard to off road rigs.

4.0

/

5

A more road-going pickup, for the average driver.

4.2

/

5

After reviewing the Ford Ranger Wildtrak 2.0 Single-Turbo last year, I took the mid-variant XLT out for a drive to spot the big differences.

3.7

/

5
The all-new Ford Ranger is almost upon us. Could it launch in the Philippines as soon as this September?

With the gas prices today, here is what you can expect for fuel-efficiency figures out of the 2022 Ford Ranger.

Great discounts await those who want to get their hands on an Everest or Ranger for May.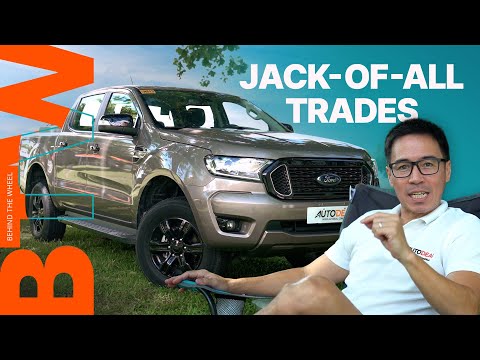 The new Ford Ranger is on its way to the Philippine market, but that doesn't mean the older version is left behind in the dust. Ford Philippines has given it a few upgrades to keep it relevant and fresh while we wait for the official launch. Find out if the 2022 Ford Ranger XLT is still worth it even with the new one coming soon with our review on this episode of Behind the Wheel.
Ford Philippines has been releasing a steady stream of teasers for the upcoming release of the new Ford Ranger. With teaser after teaser making the rounds on the internet, it paints a better...

There's a Ranger for everyone. The Ford Ranger has the widest selection of variants that will suit any lifestyle. Whether you're a hard core off-roader or a daily driver that wants Ford perf...

We review the 2021 Ford Ranger FX4 MAX. It's a trail-ready, dirt-ready, big rig that powers its way through with a 2.0-liter Biturbo diesel engine that produces 210 hp and 500 Nm of torque m...
Ford Ranger Owner Review
Read reviews from verified car buyers and find out from real owners what it's like to own Ford Ranger.
Driving Performance
4.7/5
Recent Owner Reviews
Our Verified Buyer Reviews come from confirmed customers that have had their purchase registered on the AutoDeal platform.
Sobrino Calvert Ansay

Verified Buyer

Ford Ranger 2.0 Biturbo Wildtrak 4X4 AT with Power Roller Shutter

Purchased from Ford, Davao

no problem when you do overtaking, powerful engine bi-turbo ,2.0 ,AT,10 speed and smart adaptive cruise control

Shylene Joy Haban

Verified Buyer

Ford Ranger 2.0 Wildtrak 4X2 AT

Purchased from Ford, Dagupan

Anonymous

Verified Buyer

Ford Ranger 2.0 Wildtrak 4X2 AT

Purchased from Ford, Otis Manila

Anonymous

Verified Buyer

Ford Ranger 2.2 FX4 4x4 AT

Purchased from Ford, Iloilo

Gemlani Cinco

Verified Buyer

Ford Ranger 2.0 Wildtrak 4X2 AT

Purchased from Ford, Talisay

I have No regret in buying this Ford ranger wildtrak,I'm very happy...
Ford Ranger FAQs
Ask our team of experts any question and we will do our best to give you the best answer possible.
Does the Ford Ranger come with ISOFIX child seat tethers?

All variants of the Ford Ranger sold in the Philippines come with ISOFIX child seat tethers, including the base XLS 4x2 MT trim.

---

What's the difference between the Ford Ranger and the Ranger Raptor?

The Ford Ranger Raptor was built from the ground up and was engineered for high-speed off-road performance. Aside from the 2.0-liter biturbo engine, the Ranger Raptor is equipped with an underbody shield made of 2.3mm thick high-strength steel, a tougher chassis, a set of Fox racing suspensions, and a Terrain Management System with Baja mode.

---

Does the Ford Ranger have Apple CarPlay and Android Auto?

Yes, all Ford vehicles equipped with the latest Sync infotainment software has Apple CarPlay and Android Auto, including the current Ford Ranger and the all-new Ford Ranger Raptor.

---

Is the Ford Ranger a good off-roader?

Sitting atop a rigid ladder-frame chassis and armed with 4x4 shift-on-the-fly system, locking rear differential, and solid suspension setup (front double wishbone with coil springs and rear leaf springs), the Ford Ranger is a very capable pickup truck on unpaved roads. It also has an 800mm water-wading capacity and 230mm ground clearance, allowing you to clear virtually any unchartered course.

---

Are the Ford Ranger and Mazda BT-50 one and the same?

Essentially, yes, since they share the same platform that was developed by Ford. Mazda, however, infuses its own design elements and technology into the BT-50.

---
Important: AutoDeal.com.ph aims to provide the most accurate and updated vehicle information as possible. However, please note that vehicle specifications, prices, and images may be changed by the manufacturers and dealerships without prior notice. Always test drive a vehicle before purchasing. If you spot a potential mistake, feel free to contact us at info@autodeal.com.ph.
Get the best deal - Choose multiple dealerships to compare offers!
You can compare quotations simultaneously from multiple Ford dealerships. Select your preferred dealers from the list below.

Compare quotations from multiple dealerships in minutes.
Check vehicle and color availability.
Find info on special offers and promotions.
100% Hassle-free with no obligation to purchase.
Similar Cars
From: P 998,000 – 1,328,000
From: P 1,390,000 – 1,790,000
From: P 830,000 – 1,135,000
From: P 1,041,000 – 1,796,000
From: P 843,000 – 2,005,000