Nissan X-Trail 2021
Php 1,534,000 – 1,820,000
Nissan X-Trail Reviews
Find all Nissan X-Trail reviews, from our full review to our safety, technology and interior reviews. Find detailed scores and ratings to help you decide if the Nissan X-Trail is right for you.
Performance
Engine Output (HP), Acceleration, Transmission, Handling 4.0/5
Design
Exterior & Interior Design, Quality, Fit and Finish, Ergonomics 4.0/5
Ride Comfort
Cabin Comfort, Suspension, NVH Insulation 4.0/5
Safety and Technology
Convenience Technologies, Active and Passive Safety Features 4.5/5
Value for Money
Amount of the vehicle you get for the price, Fuel Efficiency 4.0/5
What You Will Like
Plethora of safety and convenient features.
Power-adjustable driver and front passenger seats.
Handles well.
What You Won't Like
Oddly-placed ECO button.
3rd row is a bit cramped.
Display head unit could have been bigger.
Are You Ready To Buy?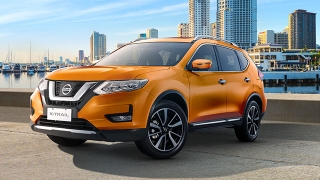 Promo Available
P1,534,000 – P1,820,000

2 Variants & Specifications
Get Offers From Multiple Dealers
Send Quote to 3 Local Dealers Simultaneously
Compare offers and select your preferred dealer
Communicate safely and buy with confidence
Get Quote
Nissan X-Trail Reviews
We test the refreshed X-Trail with its whole new arsenal of intelligent features.

4.1

/

5
Similar Car Reviews
It's one of the longest-running nameplates in its segment.

4.5

/

5

Power, space, tech, you name it.

4.6

/

5

Find out what the only gas variant of the Honda CR-V has to offer in our in-depth and honest review

4.4

/

5
Similar Cars
From: P 1,208,000 – 1,478,000
From: P 1,730,000 – 2,372,400
From: P 1,458,000 – 1,468,000
From: P 1,185,888 – 1,535,888