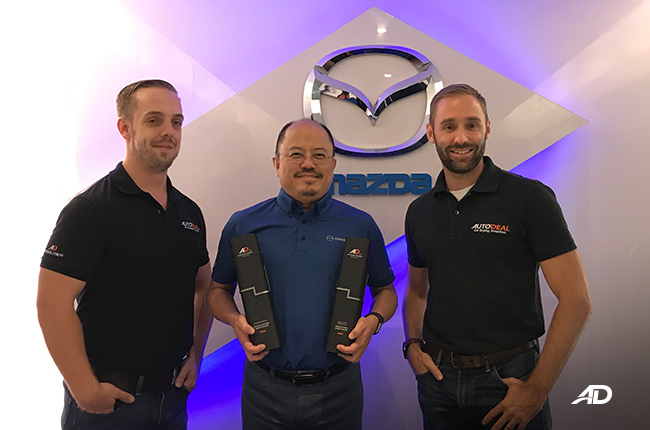 In the course of 2018, AutoDeal.com.ph, the Philippines' no.1 automotive online marketplace, has seen multiple transactions between dealers and prospective car buyers. It has also seen inquiries converted into actual sales numbers through its comprehensive digital platform, keeping track of what online car buyers really want and would actually spend their money with.
Mazda Philippines has shown exemplary performance in both fields last year, allowing the Japanese brand to collect multiple accolades at the 2018 AutoDeal Awards.
2018 AutoDeal Online Customer Service Award
The highest award given to the best-performing brand on AutoDeal is the Online Customer Service Award. Like all previous awards, scores are also based on reply speed, sales conversion, and customer feedback. Data is collected through the brand's entire nationwide dealership network.
In 2018, Mazda Philippines is the privileged recipient of the AutoDeal Online Customer Service Award through the unified performance of its 19 dealers on the platform. The entire dealership network replied to customer inquiries within four hours, on average, which is faster than any other brand on AutoDeal. With that said, Mazda Philippines garnered an average customer satisfaction rating of 4.88-stars – the highest on AutoDeal.
2018 AutoDeal Online Buyers' Choice Award for Compact Crossover
AutoDeal's Online Buyers' Choice Award is purely based on Lead-to-Sale Conversion rate and not on popularity, public votes, or test drive reviews. Lead-to-Sale Conversion rate is the correlation of the number of inquiries versus sales numbers, to measure the actual interest of car-buyers on vehicles.
In 2018, 3.38% of all inquiries for Mazda vehicles were converted into a sale. The CX-5 stood out in that period as the buyers' choice in the compact crossover segment.
Bermaz Auto Philippines Inc. (BAP), the official distributor of Mazda in the country, accepted the award through its President. Mr. Steven Tan. AutoDeal's co-founders Christopher Franks and Daniel Scott facilitated the awards.
---