As an Overseas Filipino Worker (OFW), the struggles of buying a vehicle can be a little bit overwhelming. Different time-zones, international phone call rates, and poor feedback from dealer websites are just a few things that can turn the supposed pleasurable experience into a total nightmare.
Luckily, over the last two years, AutoDeal has helped hundreds of OFWs complete transactions with Philippine car dealers, regardless of them being thousands of miles away. By connecting with dealers on AutoDeal, OFWs can message sales agents for free and complete necessary requirements remotely without needing to visit the showroom or speak to an agent in person. Since AutoDeal guarantees that agents on it's platform are certified representatives of it's partner dealers, OFWs can rest easy that any sensitive personal information they submit is being handled with the upmost care.
Since OFW transactions account for around 20% of all engagement on AutoDeal, we've come to learn a lot about the preferences of buyers in different host countries.
Here are some of our findings: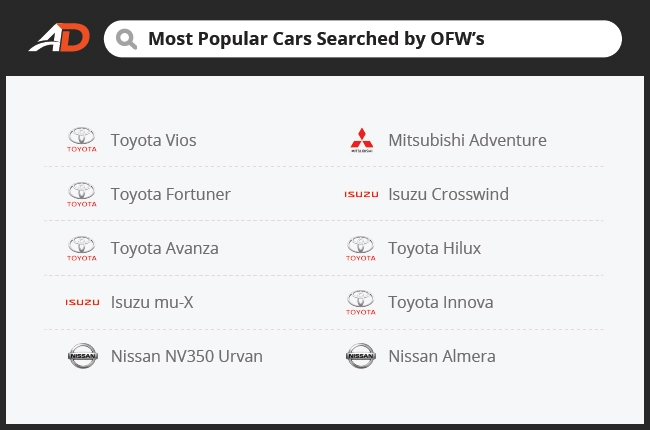 OFW's are still crazy for Toyota.
It comes as no great surprise that the worlds largest carmaker Toyota reigned somewhat supreme, accounting for 50% of the top 10 inquiries made by OFW's. In particular the Vios ranked in 1st place followed by the Fortuner in 2nd and the Avanza in 3rd. The Hilux and the Innova brought in the rear finishing in 8th and 9th respectively.
Aside from Toyota, both Isuzu and Nissan ranked well with the Isuzu mu-X (the dark horse of the SUV Wars) ranking 4th, the new Nissan NV350 Urvan ranking in 5th (as the no.1 most searched for van), the faithful Isuzu Crosswind finishing 7th and the Nissan Almera rallying in 10th.
Mitsubishi Motors also scored 6th place with the Mitsubishi Adventure while models like the all-new Montero Sport and Mirage surprisingly did not make the list.
Nature of Searches
On average OFWs searching for vehicles in Canada had the most expensive tastes with the average vehicle price of searches reaching P981,800. There was also distinct differences in the types of vehicles OFWs were searching for. SUVs were most commonly sought for by OFWs in Saudi Arabia, United States, and Japan while MPVs and AUVs were searched for in United Arab Emirates, Singapore, Kuwait, and Australia. OFWs in the United Kingdom and Malaysia had more taste for sedans while those in Canada were most likely to search for vans and minivans.
East Asia & Oceania
East Asia and Oceania were dominated by Japanese brands with Toyota taking the crowns in Malaysia and Singapore. In Japan, the Isuzu mu-X took 1st place while the Mitsubishi Adventure was most commonly inquired for by OFWs in Australia.
In addition to Toyota, Isuzu, Nissan, and Mitsubishi, brands like Suzuki, Ford, Hyundai, and Chevrolet scored well in specific markets. The only European vehicle representing in any line-up was the Volkswagen Polo sedan which ranked in 9th place for OFWs in Malaysia.
Europe & North America
OFW engagement in North America also massively favored Japanese brands with Toyota, Mitsubishi, and Isuzu all scoring well in searches both in the United States and Canada. Surprisingly, neither Ford or Chevrolet reached the top 10 lists.
In the United Kingdom, OFW's favored the Nissan NV350 Urvan above all else.
Middle East
In Saudi Arabia, SUVs reigned supreme with the all-new Toyota Fortuner ranking in 1st place. Also present was the Isuzu mu-X (ranked 3rd) and the Ford Everest (ranked 7th). In Kuwait, the Toyota Innova was top preference while in the United Arab Emirates the Mitsubishi Adventure took the crown.
---
Are you an OFW interested in a Vios?
Let AutoDeal do the leg work for you. We'll connect you with an official approved sales representative.