Verified Agent
Hi I'm Redel Doloroso
Official Sales Agent for
Mitsubishi Motors Manila Bay
My Stats
1 year, 2 months
on AutoDeal
My Customers
Mitsubishi Motors Manila Bay Promos
Available in: Nationwide
Price

P772,000

Downpayment

P28,000

Monthly

P15,621

Loan Term

60 Months
View Promo
Get Quote
---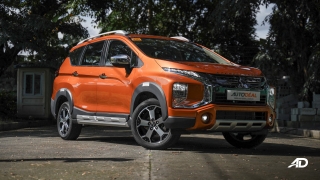 Available in: Nationwide
Price

P1,255,000

Downpayment

P78,000

Monthly

P25,393

Loan Term

60 Months
View Promo
Get Quote
---
Available in: Nationwide
Price

P998,000

Downpayment

P88,000

Monthly

P20,193

Loan Term

60 Months
View Promo
Get Quote
---
Mitsubishi New Cars
---
---
---
Words simply are not enough to describe my excellent experience in buying my first ever brand new "dream car", XPANDER CROSS AT MODEL 2021-PEARL WHITE at Mitsubishi Motors-Manila Bay (Peak Motors, Phil. Inc.) The Sales Executive/Agent, MR. REDEL DOLOROSO, is so accommodating and very responsive to all my queries from the very start. He gave me the best deal with amazing discounts and freebies to the extent that he even paid extra out of his own pocket. Indeed, he was very transparent and easy to transact with and his customer service attitude was exceptional. He really deserves a rating of "5 STARS"! I would definitely recommend him to other future car owners! Keep up the good work Redel and thank you for bringing us home safely with our newly purchased car despite continuous rain that night of January 20, 2021. Appreciated much! Good luck, more power and most of all, more sales to come! God bless... :)
Brenda Malapira
, Mitsubishi Xpander Cross 1.5 AT
Jan 22, 2021
I am a first time car buyer so it is so important for me that my investment will be perfect. Thankfully, Redel is very accommodating and trustworthy despite transacting only over the phone. He always updates me on the progress of my application even during weekends and after office hours. I sent over all the requirements through email/chat and in just a few days, it was approved. And just the week after that, he got me another good news, that my car is ready for release. It was my first time to meet him in person on the day of the release and I had another favor to ask him. I needed to complete all the requirements by lunch time before I had to leave for work. Given the volume of the forms that need to be filled up and the countless time he went back and forth the different departments, he made it just in time.

Now I am enjoying my new car with no worries at all. Thanks to Redel for being very flexible and attentive to customer needs. Definitely a professional and a highly recommended agent.
Anonymous
, Mitsubishi Mirage GLX CVT
Nov 17, 2020
I'm a first time owner of a brand new car. I heard a lot of bad experience in other sale agents for not being transparent on selling a car, especially on the hidden charges. Sir Redel is highly recommended sales agent he is very accommodating and helpful. he was able to assist me on my bank approval in less than a week. I feel at peace in transacting with my first car. He is very true\transparent in our deal. He has a lot of experience and expertise in his field of work. again! I thank sir Redel for fast and flexible deal.
June Aseo
, Mitsubishi Strada GLS 4x2 AT
Nov 01, 2020