Verified Agent
Hi I'm Tanya Tupaz
Official Sales Agent for
Ford Global City
My Stats
1 year, 10 months
on AutoDeal
Ford Global City Promos
Available in: Nationwide
Price

P1,190,000

Discount

P150,000

Discounted Price

P1,040,000
View Promo
Buy Online
---
Available in: Nationwide
Price

P998,000

Discount

P130,000

Discounted Price

P868,000
View Promo
Buy Online
---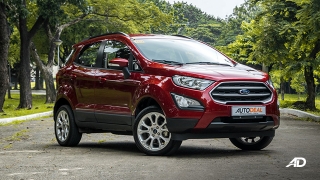 Available in: Nationwide
Price

P938,000

Discount

P139,000

Discounted Price

P799,000
View Promo
Buy Online
---
Ford New Cars
---
---
---
Helpful and attentive. Shortened our wait list time.
Anonymous
, Ford Territory 1.5 EcoBoost Titanium+ CVT
Jan 07, 2021
Ms. Tanya is the best car sales agent we've met! She's an extraordinary one; responds promptly and respectfully, all transactions were done quick and safe. Despite the pandemic, we were able to purchase our dream car in a short span of time! Very responsive to our texts and calls, even outside office hours. Nice deals and freebies all given with a smile. What a great sales agent she is! Thanks Ms. Tanya for the excellent service!
Lorna Rivera
, Ford EcoSport 1.5 Trend AT
Dec 23, 2020
Commendable! Excellent service 👏
Anonymous
, Ford EcoSport 1.5 Titanium AT
Aug 19, 2020
I am a 51 yr old American and have purchased many cars in my life, from Mercedes to Jaguar to Landrover. Having dealt with all of these dealerships I cannot tell you how amazed I was at the level of service provided to my wife and I by Tanya Topaz. I have spent literally days at some of the aforementioned dealerships trying to complete the purchase process. We were able to select our vehicle with Tanya guiding us the whole way and complete the entire sales process in under 2 total hours. I would never have thought my best car buying experience would happen Makati Philippines but that is exactly what is was. Ford should be extremely proud of the work they have done to select and train the very best agents I have met. I will be highly recommending Global City Ford and Tanya Topaz to all of my friends here in the Philippines. Thank you so much for providing such an enjoyable experience for my wife and I.
Scott Allan
, Ford Ranger 2.0 Biturbo Wildtrak 4X4 AT
Jun 10, 2020
tnx ma'am
Jason Sy
, Ford Ranger 2.0 Wildtrak 4X2 AT
Jan 28, 2020
JB Tigson
, Ford EcoSport 1.0 EcoBoost Titanium AT
Jan 20, 2020
Best sales agent ever! She handled all concerns and she's even proactive in terms of providing service and answering questions promptly .I highly recommend her. 1million stars for her!
Anonymous
, Ford Ranger 2.2 XLS Sport 4x2 MT
Dec 06, 2019
Easy to talk with and very accommodating.
Anonymous
, Ford Ranger 2.0 Wildtrak 4X2 AT
Oct 09, 2019
She is excellent as my sales agent. She is very customer service oriented and easy to talk to.
Shelmar Kitch La Victoria
, Ford Ranger 2.0 Wildtrak 4X2 AT
Jul 13, 2019