AutoDeal New Car Comparison
Not decided on a new vehicle yet? You can compare up to three new cars at a time using our dynamic car comparison tool. Don't worry, we'll convert the data into results that speak your language.
Add A Car For Comparison
---
Featured Comparison
A workhorse needs enough power to carry heavy loads and perform the most demanding tasks. Now, let's figure which...
View Comparison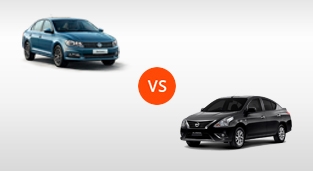 The Nissan Almera hasn't changed for quite some time now. Does it have what it takes to put up a spec battle with...
View Comparison
A battle of the looks and comfort is what the Toyota Camry and GAC GA8 are up to. Great match up, you think?
View Comparison
Premium Car Comparison
Swedish architecture vs German engineering vs Japanese reliability. Which is the better premium compact crossover?
View Comparison
Which European hot hatch best suits your personality? Choose from these 5-door hatchbacks from Mercedes-Benz, BMW, and MINI.
View Comparison
These are the best bang-for-your-buck supercars. For less than Php 9 million, would you drive a turbo-V6 or naturally-aspirated...
View Comparison
Popular Comparison
Would you haul up with the SsangYong Musso or the Nissan Navara? Check out which fits your needs in this comparison.
View Comparison
A midsize SUV must have the rugged looks, dominating power, great comfort, and quality performance. Now, which between the...
View Comparison
Competing in the local subcompact sedan segment, the Kia Soluto and Hyundai Reina are the hottest perfect match-up today.
View Comparison
Latest Comparison
If you're looking forward to having a decent compact sedan, you better consider having one of these two models....
View Comparison
When it comes to midsize pickup trucks, it's only normal to go for the toughest one – something that can handle...
View Comparison
Both the Toyota Hiace and Hyundai Grand Starex have new looks. That does not mean both are on the same level when it comes...
View Comparison