---
About
The world's largest automobile brand, Toyota Motor Corporation began its journey up the success ladder in 1937. Founded by Kiichiro Toyoda, the brand was surprisingly inspired by his father's Loom Machine making company.

Kiichi decided to manufacture motor vehicles in 1935. With its first line of automobiles, the A1 and the G1, the company's motor vehicle segment quickly drew attention, and finally was made an independent company two years later. This led to a series of success that have elevated the brand to where it is today.

Here in the Philippines, Toyota reigns supreme as the country's No. 1 automotive manufacturer, topping annual automotive sales charts multiple times in a row. Known as Toyota Motor Philippines Corporation (TMP), it is a three-way joint project between GT Capital Holdings Inc., Mitsui & Co. Ltd., and Toyota Motor Corporation Japan.

Since its start, it has become synonymous with Pinoy car culture, bringing out iconic models like the '80s Corolla Liftback, the '90s Corolla AE92 Sprinter, Tamaraw FX, and the latest Vios and Innova models.

Leading the company's continuous success is TMP Chairman (Since 1988) Mr. George S.K. Ty, TMP leads the Philippine automotive fleet with its array of units. Available in its many dealerships nationwide are models like the 86, Wigo, Yaris, Vios, Prius C, Corolla Altis, Camry, Avanza, Innova, Previa, Alphard, Rav-4, FJ Cruiser, Fortuner, Land Cruiser Prado/Land Cruiser 200, Hilux, Hiace, Coaster, and the HSPU.
Promo Available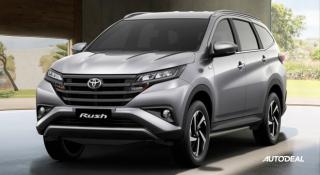 From: P 948,000 – 1,070,000
Promo Available
From: P 1,592,000 – 2,260,000
You get the full Camry drive, safety, and experience for almost P200,000 less, and not miss out on the important bits.

The Philippine-spec Toyota Rush comes in 5-seat and 7-seat variants, with the 5-seater having a significantly lower price than the range-topper.

3.5

/

5

Get Notified
Do you want to be the first to know about the latest automotive deals? Just subscribe with your email address and we'll send you alerts on the most incredible deals as they happen.