Autodeal Car Comparison
Toyota Hiace Commuter 3.0 MT vs. Nissan NV350 Urvan 18-Seater
You can still add another car for comparison
Add
Toyota Hiace Commuter 3.0 MT is the cheapest
Transmission Category
5-Speed Manual (Dash-Mounted)
5-speed Manual (Dash Mounted)
Toyota Hiace Commuter 3.0 MT has a bigger engine
Acceleration Rate (0-100 km/h)
Toyota Hiace Commuter 3.0 MT is more powerful
Nissan NV350 Urvan 18-Seater has more pulling power />
Toyota Hiace Commuter 3.0 MT accelerates more quickly
Toyota Hiace Commuter 3.0 MT has a higher top speed
Toyota Hiace Commuter 3.0 MT is more eco-friendly
Toyota Hiace Commuter 3.0 MT is more fuel efficient
Toyota Hiace Commuter 3.0 MT has a greater range
Toyota Hiace Commuter 3.0 MT and Nissan NV350 Urvan 18-Seater are of the same lengths
Toyota Hiace Commuter 3.0 MT and Nissan NV350 Urvan 18-Seater are of the same widths
Nissan NV350 Urvan 18-Seater is taller
Toyota Hiace Commuter 3.0 MT has a large wheelbase
Nissan NV350 Urvan 18-Seater has a larger payload capacity
Toyota Hiace Commuter 3.0 MT has a tighter turning circle
Toyota Hiace Commuter 3.0 MT and Nissan NV350 Urvan 18-Seater have the same overall cargo capacities
Electronic Brake Distribution
Lane Departure Warning System
Blind-Spot Detection System
Air Conditioning System
Manual Air-Conditioning with 12 Independent Vents
Entertainment System
2-DIN CD/Tuner/MP3 with USB with Remote Control via 2 Speakers
Connectivity
Aux and USB
n/a
Electric Adjustable Seats
Steering Wheel Audio Control
---
Car Comparison
Compare thousands of cars available in the Philippines and find out which has the best performance, safety equipment or economy and much more.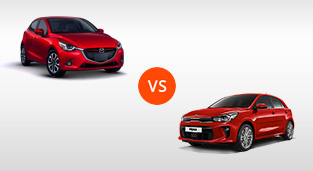 Here are 2 hatchbacks to suit your everyday-drive necessities. Which do you think will grab the win?
View Comparison
It's a battle of crossovers with these 3 nameplates. Which one has your heart?
View Comparison
It's time for a subcompact sedan match-off. Which would you place your bet on?
View Comparison