Foton View Traveller 2021
Php 1,505,000 – 1,655,000
Foton View Traveller Owner Reviews
Read reviews from verified car buyers and find out from real owners what it's like to own Foton View Traveller.
Recent Owner Reviews
Our Verified Buyer Reviews come from confirmed customers that have had their purchase registered on the AutoDeal platform.
Anonymous

Verified Buyer

Foton View Traveller 16-Seater Cummins Engine

Purchased from FOTON, Pampanga
Are You Ready To Buy?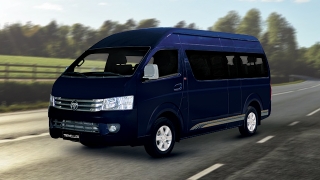 P1,505,000 – P1,655,000

2 Variants & Specifications
Get Offers From Multiple Dealers
Send Quote to 3 Local Dealers Simultaneously
Compare offers and select your preferred dealer
Communicate safely and buy with confidence
Get Quote
Buy your car insurance online
Similar Cars
From: P 1,101,000 – 2,334,000
From: P 1,162,000 – 1,866,000
From: P 1,248,000 – 2,938,000
From: P 1,190,000 – 1,570,000
From: P 1,988,000 – 2,348,000