Verified Agent
Hi I'm Chiradee Bautista
Official Sales Agent for
Toyota Manila Bay
My Stats
My Customers
Toyota Manila Bay Promos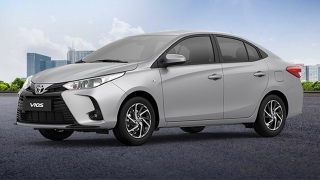 Available in: NCR
Price

P851,000

Downpayment

P0

Monthly

P17,069

Loan Term

60 Months
View Promo
Get Quote
---
Available in: NCR
Price

P1,379,000

Downpayment

P85,000

Monthly

P27,660

Loan Term

60 Months
View Promo
Get Quote
---
Available in: NCR
Price

P1,649,000

Downpayment

P125,000

Monthly

P33,075

Loan Term

60 Months
View Promo
Get Quote
---
Toyota New Cars
---
---
---
Chiradee is a very accommodating and professional agent, she's very patient in assisting all of my request specially on my car loan approval, she walks me through out the process. Chiradee also make sure that I get all the important informations that I need to know, she also give me an extra freebies. Thank you for genuinely assisting me, looking forward for more transactions with Chiradee.
Margene Benitez
, Toyota Vios 1.3 XLE CVT
Oct 01, 2021
Highly recommended, great service with lots of freebies! Very satisfied client here!
Anonymous
, Toyota Innova 2.8 E Diesel AT
Oct 01, 2021
Ms. Cheen is very helpful to me throughout the whole process. As a first time car buyer, I did not feel left out of information and she was able to answer all my questions and concerns while buying the unit. Her turnover time is also superb as I was able to get my unit before the deadline I gave her. I highly recommend her as an agent especially to first time car buyers like me. 5/5!
John Roque
, Toyota Fortuner 2.8 Q Diesel 4x2 AT
Sep 17, 2021
Edgar Garcia
, Toyota Land Cruiser Prado 2.8 Diesel AT
Sep 04, 2021
The with the agent was transaction was smooth. She assisted us with everything and keep us updated with our application and release. Excellent service and assistance.
John Desouza
, Toyota Vios 1.3 XLE CVT
Sep 04, 2021
thank you for providing us fast and hassle-free online transactions with extra efforts exerted.
Jaros Lacerna
, Toyota Vios 1.3 XE CVT
Sep 04, 2021
very good
faisal armama
, Toyota Hiace 3.0 Cargo
Jul 25, 2021
She is very professional and very caring to her customers like us. She makes sure that no time is wasted and that everything is documented for the success of the car loan application. I would definitely recommend her to all my friends and relatives. Kudos for being a very reliable and confident sales representative!
Anonymous
, Toyota Vios 1.3 XLE CVT
Jun 29, 2021
she was very accommodated and very approachable person.im very satisfied with her work as a car dealer agent
Michael Lerma
, Toyota Wigo 1.0 G AT
Jun 29, 2021
Chiradee is very accommodating and fast. We got connected by Autodeal on a Monday and my car was released within the same week on a Friday.Thank you for going the extra mile!
Justin Tolentino
, Toyota Vios 1.3 XLE CVT
Jun 19, 2021