2
Certified Pre-Owned, Repossessed and Used Honda City cars for sale in Central Luzon
Your current search criteria: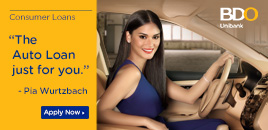 Need a new Car? Get your BDO AutoLoan now!
Click Here
Used Car
/ Featured Listing
2014 Honda City 1.3L MT Gasoline
P470,000
41,000 Km
Manual
Gasoline
Park and Sell Auto Showroom
Angeles City, Pampanga, Central Luzon
Dealer
---
Choose the financing plan that best suits you and apply for your loan online.
Compute Car Loan
Used Car
2016 Honda City 1.5L AT Gasoline
P620,000
29,000 Km
Automatic
Gasoline
Carmix
San Fernando City, Pampanga, Central Luzon
Dealer
---