Mazda 2 Reviews
Find all Mazda 2 reviews, from our full review to our safety, technology and interior reviews. Find detailed scores and ratings to help you decide if the Mazda 2 is right for you.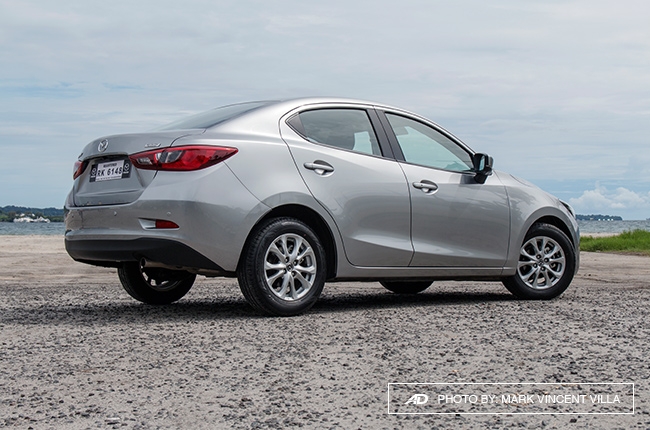 Performance
Engine Output (HP), Acceleration, Transmission, Handling 4.5/5
Design
Exterior & Interior Design, Quality, Fit and Finish, Ergonomics 4.0/5
Ride Comfort
Cabin Comfort, Suspension, NVH Insulation 3.5/5
Safety and Technology
Convenience Technologies, Active and Passive Safety Features 4.0/5
Value for Money
Amount of the vehicle you get for the price, Fuel Efficiency 4.0/5
What You Will Like
G-Vectoring Control technology makes the ride more stable as well as reduce the car's body roll.
Updated interior design makes the 2 Sedan classier and premium-looking.
Decent trunk space - could accommodate around 3 regular gym bags.
What You Won't Like
Road noise generated by the tires is a tad audible; this could be faulted to the econo tires that come as standard.
Are You Ready To Buy?
Get Offers From Multiple Dealers
Send Quote to 3 Local Dealers Simultaneously
Compare offers and select your preferred dealer
Communicate safely and buy with confidence
Get Quote
Buy your car insurance online
Mazda 2 Reviews
The new Mazda2 Sedan is on full assault to contend the local subcompact sedan segment.

4.0

/

5
Similar Car Reviews
In times when fuel prices are as erratic as the stock exchange, that blue Toyota badge means a lot.

4.1

/

5

The subcompact MG found its way into our office, and it did turn a few heads, but is the beauty skin-deep?

4.1

/

5

Here's our review of the quintessential commuter car in the Philippines.

3.7

/

5
Similar Cars
From: P 999,000 – 1,595,000
From: P 671,000 – 1,071,000
From: P 1,068,888 – 1,188,888
From: P 686,000 – 993,000
From: P 970,000 – 1,065,000
From: P 791,888 – 917,888