1
Certified Pre-Owned, Repossessed and Used Hyundai Elantra cars for sale in San Fernando City
Your current search criteria: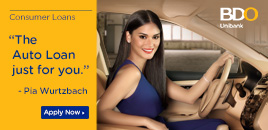 Need a new Car? Get your BDO AutoLoan now!
Click Here
Used Car
/ Featured Listing
2016 Hyundai Elantra 1.6 GL AT
P850,000
968 Km
Automatic
Gasoline
Carmix
San Fernando City, Pampanga, Central Luzon
Dealer
---
Choose the financing plan that best suits you and apply for your loan online.
Compute Car Loan