Caco Tirona
Video Head
A motoring managing editor at his desk since 2010, Caco joins AD in 2017 to be the voice and face for our unboxings and other video features. Loving the idea of stretching a car's legs out of the city, he also gets excited about going home to his family.
@AutoDealPH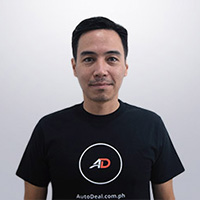 The Jazz RS is here and it's dressed to impress.

7-seaters don't have to be very big, expensive, or boring. The Mobilio is an exact alternative to those without compromising comfort.

It's finally here. Get to see and know more about this Japanese crossover in this review.

We got our hands at the Best Mini Bus of 2017.

We got our hands at the Best Mini Bus of 2017.

The mu-X was updated and now runs on a Blue Power engine. Is it enough to have an upper hand in the local SUV segment?

Nissan Philippines took us to La Union to immerse with the new X-Trail's tech advancements.

Suzuki Philippines took us out to La Union to experience their new crossover, the Vitara.

It's not everyday that we get a date with an Italian hottie, but in this video, we did just that. We took the 488 GTB for a premium spin on the outskirts of the metro.

Caco went to Japan courtesy of Nissan and he got to drive the brand's future in electric mobility - the Leaf.

You've seen it in showrooms, at PIMS last year, but now it will be in its natural environment.

Nissan Philippines to implement price increase for the Urvan next month.

The 10th generation of Honda's iconic nameplate will save you money because you don't have to spend on bodykits…for now.

Ford took us to Tagaytay for a day of health and wellness with the EcoSport.

Honda took their subcompact sedan contender to a shower and refreshed it with a new look.

A stunning piece of art, but can its performance match its looks?

The Subaru Levorg may not be a popular choice, but that doesn't mean it's not a good car.

It was unveiled last March and now we got one in our hands. See what Caco thinks of this nimble, little roadster.

Improving quietness, maximizing comfort, and superior wet road performance — Goodyear's new SUV tire is going to be a tough act to follow.

With a competitive price, darn good looks, and good driving dynamics, the Mazda3 will make you think thrice whether you should go to another brand's showroom.

The Hyundai Veloster has an attractive price for a compact sports car, but can it pass Caco's sports test?

Get Notified

Do you want to be the first to know about the latest automotive deals? Just subscribe with your email address and we'll send you alerts on the most incredible deals as they happen.

Mini updated the Countryman, with a refreshed exterior, updated interior, and now with a Diesel engine under the hood - and Caco got to drive it.

The Mazda2 updates their entry level sedan while retaining a lot of things, mainly those that are already perfect for it.

There are only few electric vehicles available locally with most of them still hybrids. We asked Nissan Philippines President Ramesh Narasimhan if they would join the fray.

Electric vehicles are the future, and the future is now. Well, right now hybrids only.

The time when cars only serve one purpose is over, as the station wagon is now a sports wagon. For the Mazda 6, sporty is just one of its personalities.

Ford Philippines invited us to drive the 2017 Ford Everest on the lahar beds in Pampanga and of course we said YES

Caco had a nice stroll in the Mazda ZoomFest and got some good news for you

Winning the iF Design award is no small thing, but is this Elantra more than an eye candy?

Go to BGC this Father's Day and zoom to the ride of your dreams. Wife's purchase permission not guaranteed though.

Caco got his hands on the best selling pickup in AutoDeal, and he sure had fun with it.

A near perfect package of supple interior space, fuel efficiency, and devilishly handsome exterior styling. It's a wonder why it hasn't married itself.

4.3

/

5

Caco drove the Altis in a rare, empty Makati to see if it's as aggressive as it looks.

SsangYong tries to undercut other brands by giving more at the P1.5M price point. Did they succeed or should they try harder? See for yourself.

Once you look past the slew of noob photographers, you'll see all the aftermarket parts available for your car. There's also wild customs from classic to modern to serve as your inspiration.