Daniel Scott
Co-Founder
Daniel has worked in the Philippines since 2008 and is undertaking his second startup. He focuses on business and product development and has a somewhat uncontrollable addiction to buying domain names.
@AutoDealPH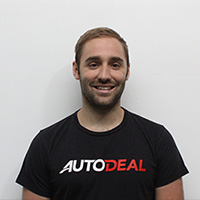 Over the last decade, we have seen the technological revolution that mobile phones have gone through. Now you can find information on anything, get directions, pay for things, play games, an...

Difference in time-zones, distance, and international phone call rates – these are just few of the factors that Overseas Filipino Workers (OFWs) face when buying a car. As such, AutoDeal.com...

Our promos here in AutoDeal are not limited from dealerships within Metro Manila. We have partners in provincial areas that also have amazing deals that you can take advantage of. To start t...

Wouldn't it be nice to get a brand new car by shelling out just a little (to zero) cash? We know it does, that's why we dug up our promo pages to find the best all-in downpayment deals that...

Filipinos are generally family-oriented, thus, they tend to shop for vehicles that have more seats as it can carry more people with one trip. That's what our data says, therefore, we dug up...