Jinno Rufino
Video Host
A sports anchor by night, and avid motorcyclist every hour of the day. Jinno is an adrenaline junkie with a love for two-wheelers, and the lifestyle associated with them. As the new host of MotoDeal's videos, he doesn't just talk about bikes, he annunciates whatever he thinks. He doesn't know how he became friends with Caco, however, he is younger and taller than him.
@AutoDealPH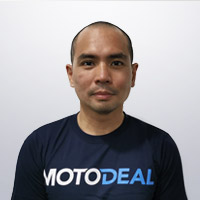 Aprilia did what we didn't think was possible in the Philippines, they brought in a scooter with the handsome good looks of the RSV4, and with the ease of use of a Vespa. It's no surprise th...

Wait! Before you go for that listing online for a second-hand motorcycle, watch this video. We're going Behind a Desk with Jinno to bring your tips and advice that you will need if you're bu...

The Tiger Sport 660 is Triumph's latest entry into the middleweight Sport Touring segment. Sharing the same motor with the Triumph Trident, it aims to bring the same excitement of their entr...

BMW Motorrad invited Jinno to a training course to hone his riding and develop new skills in the process. The BMW Motorrad rider program seeks to teach Filipinos how to ride better. Through...

When you're shopping for your next bike, consider the XSR series from Yamaha. With the 155 out of the question for highway legality, which of the two big XSRs do you go for? The XSR 700 or t...

With its V4 engine the 2021 Ducati Street Fighter V4S makes quick work of any straights, big thanks in part to its 208 horsepower figure. In the bends, thank Öhlins for smooth and planted ha...

Can you really call this a future classic when it is a Classic? This is the 2022 Royal Enfield Classic 350. The backbone of Royal Enfield's lineup gets a refresh with a 350cc single cylinder...

Jinno loved the 2022 Yamaha Tenere 700 so much that he bought one and called it his own. After going round and round with his Yamaha XSR900, he decided that the T7 would be the perfect fit f...

What's new for 2022? That remains to be seen. Here are 2022's most anticipated two-wheelers from Behind a Desk with Jinno Rufino. There are motorcycles in this list that have yet to be launc...

Italy, the home of some of the most passionate brands in the world. Jinno is here today to review something Italian, but it's no Vespa nor is it a Ducati, it's a Maserati Quattroporte. How d...

What were the best rides in 2021? It was hard but we made a list for you showcasing some of the best motorcycles you could buy in the Philippines. Many bikes were vying for first place in th...

Take two on a bike that Jinno was about to take home for good. This is the Triumph Bonneville Bobber Black on this episode of Beyond the Ride. Equipped with a 1,200cc twin cylinder, Triumph'...

This is the 2021 MV Agusta Dragster 800, a beautiful exercise in gorgeous by the Italian brand. Nothing's held back with this model as MV set out to create a stunning looker of a motorcycle....

You want big? You ain't seen this 2021 BMW R18 yet in the metal. Or have you? A classic cruiser with one of the biggest boxers ever on a motorcycle, the R18 impresses on all fronts this time...

Carbon, Element number six, otherwise found in charcoal, diamonds, and this helmet, the Spy Recon Plus Carbon. Carbon a wonderful material to work with, and Spyder Philippines has their own...

This 2021 Royal Enfield Meteor 350 isn't your average cruiser, it's one that you won't mind taking day-in-and-day-out. Thanks to its manageable thumper of a motor and its easy-riding charact...

Black and Yellow are the heritage colors of one of the first BMW GS models in the world, and here is a modern rendition of the once fabled off-roader from Germany. This is the BMW R nine T 1...

Ducati's Monster 937, is the Italian brand's newest naked offering with a totally new frame and a lot of head-turning looks. Here's our review of the 2022 model on this episode of Beyond the...

We rode our dream Ducatis on track in the Clark International Speedway, and it was a lovely day on track with some of the greatest two-wheeled machines in the industry. Our prime focus was o...

MV Agusta's take on a middle-weight naked bike has us floored. This episode of Beyond the Ride and a bit of a special one as the bike is one of the most desirable machines in its class not j...

A bike that's new and old at the same time? Then that means you're looking for a neo-retro motorcycle. We've got you covered on this episode of Behind a Desk with Jinno Rufino. Here are our...

Which neo-retro racer do you want to bring home? Is it the Yamaha XSR 155, or the Husqvarna Svartpilen 200? Are you undecided? Don't worry we have a comparison for the two Philippine-spec mo...

This is the 2021 CFMOTO 300 NK. A 300cc-class sport naked that doesn't break the bank priced at just P158,000 in the Philippines. Distributed by Motostrada in the country, it is equipped wit...

We answer your questions! We're giving away two Vemar helmets to two lucky few individuals who will appear on this episode of Behind a Desk with Jinno Rufino. We answer several motorcycle-re...

Plenty riders are out there with incomplete gear. While it is expensive to buy the full set and more, you can't really put a price on your life. So here are the top 5 essential pieces that y...

A classic modular helmet? No way? Leave it up to HJC to shake up our expectations with the V90 Modular helmet. Watch our review of it on this episode of Behind a Desk with Jinno Ruffino.

Mistakes! We all make them, and here are just 5 of many newbie mistakes that we've seen happen before and during a ride.

The 2021 Harley-Davidson Pan America has been making headlines since it first launched. Now, on this episode of Beyond the Ride, we head into an in-depth review of Harley's 1250cc adventure-...

Cardo's Packtalk line of motorcycle communicators are the premier options for riders that want a full-featured mesh-based comms system. Here's our review of the revered system from Behind a...

The 2021 Honda XRM 125 DS is available in the Philippines starting at just P73,600. Equipped with a 125cc single-cylinder engine that produces 9.6 horsepower and 9.55 Nm of torque, the bike...

The R nineT From BMW, is as pure as they come, but this is the purest of them all. Brand-spanking new for 2021, the BMW R nineT Pure gets a slight refresh for its latest iterations, but stil...

What's popular in the Philippines? To us at least, here are the top 10 bikes that buyers were inquiring for in 2020. We take a look back at the year passed to give you an idea of what people...

Can the BMW R 1250 GS handle what we've got in store? We all know it handles single track trails well, but can it handle the race track? We took multiple trips on this episode of Beyond the...

The 2021 Scrambler Ducati Nightshift. A blacked-out antithesis to the bright Icon in the lineup, the Nightshift features a unique set of styling elements along with familiar performance comi...

The 2021 Triumph Trident, a naked retro-themed motorcycle in the Philippines that goes for only P499,000. Notable features include its intoxicating exhaust note brought about by an inline-3...

The CFMOTO 300SR, a sportbike that gives you a lot of bang for your buck. Equipped with a 292 cc liquid-cooled single-cylinder engine, it won't break the bank at P165,000, but it will give y...

Wanna get on two wheels? Want something easy to ride? Are you just starting out? Well we have a list of bikes for you. Whether you want a scooter or a standard motorcycle, here are our top 5...

Want something that will give you good convenience and fuel economy? We have a list for you. Here are the top 6 most fuel-efficient scooters in the Philippines. There are a lot of models out...

Husqvarna's Svartpilen line of bikes are some of the best looking on the market. The 401s are great, but just how good is the 2021 Svartpilen 200? A low-displacement scrambler, it is, a bori...

The 2021 Husqvarna Vitpilen 401 is not your ordinary café racer. No, this bike is a wolf in sheep's clothing. Devilishly clad in matte grey and powered by a 373cc thumper than punches out 44...

Nothing is more daunting to ride than a liter bike. With a twist of the wrist, you could be sent flying into the stratosphere in no time. With all that performance comes a hefty price tag, b...

If you're on a budget and looking to move past your 150cc or 400cc motorcycle in the Philippines, the 650cc class of bikes has a lot to offer, but in a market with so many options, we've com...

The HJC RPHA 11 Pro is one of our favorite single-visor helmets in the Philippines. ECE-rated, made for sport riding, and well-ventilated, the RPHA 11 is one of our staff picks at the office...

MV Agusta makes some of the most beautiful motorcycles in the world, and this is their most purpose-built machine, the MV Agusta F3 675. A supersport through and through, the F3 has the most...

The Suzuki Burgman Street is a 125cc maxiscoot that you can afford. It's the Japanese brand's foray into a very competitive segment. The prime advantage that the Burgman has over its rivals...

Yamaha's Y-Connect software is like something out of Tron, Starwars, Terminator, whatever futuristic franchise you can think of.

Husqvarna created a ruckus in the Philippine market when it was first launched, the brand's best-selling Svartpilen 401 is loads of stylish and capable, but just how great does it ride? In t...

Sportbikes need not be expensive. On this episode of Behind a Desk with Jinno Rufino, we cover the top 5 most affordable sportbikes in the Philippines. All the major brands are here like Hon...

BMW's R nineT is a retro-modern icon loved the world over for its style and its capable performance. In the years running up to 2021, the culture couldn't be stronger, as the bike has accrue...

Comfort and Protection, two words that are ideals in the world of motorcycle gear. Comtect is a Filipino motorcycle gear company that makes jackets that are comfortable even when you are sit...