Jinno Rufino
Video Host
A sports anchor by night, and avid motorcyclist every hour of the day. Jinno is an adrenaline junkie with a love for two-wheelers, and the lifestyle associated with them. As the new host of MotoDeal's videos, he doesn't just talk about bikes, he annunciates whatever he thinks. He doesn't know how he became friends with Caco, however, he is younger and taller than him.
@AutoDealPH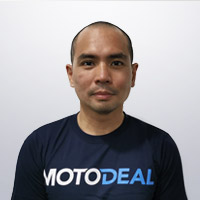 Exotic doesn't even do this bike justice. This is the 2023 Italjet Dragster, a very special scooter whose aim is to be one of the sportiest and most interesting thing on the road. This bike...

When it comes to classic motorcycles, none do it better than Triumph. On this Beyond the Ride review, we've brought in what is the bike that many aspire to, a 2023 Triumph Bonneville T120. E...

This is a different Monster. Ducati's 2023 Monster SP features better parts and a livelier performance compared to the standard. On this special Beyond the Ride review, Steph Sinco saddles u...

Not all BMW adventure bikes need a boxer engine, or do they? The F 850 GS-A may have the heft of the R 1250 GS up top, but it has a more agreeable engine compared to its bigger brother. In t...

This will probably be the new best-selling model for CFMOTO in the Philippines. Presenting the 2023 CFMOTO 450 NK. The sport-naked motorcycle will replace the venerable 400 NK in the lineup....

When the heavens open up, riders may still be out. If you absolutely need to go out on a motorcycle with rain falling down and pouring, watch this video before you go. Let's talk about some...

Tall, gorgeous, but still capable. The Husqvarna Norden 901 is one of the most gorgeous adventure bikes we've ever come across. On this episode of Beyond the Ride, we take it out and show yo...

Jinno's still rolling out his reviews from Spain, and Peugeot had more than just the XP400 to show him during his trip. Among the bikes available to use included the PM-01 125, an A1-complia...

Few brands have as interesting a story to tell, and we're here today to go Beyond the Ride with BSA. Check out how the brand is doing now in 2023, as Jinno experiences the marque in beautifu...

The Street Scrambler 900, is Triumph's most interesting cross between an easy-going classic and a hardcore adventurer. Find out if this middle-ground of a heavy-middleweight has what it take...

Today, we have a special episode of Beyond the Ride, as we go beyond the "normal" roads of the Philippines, and go get on the extraordinary sights and sounds of Spain aboard the 2023 Peugeot...

The CFMOTO 700 CL-X has another member in the lineup, and here it is on another Beyond the Ride review with Jinno Rufino. Check out what "ADV" means in the CL-X lineup. Taller bars, dual spo...

You meet the nicest people on a Honda, but does that mean that this is a nice bike as well? Something you can take home to mom and dad without them throwing a fit? Probably... Let's tell you...

Ladies and gents, we present to you the best value for money in the market of big bikes today, the 2022 CFMOTO 700 CL-X Sport. What makes this bike so great? CFMOTO took its newest nameplate...

Ohvale, pronounced "Oh-Vah-Leh," is a new entry in the Philippine market. The brand specializes in mini GP bikes. Even if its small size seems perfect for kids, teenagers, and probably Caco...

We were able to join the 2023 run for the California Superbike School (CSS) in the Philippines, well, at least Jinno was able to. Find out more about the advanced-level course that you can t...

Jinno Rufino heads to Istanbul Turkey for the Global Launch of the latest sportbike of CFMoto, the 450SR. How did it fare on the famous racetrack, Istanbul Park and how was it on the roads o...

The Scrambler Ducati 1100 Urban is here on this episode of Beyond the Ride. If you've ever dreamed of owning a classic but hooligan motorcycle, this could be it. With devilishly good looks a...

Let's go to Cebu! Motorismo took Jinno and a bunch of other vloggers out on a tour to get to the Queen City of the South on the back of motorcycles. Motorismo watns to take tourism to the ne...

Looks like the Bell Moto 3, but is it better? Let's go Behind a Desk and talk about the new HJC V60, a retro dual-sport helmet from the South Korean brand that's a perfect match for scramble...

Does Cardo's latest Packtalk have an Edge over the Bold? Jinno goes Behind the Desk to find out the pros and cons of the Cardo Packtalk Edge.

The Royal Enfield Meteor and Classic have a new brother in the stable. This is the Hunter 350, and its on this Beyond the Ride review with Jinno Rufino. Positioned as a "younger" Royal Enfie...

The Yamaha YZF-R6 is no more with 2020 being its last year in production as a road-legal racebike. In its place, we have the Yamaha YZF-R7. Instead of a four-cylinder motor the new superspor...

We have another gear feature, and it's from Stitched Sole Philippines! Motorcycle-specific riding boots and shoes can get quite expensive and we're glad to see that there is a local company...

What does the Mutt Akita 250 have to offer for its price? That's easy, build quality, looks, and attention to detail that will have many breaking their necks at the sight of it. The Mutt bra...

Jinno's out of the office again all the way out in Thailand having an adventure with Ducati. Specifically, Jinno was assigned a Multistrada 950. While it's not a V4 like what he rides back h...

On this episode of Beyond The Ride, we have another e-scooter. This time, it's the Zeeho AE8, a new electric mobility brand that's brought to us by CFMOTO. The new Zeeho's packing a lot unde...

Big bike or small bike? Ever wondered which one is better suited to your lifestyle? Join Jinno as he picks apart the pros and cons of each in this episode of Behind a Desk.

2023's looking like an exciting year for the big bike market, and more specifically, the adventure bike segment. Recent years have seen the growth of the ADV category, and 2023 could very we...

In 2022, we reviewed a ton of motorcycles in the Philippines, so much so that it took us quite some time to actually decide what 10 motorcycles were the best. Jinno dishes out his thoughts o...

Find out more about Autohub's riding school and more behind it on this episode of Behind a Desk. Jinno interviews key figures behind this new back to basics rider training program for the Ph...

BMW and Ducati, blue and red, sport touring and adventure touring. Which side are you on? Will Katrice Kierrulf bring you over to BMW's camp? Or will Jinno Rufino be the one to induct you in...

Neo retro isn't all round headlights and cafe racers. The Suzuki Katana, just as its name suggests, is not all about soft and and classical lines. Instead, you have a fire-breathing inline f...

The Harley-Davidson Sportster S is probably the best model in the lineup that can entice a new generation of riders to buy a American cruiser, but is it any good? With a modern engine, moder...

For our next MotoDeal long term review, we have Sam YG as a guest with his very own KTM 790 Adventure. Joining his bike is Jinno's Yamaha Ténéré 700. These two parallel-twin middleweight adv...

If the size doesn't get to you, maybe the attention to detail will. This is Triumph's Rocket 3R, and calling it a big bike is am understatement. This power cruiser carries a 2,500cc or 2.5-l...

Get a load of CFMOTO's 2022 800 MT, the brand's middleweight adventurer for the Philippine market. Equipped with a familiar 799cc parallel twin engine, top-notch specs, and a price tag of ju...

Jinno feels the need... The need for speed. The Speed Triple. Triumph's Speed Triple 1200 RS. He's reviewing it on this episode of Beyond the Ride and what a bike it is. Check out what the S...

Short riders don't need to worry about fitting on any of these bikes. Low seat height can be a big confidence booster for many beginner to intermediate riders. Here are some of our top picks...

Have you heard of the Horwin EK3? Well prepare to hear all about it on this episode of Beyond the Ride with Jinno. For the first time ever, we will be conducting this review's walkaround in...

The HJC RPHA 1 starts at P39,490 Philippine Pesos. That number then goes up to P45,000, then all the way up to P53,000 for this particular Austin GP Red Bull colorway. The RPHA 1 is HJC's fi...

We review 2022 Peugeot Django 150. We're sure you have tons of questions such as "is it a good scooter," "is it practical," "is it worth the price," and "is it as good as a Vespa?" Let's get...

Is it better to ride this not-as-fast-bike fast than the V4? To Jinno, the Ducati Streetfighter V2 makes more sense than the flagship V4. Is it a better bike for that reason? In some regards...

The BMW F 850 GS is considered by many as the go-to adventure bike in BMW's model range when it comes to off-road-focused riding. It's slimmer, lighter, and more nimble than the R 1250 GS, a...

On today's episode of Behind A Desk, we have another gear feature. Shift by Godfather Shoes are proudly Philippine-made, and offer you the necessary protection, comfort, and style you need,...

Jinno's totally loving the new 2022 Ducati Desert X. On top of being the Italian brand's first adventure bike, it's also a stunner of a motorcycle—now available in the Philippines. Equipped...

The World Ducati Week is through, but that doesn't mean that we'll let you miss out on all the action. Jinno was sent to Italy to experience everything that the Italian brand had to offer fo...

Malupit na underbone ba hanap mo? Look no further than the Yamaha Sniper. Loved by commuters and enthusiasts alike, the Sniper 155 offers premium features and performance. See what Jinno...

Because Jinno loves you all so much, he went all the way to India to test ride what can be considered Royal Enfield's most highly anticipated model for the local market, the Scram 411. See w...

Jinno was gone for quite a while and don't worry, he filed for a leave. How could we keep him in the country when his trip to the mountains was not your average Marilaque run. No, Jinno went...