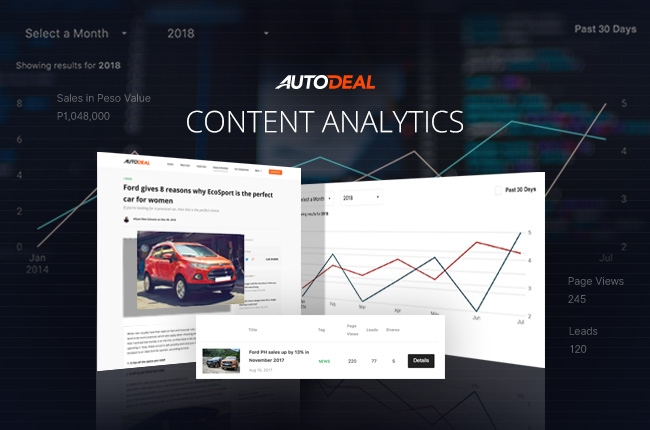 As part of its new brand analytics system, AutoDeal.com.ph, the Philippine market leader in online lead-generation and lead-management will release an entirely new feature that will help automotive marketers more transparently evaluate the value of their content and public relations campaigns.
The new Content Analytics section will provide automotive marketers with a portal whereby they'll be able to trace the performance of any content that is related to their brand whether it be editorial or sponsored. Moreover, in addition to tracing base level statistics like pageviews and social media shares, marketers will also be able to track the number of customer inquiries and sales that has been generated by consumers engaging with a specific type of content.
"Content marketing is big business in the Philippines; and many major brands, whether they be automakers or not, are engaging it. With our new Content Analytics system, our clients will be able to see not only how many users view their content but how content actually influences buying decisions," says AutoDeal Co-Founder Daniel M. Scott.
AutoDeal hopes that the introduction of the analytics will not only provide more transparency, but will also help marketers see the value of content even outside of campaign timelines.
"The thing is, digital content stays around for a long time and continues to have an influence even when a specific campaign period is over. With our new system, marketers will be able to track this and collect data on which types of campaigns are most beneficial for generating customers over time," Scott adds.
Content Analytics is expected to launch along with several other enhancements like Customer Testimonial Monitoring and Improved Lead and Sale Analytics on April 1, 2018. The service can be availed as part of AutoDeal's standard brand partnership package.