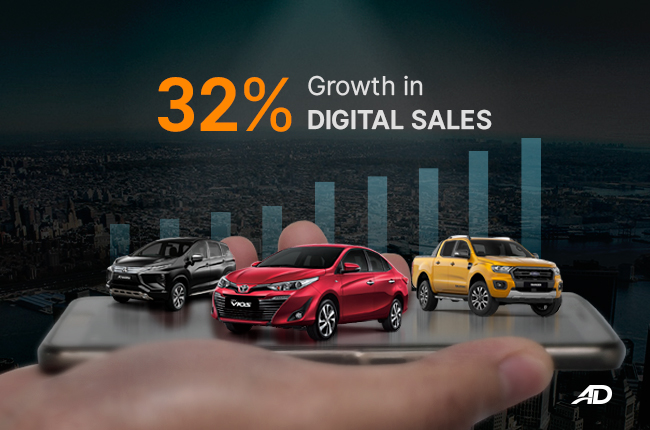 Enhanced technology, improved customer support, and a maturing digital salesforce have helped spur AutoDeal-partnered brands to achieve a 32% average year-on-year increase in online sales. This strong growth is mainly attributed to the implementation of its Sales Success Program at the beginning of 2019.
The new concept was recently piloted with four (4) of AutoDeal's brand partners who are among the top-selling automotive manufacturers and importers in the Philippines. The program balances advertising investments with a sales success metric that AutoDeal guarantees as part of its service commitment. AutoDeal's industry-leading automotive lead-management service helps fulfill this promise with clear transparency to its partners.
Driving the growth in sales is a continuously optimized car-buying experience that provides Filipino consumers with the ability to receive quotations and schedule test drives at more than three hundred and fifty (350) car dealers across the country.
With increased commitments to deliver real-world tangible results, AutoDeal has also increased hands-on customer support for prospective buyers considering purchases from its partner brands. By maintaining communication with prospects, AutoDeal helps its partners prevent lead attrition, keeping more prospects in the lead funnel and helping to generate a better sales output.
The participating brands, who have been AutoDeal partners for many years, have also been continued recipients of digital sales training, furthering AutoDeal's investment and helping dealers to develop specialists in the field of online sales.
"We're happy with the progress that our Sales Success Programs are achieving. By twinning our technology with dedicated human capital; we're helping to carve out the very best buying experience for Filipino consumers that encompasses both trust, choice, and efficiency," stated AutoDeal co-founder Daniel M. Scott.
The Sales Success Program, now in its fourth month for several brands, continues to grow sales at a faster rate than previous years. It offers partnered brands with a low-cost customer acquisition channel that requires no additional human capital investment.
AutoDeal expects further sales growth in the program before the end of the year, targeting between 75% to 100% growth for some of its brand partners.