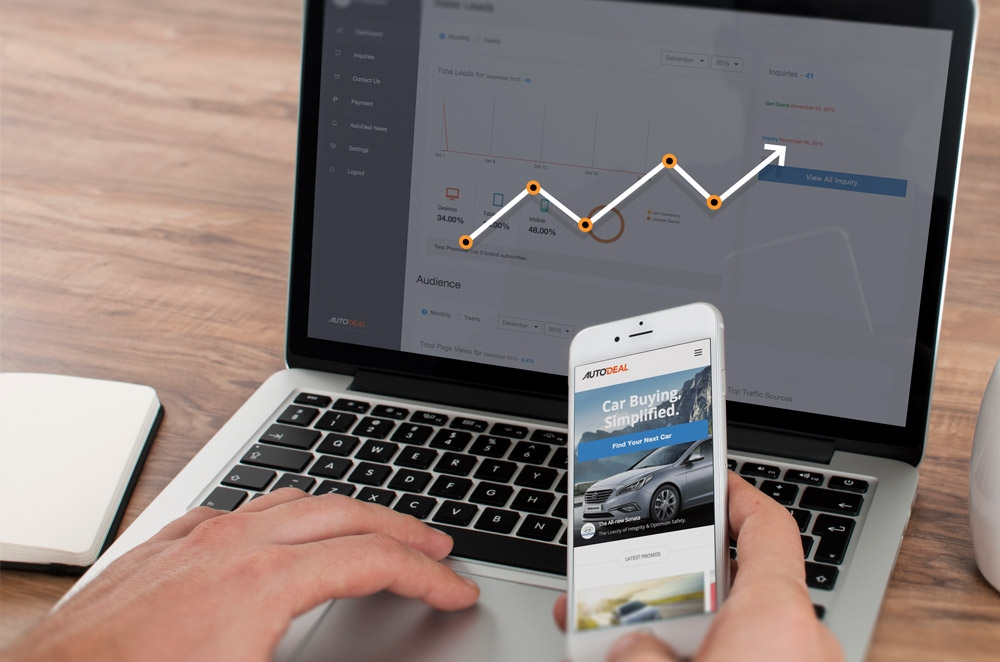 It's true to say that in 2015, the AutoDeal team has invested a lot of time, energy, and resources in building new site features to help deliver the company's promise of "Car Buying, Simplified".
For the most part, the benefits we've built for car buyers are immediately visible to the naked eye whereas the value which we've transcended to clients is hidden beneath a veil of back-end dashboards, pre-selling Customer Relationship Management (CRM) features and unique marketing analytics.
Now, we will lift the curtain and explain how the AutoDeal platform translates its value to automotive clients and how we diversify ourselves from the competition.
Sheer Marketing Value.
Having grown to become the Philippine's second largest automotive website (through data provided by SimilarWeb), AutoDeal retains strong influence with car buyers. Monthly audience figures are expected to hit 400,000 visits a month by December 2015, while around P10-million worth of vehicle sales are now being recorded per day on the website. AutoDeal is the only advertising medium in the Philippines that can accurately translate its marketing ROI to direct sales.
As our ability to understand conversion improves, we estimate that AutoDeal may have already accounted for around 5% of the Philippine automotive industry's total sales in 2015, a number which we plan to extend to 10 - 15% by the end of next year. A tall order, but nothing that is too far out of whack with our current growth.
Accountability and Customer Service Data.
In 54% of cases, buyers will re-visit AutoDeal throughout the year, will subscribe to receive updates on specific vehicles or brands, and will make multiple inquiries before completing their purchase. Providing this data is achievable through AutoDeal's unique online environment that prevents every day sales agents from openly advertising. By only allowing sales agents from our partner dealers to be participate, AutoDeal creates multiple layers of accountability and controls the quality of information in a manner that differentiates itself from openly accessible car classifieds.
As an AutoDeal partner, clients not only get to understand how effective the platform is in creating new customers (i.e. measuring lead conversion), but are given the opportunity to keep a close-eye on the customer service standards of their front liners by understanding metrics like response time, response quality, and customer satisfaction.
Understanding this information and being given the opportunity to act on it will provide brands and dealers with a unique opportunity to better service its customers both online and in the showroom. All of this is possible thanks to the AutoDeal Lead Management System (LMS), which is already implemented in more than one third of AutoDeal's partner dealerships.
Integrate and Empower Through Data Insights.
The benefits of AutoDeal extend far beyond the boundaries of lead generation from a single source. Using the LMS, dealers and brands alike can feed data from other online sources or from real-world events (like shopping malls exhibitions) into the AutoDeal system.
From there marketers can track their conversation rates and understand which advertising mediums are getting them the best results. They can also cross reference advertising venues with results for specific vehicles as a means to help them understand which products should be positioned in which forms of advertising.
Of course none of this is necessarily new, since traditional Customer-Relationship Management (CRM) tools have been used as a means to address the same questions. Nevertheless, the main difference with AutoDeal is the willing participation of sales agents who use the system more as a tool to communicate with customers. In the process, the information is automatically stored in the LMS, which reduces the workload related to reporting.
Finger on the Pulse of the Industry.
For Car Brands, our unique Promoter Dashboard and comprehensive data reporting allows automotive professionals at car companies to understand data related to their brand. Such information that we relay includes analytics related to the geo-location of engaged customers and information related to which vehicles are getting the most traction. By providing this data, we're not only helping to define what products are the best to market, but helping our clients to understand data that can be used to make real-world decisions to better serve customers (such as highlight prime locations for dealership network expansion).
While our competitors in the industry might bang the drum about using the power of the internet to sell cars, AutoDeal is committed to go the extra mile by providing not only sales leads, but also comprehensive analytics for marketers, and tools to better aid sales agents - the result of which continue to have increased benefits for end users, helping us to further deliver on the promise of "Car Buying, Simplified."