With 67 million Filipinos that now have access online, it's not difficult to fathom why an increasing number of car brands and dealers are turning to the internet as a primary source of driving sales in 2018.
The switch from traditional digital branding strategies to transactional digital sales strategies is now common place among several of the country's leading automotive brands and throughout more than fifty (50%) percent as the Philippines rises to become the 12th biggest internet population in the world.
Expediting the transition are clearer return on investment figures and a more focused collaboration between marketers and sales teams. The necessity of which, continues to be driven by tougher industry times, increased competition and the continued growth of an on-demand society where consumers crave speed and convenience over more traditional sales approaches.
Fortunately, AutoDeal has been privileged enough to have worked with many of the industry's leading experts in online sales at both the dealership and brand levels. Through our years of experience in this space we've been able to shape, we've managed to take part in the success of our partners in thoroughly penetrating the digital market as the key to generate sales, and not just clicks.
Based on our research, we've highlighted three (3) crucial practices that are being undertaken by dealers who are successfully navigating online sales:
1. Quality Customer Experience
When it comes to online sales success, there is a strong temptation among dealers to focus the majority of their energy in generating new leads. Sadly those dealers that fall into this trap are more likely to suffer from inefficiencies in their marketing economics than those dealers that have an acute focus on managing how their sales teams interact with their leads.
Despite popular opinion based on the transactions that are being generated on AutoDeal in 2018, it is not the dealers with the highest number of leads that are making the most sales, but those dealers with the best process and commitment to providing customers with a quality experience.
AutoDeal makes this easy for marketers and sales managers through a user-friendly dashboard that can provide a breakdown on the performance of individual team members. With metrics like sales conversion and response time at their fingertips, the dealers are empowered with information to weed out poor performers and invest further in generating increased leads for proven sales achievers.
2. Visibility and Transparency with Dealers' Monthly Promos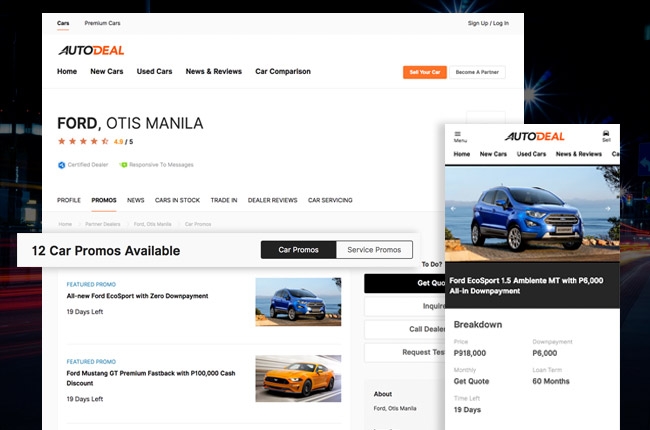 The rise of on-demand ride-hailing, music-streaming and food-delivery services in the Philippines has continued to spur consumer expectations for retailers to have digital services that are more focused on meeting the needs of an on-demand society.
Traditional "techniques" of tempting customers to inquire for special offers at the showroom are becoming obsolete in a world where the consumer wants clear, concise and transparent information about offers ahead of a visit to a physical location. While a physical presence will continue to become important for servicing (until electric vehicles takeover), it is becoming less necessary for the sales process where much of the negotiation can take place online and (in some cases) where the vehicles themselves can be delivered direct to a customers doorstep.
Online marketplaces are an ideal location for dealers to market information on special promotions. Those that will be more successful are those who disclose more information upfront to the consumer, rather than those offering a tempting downpayment offer without disclosing the monthly amortization amount. Those wanting to generate a high volume of quality leads should consider the first where those wishing to receive an influx of "how m
3. Integrated and Seamless Lead Management Tools
With multiple lead-generating partners at their disposal, including (but not limited to) a dealers website and social media accounts, it can become problematic for managers to see the wood for the trees as they face an abundance of lead data.
The AutoDeal Lead-Management tool offers a variety of integration opportunities to help both brands and dealers manage their online leads from multiple different sources. This empowers marketers with the ability to not only understand their lead volumes by source, but to also appreciate sales volumes and (most importantly) the sales conversion achieved from each and every single one of their online lead-generating activities.
For more information on how to make your dealer more successful online, or for inquiries on how to become an AutoDeal partner, feel free to contact us at info@autodeal.com.ph.