Verified Agent
Hi I'm Rhea Recinto
Official Sales Agent for
Geely Lipa
My Stats
2 years, 8 months
on AutoDeal
My Customers
Geely Lipa Promos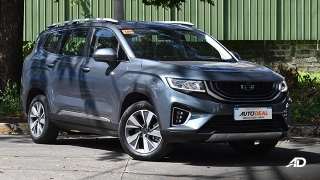 Available in: CALABARZON
Price

P1,633,000

Downpayment

P8,000

Monthly

P33,505

Loan Term

60 Months
View Promo
Get Quote
---
Available in: CALABARZON
Price

P1,299,000

Downpayment

P18,000

Monthly

P26,652

Loan Term

60 Months
View Promo
Get Quote
---
Geely New Cars
---
---
---
Best agent . Sa lahat po ng gusto kumuha ng car , siya lang po kontakin niyo , maasikaso po at sobrang bait po . Highly recommended po .
Erickson Sawali
, Geely Okavango 1.5 AT Urban Plus
Aug 08, 2023
It's my first time to get a car; and I can say that Rhea went extra extra miles to make this possible!
Everything went fast and smooth with her assistance. She is very professional, kind and helpful. And she definitely knows her stuff!
Surely, will recommend her to others!

Kudos and more powers to Ms. Rhea!
Anonymous
, Geely Emgrand Premium 1.5 CVT
May 29, 2023
She is very professional and accommodating , she replies to all of my queries and concerns. it was a smooth transaction. I highly recommend Ms Rhea for all those considering Geely. God Bless and more blessings to you. To God be the Glory. 🙏😇
A.C. Marcelo
, Geely Coolray 1.5 Sport Turbo SE
May 21, 2023
When you're making a big purchase like a car, you'd most likely already know what you wanted to get and what to expect, but what could make it different is the buying experience. In this regard I'm glad I chose Rhea as my agent. All out effort, even when I was still unsure on whom to get the unit from, and that's what made me decide to get her services. She is very persistent and makulit, but in a good way. Expect her to call every now and then, making sure you'll have a smooth transaction. She'll present options and really find ways to get your unit released, and make it convenient for you. She's very friendly and a treat to talk to. I also liked how she wanted to help others not just herself.

To Rhea, thank you for your patience on the entire process. Know that I appreciate how you handled everything, and I don't regret that I trusted you. Ambilis mo po, ako ang hindi makasabay hahaha! Just stay consistent and keep your sincerity.
May God bless you more so you may also continue in being a blessing to others. Take care!
Anonymous
, Geely Emgrand Premium 1.5 CVT
Mar 20, 2023
As a first time to purchase a brand new car, Rhea made it way easy for me - literally apply-approve-release in a span of a week. She gave detailed explanations about everything I need to know about the process and gave different options. Wasn't actually expecting my application to get a loan approval but when we got it, had the unit released in just two days. Rhea even made it way easier on the day of release as she offered to give us a ride to the dealership. Not to mention the freebies we got. Hope to give her my thanks again in a form of a referral.
Anonymous
, Geely Coolray 1.5 Sport Turbo SE
Feb 28, 2023
"Best customer service we experienced!"

We are very thankful that we met Ms. Rhea through Autodeal - she was of a big help in every step of the process; from loan approvals to reservation and DP until the day of release. We even learned a lot from her demo of the car.

It was a month of close communication; what we appreciated the most was when she were processing our loan application with their accredited banks - giving us different options 'til we get the best deal.

Will definitely recommend her to our friends and colleagues.

May God continue to bless you more
Jim-Jerico Garcia
, Geely Okavango 1.5 AT Urban Plus
Nov 29, 2022
Rhea is so excellent when it comes to client servicing. Her service was one of the best so far and i never received a this kind of service in my 5 years as a car owner. I was hesitant at first kasi hindi ko talaga kilala masyado ang Geely but because of her expertise naipaliwanag nya saken nang maayos ang lahat with proof and facts. Akala ko panget siya na brand kasi nga China siya pero because she is well equipped, she was able to handle all reservations that i have in mind. I was even tempted to purchase the Fortuner 2018 that my friend is offering but because sobra nyang maalaga and patient talagang mapapahiya ka not to get a car from her. From selecting the right car for me and even assisting me with bank transactions talagang superb! As in walang butas. Super friendly pa nya, always smiling at talagang as client irerecommend ko siya sa mga friends ko kasi ganitong klaseng service ang hindi ko naramdaman from Toyota. No wonder why Geely is now a threat to leading car company here kasi bukod sa magandang brand eh talagang the company invested sa client servicing na world class talaga. Thank you again, Rhea and nakaabang na ang mga friends ko na kukuha sayo. I will pray for your success even more and masaya ako sa service na ipinakita mo lalo kanina. Stay safe and Godbless! Cheers to more satisfied Geely clients. :)
Ronel Obaldo
, Geely Okavango 1.5 AT Urban Plus
Nov 18, 2022
Rhea does not only deserve 5/5 but 10/5 stars! Her service and dedication to help us get our dream car is beyond what we expected.

We weren't lucky to get an approval from banks from the first agent who approached us, but through her skills and experience in the field, Rhea was able to accomplish it for us and gave us the hope we lost on our first try. She's very hands on, from the beginning of our application of filling out application forms and making sure that all our details are correct up to the day we released our unit. She kept us updated on our application at every step - will message or call me day in and day out which I highly appreciated. You will really see that she is very hardworking and you will feel valued as her client. She persuaded us to get the highest variant of the model when we were only applying for the base variant - which we don't regret at all as it turns out to be the best decision we made in acquiring this car.

We're very grateful to have Rhea as our agent. We indeed received the best quality of service from her. We highly recommend her to everyone specially to those who are applying for the first time like us, as she will guide you all through out process. We wish more power and more sales to you Rhea and the Geely Lipa Batangas team.
Patricia Dayan
, Geely Coolray 1.5 Sport AT
Oct 31, 2022
From my first inquiry regarding geely coolray until the release of my first car, Rhea is there to help in every step of the process. She did all the work, at first i was down due to my application was disapproved but she did all the possible ways just to get approved. And finally, my car was released 2 days after getting approved. I'm very thankful that Rhea is the one who helped me get our first car. She is very responsive on all the inquiries and question regarding the process and the car. She also gives a lot of freebies that others dont offer. She even ask for the status of the car aftersales. She make sure that all of her client is satisfied and happy. I will highly recommend her to all my friends and family. Thank you again and I hope more sales for her. Godbless
Gene Errie Dimayuga
, Geely Coolray 1.5 Sport AT
Oct 31, 2022
Our journey in getting our first car was not easy. Due to busy schedule, we were not able visit the dealer. But with Ms. Rhea's help, naging madali samin lahat. Very active from the start (super kulit, pero di nakakainis). After the quotation, I immediately received a call from her the following day. She made it easy for us, especially with the approval that other agents couldn't do for us. She has time to call just to explain everything. She has a lot of patience with us as a customer who can't immediately do the requirements we needs to submit, willing to help all the time and even offer to accompany you most of the time.

We had a good sales experience and received a good deal.

I will surely recommend her to my family, friends and relatives. Not only did we find the best agent, we also found a friend in her. May God Bless you more Ms. Rhea, more sales!
Terry Munoz
, Geely Emgrand S 1.5 MT
Oct 24, 2022