Mazda BT-50 2021
Php 1,350,000 – 1,550,000
Mazda BT-50 Reviews
Find all Mazda BT-50 reviews, from our full review to our safety, technology and interior reviews. Find detailed scores and ratings to help you decide if the Mazda BT-50 is right for you.
Performance
Engine Output (HP), Acceleration, Transmission, Handling 3.5/5
Design
Exterior & Interior Design, Quality, Fit and Finish, Ergonomics 3.0/5
Ride Comfort
Cabin Comfort, Suspension, NVH Insulation 3.0/5
Safety and Technology
Convenience Technologies, Active and Passive Safety Features 4.0/5
Value for Money
Amount of the vehicle you get for the price, Fuel Efficiency 4.0/5
What You Will Like
Relatively good looking, good for those who find other trucks too burly
Lots of technology, even at standard trim
What You Won't Like
Fuel consumption isn't stellar
Engine and platform is starting to show its age
Are You Ready To Buy?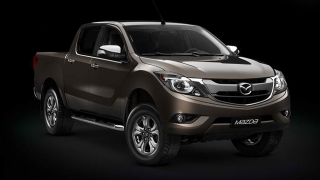 Promo Available
P1,350,000 – P1,550,000

6 Variants & Specifications
Get Offers From Multiple Dealers
Send Quote to 3 Local Dealers Simultaneously
Compare offers and select your preferred dealer
Communicate safely and buy with confidence
Get Quote
Mazda BT-50 Reviews
An impressive set of standard equipment can be found in the BT-50, but the competition is always getting better.

3.5

/

5

While comprehensively equipped across the range, the BT-50 needs updating in a few areas.

The Mazda BT-50 delivers the goods no matter what the task, just forgive the rather plain interior.
Similar Car Reviews
There's plush, there's rugged, then there's the Nissan Navara PRO-4X.

4.0

/

5

It's so good we bought one.

4.0

/

5

A complete 180 for Isuzu's D-MAX.

4.1

/

5
Similar Cars
From: P 843,000 – 1,850,000
From: P 998,000 – 1,328,000
From: P 1,026,000 – 1,761,000
From: P 815,000 – 1,764,000
From: P 1,180,000 – 1,650,000
From: P 1,199,888 – 1,638,888