Mazda BT-50 2021
Php 1,350,000 – 1,550,000
Mazda BT-50 Videos
Watch Mazda BT-50 car reviews, unboxing and other related videos to help you research your next vehicle.
Are You Ready To Buy?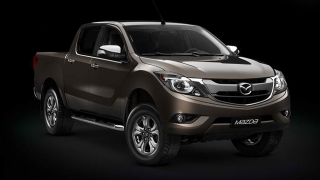 Promo Available
P1,350,000 – P1,550,000

6 Variants & Specifications
Get Offers From Multiple Dealers
Send Quote to 3 Local Dealers Simultaneously
Compare offers and select your preferred dealer
Communicate safely and buy with confidence
Get Quote
Mazda BT-50 Reviews
An impressive set of standard equipment can be found in the BT-50, but the competition is always getting better.

3.5

/

5

While comprehensively equipped across the range, the BT-50 needs updating in a few areas.

The Mazda BT-50 delivers the goods no matter what the task, just forgive the rather plain interior.
Similar Videos
Another top of the line comparison, this time between pickups.

It's a pickup with suitable comfort and 800mm wading capability for floods - yes it's a near-perfect vehicle for Filipinos.

It may not be the Raptor, but the new Ford Ranger has enough angst to keep its edge in the pickup game
Similar Cars
From: P 843,000 – 2,005,000
From: P 1,199,888 – 1,638,888
From: P 1,155,000 – 1,758,000
From: P 998,000 – 1,328,000
From: P 815,000 – 1,764,000
From: P 857,000 – 1,825,000