Mazda BT-50 2021
Php 1,350,000 – 1,550,000
Mazda BT-50 Videos
Watch Mazda BT-50 car reviews, unboxing and other related videos to help you research your next vehicle.
Are You Ready To Buy?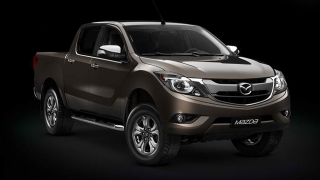 Promo Available
P1,350,000 – P1,550,000

4 Variants & Specifications
Get Offers From Multiple Dealers
Send Quote to 3 Local Dealers Simultaneously
Compare offers and select your preferred dealer
Communicate safely and buy with confidence
Get Quote
Mazda BT-50 Reviews
An impressive set of standard equipment can be found in the BT-50, but the competition is always getting better.

3.5

/

5

While comprehensively equipped across the range, the BT-50 needs updating in a few areas.

The Mazda BT-50 delivers the goods no matter what the task, just forgive the rather plain interior.
Similar Videos
Another top of the line comparison, this time between pickups.

Caco got his hands on the best selling pickup in AutoDeal, and he sure had fun with it.

It's a pickup with suitable comfort and 800mm wading capability for floods - yes it's a near-perfect vehicle for Filipinos.
Similar Cars
From: P 929,000 – 1,705,000
From: P 1,180,000 – 1,650,000
From: P 857,000 – 1,825,000
From: P 1,155,000 – 1,728,000
From: P 815,000 – 1,760,000
From: P 1,199,888 – 1,638,888