Nissan X-Trail 2021
Php 1,534,000 – 1,820,000
Nissan X-Trail Videos
Watch Nissan X-Trail car reviews, unboxing and other related videos to help you research your next vehicle.
Are You Ready To Buy?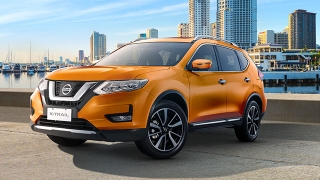 Promo Available
P1,534,000 – P1,820,000

2 Variants & Specifications
Get Offers From Multiple Dealers
Send Quote to 3 Local Dealers Simultaneously
Compare offers and select your preferred dealer
Communicate safely and buy with confidence
Get Quote
Other Nissan X-Trail Videos
Nissan Philippines took us to La Union to immerse with the new X-Trail's tech advancements.
Nissan X-Trail Reviews
We test the refreshed X-Trail with its whole new arsenal of intelligent features.

4.1

/

5
Similar Videos
The first look of the new Mazda CX-5, straight from the 2017 Manila International Auto Show.

Headlined by the Honda Civic Type-R, the 2017 Manila International Auto Show had enough surprises up in its sleeve to keep you wanting for more.

There aren't many diesel-powered crossovers in the country and Hyundai took advantage of that with the Tucson.
Similar Cars
From: P 1,438,000 – 1,598,000
From: P 1,290,000 – 1,770,000
From: P 1,185,888 – 1,535,888
From: P 1,458,000 – 1,468,000
From: P 1,296,000 – 1,515,000