The Philippines' no.1 online automotive marketplace, AutoDeal.com.ph, achieved a 39.5% increase in the number of vehicles that were purchased using its platform. This is in spite of the downturn in the Philippine automotive industry brought about by the implementation of new excise tax rates, which decreased the number of brand new vehicles sold last year.
Despite this overall market trend, AutoDeal tallied a total number of 21,002 recorded transactions in 2018. In contrast, AutoDeal recorded a total of 15,059 transactions in 2017.
The growth in the number of new cars sold on AutoDeal came from the data collected from several sources, including confirmed purchases remitted by dealers through AutoDeal's online lead-management system (LMS) and through over-the-phone conversations with confirmed buyers. Propelling these numbers was a 54% increase in audience size in 2018 – more than 28,000,000 website visits and more than 200,000 online inquiries made by prospective car-buyers.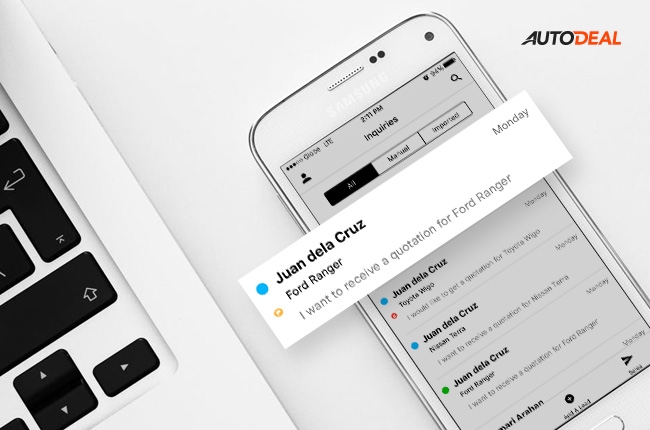 The expansion of AutoDeal's online lead-management system (LMS) increased the capability of car dealers, which in turn allowed them to achieve more from their leads. One of the remarkable improvements is the increased average lead-to-sale conversion rate among partnered car dealers. AutoDeal's LMS helps dealers and sales agents better manage and serve consumers who are looking to do a large portion of the online buying process.
Moreover, several new feature introductions and technology enhancements helped in contributing not only to an increase in conversion rate but to a 45% improvement in average dealer response time.
We continue to invest heavily in creating the best environment for car buyers in the Philippines. Our commitment remains with the everyday Filipino car buyer who's looking for a hassle-free and simple method when purchasing a car. Our continued enhancement in dealer technology is also built with the sole purpose of helping dealers to manage and realize the value of buyers who now prefer to shop this way.
Increased competition among dealers and many of the Philippines' top automotive brands has also helped propel the company's 30% revenue growth as advertisers are now looking online as a way to drive real-world tangible sales results. The slowdown in last year's sales volume has presented a fresh challenge for automakers and car dealers who experienced impressive exponential sales growth up until the end of 2017.
"We're working with more car brands and dealers now than ever before," added Scott. "Fewer consumers in the market means that there's currently a more expanded interest in providing better service, not just on the showroom floor, but also online."
With approximately 2,000 sales being generated through AutoDeal every month, the online marketplace expects to contribute to an even larger volume of car sales in 2019.