Last month we started a new theme of articles to demonstrate the trend of organic searches being made via the AutoDeal car guide. In other words, we excluded all of the various advertising components that we run for our manufacturer and dealer partners and just looked at the natural trend of the every day Philippine car-buyers shopping online for vehicles. After very little deliberation, we decided to coin this data as the AutoDeal Car Search Index.
Staying true to form, we are here again to take a look at March's data and examine what has changed and what the opportunities look like for a variety of brands.
Number of Searches Heating up in time for Summer.
Overall, the volume of organic searches is up 18%, with some aggressive spikes occurring in the second half of the month. With all of this increased buyer research, it seems more than likely that the industry is gearing up for a huge summer sale surge this coming April.
On an individual vehicle break-down, the Toyota Avanza continues to lead the field as the most trending search, up a further 24% compared to February. Trailing just short by a couple hundred searches is the Toyota Vios which has experienced a noteworthy 35% increase in searches. In third, the Isuzu mu-X continues to perform well, up a steep 45%, improving significantly on it's somewhat dormant performance last month.
Of those vehicles new to the market, the all-new Toyota Fortuner is now beginning to stretch it's legs as it finds it's number of explode by 47%. No doubt this occurring as a result of vehicles now being more readily available at showrooms.
Trailing beind in the no.2 spot is the all-new Mitsubishi Montero Sport, which experienced a small 1% decline in searches, increasing the gap between itself and the current front-runner from Toyota.
Despite a small down turn of 9%, the Nissan Juke still holds an incredibly firm third position. Continuing momentum on the back of last months 240% increase, it's clear that car buyers want to get more acquainted with what can only be described as the most unique looking vehicle on Philippine roads.
For those wondering where the all-new Ford Everest fits in, it may be worth pointing out that based on the rules for these reports, the Everest does not qualify to be classed as a new trending vehicle as it launched more than 3 months ago. If it was to be classed as a new vehicle, it would definitely find itself in the top three (with it's volume of searches up 14%). If we also bring Google Trends data also into play we get an even clearer view of how the SUV Wars landscape is panning out.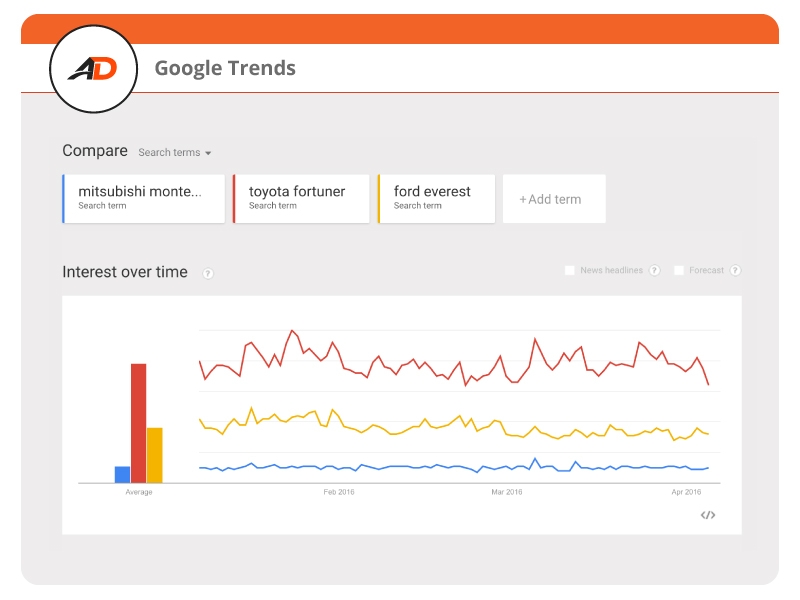 Before we get a little carried away, it's important to remind ourselves that the data showcased is only a reflection of online interest. Mitsubishi is well known for having a pretty solid brand loyalty base while Ford is globally recognized as being one of the best automotive brands to truly embrace social media and digital marketing. With that said, February's sales reports indicated a gap of just 341 units between the all-new Montero Sport and the all-new Everest, which is pretty small given the wider divide in overall sales last year.