Verified Agent
Hi I'm Trisha Abadilla
Official Sales Agent for
Ford Makati
My Stats
1 year, 5 months
on AutoDeal
My Customers
Ford Makati Promos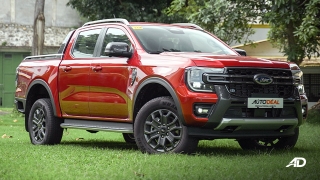 Available in: Nationwide
Price

P1,910,000

Discount

P80,000

Discounted Price

P1,830,000
View Promo
Get Quote
---
Available in: Nationwide
Price

P1,604,000

Discount

P40,000

Discounted Price

P1,564,000
View Promo
Get Quote
---
Available in: Nationwide
Price

P1,614,000

Discount

P10,000

Discounted Price

P1,604,000
View Promo
Get Quote
---
Ford New Cars
---
---
---
With my very crazy schedule, Trisha has been very, VERY, patient with me throughout my whole purchasing process. My queries where answered quickly and she helped me with everything and anything. She just went above and beyond. Really glad to have met her and have her as the sales agent who assisted me.
Raymund Dejasco
, Ford Territory 1.5 Titanium
Oct 22, 2023
I recently had the pleasure of working with Trisha in my quest for the perfect car, and I must say, the experience exceeded my expectations.

From the get-go, Trisha stood out among the various agents I interacted with. Her responses were prompt and directly addressed my queries, displaying a level of professionalism that made the entire process notably smooth.

What truly sets Trisha apart is her commitment to going the extra mile. Not only did she assist me promptly, but she also played a pivotal role in ensuring I got the exact color I desired in a surprisingly short timeframe. This level of dedication is rare and greatly appreciated.

The entire transaction, from inquiry to delivery, was remarkably fast and efficient. Trisha navigated the process with ease, keeping me informed at every step and ensuring a seamless experience.

I wholeheartedly recommend Trisha to anyone in search of a car. Her exceptional service, prompt communication, and willingness to go above and beyond make her an outstanding professional in the field.

Thank you, Trisha, for making the car-buying process a pleasure.
mike trampe
, Ford Everest 2.0 Turbo Trend 4x2 AT
Oct 06, 2023
Very patient with all my queries. She goes the extra mile to keep her promises. Kudos to Miss Trisha for making things happen. Definitely a 5 star.
Gabriel Zapata
, Ford Everest 2.0 Turbo Trend 4x2 AT
Jul 11, 2023
She is very helpful and prompt in answering all of our queries. She assisted us very well. She's the best agent we have dealt with!
Mark Ghil Alvarez
, Ford Territory 1.5 Titanium
Jun 13, 2023
Happy to have found Trisha here on autodeal, this transaction by far was the fastest and smoothest buy that we ever had. Never thought buying a car can be this easy and delightful! Thanks to Trish we were able to get the model and color we want in just a couple of days hassle free. Very professional and accommodating! 😊
Gloria Chua
, Ford Ranger 2.0 Turbo Wildtrak 4x2 AT
May 19, 2023
She's a keeper, the best!!! Thank you Trishaaaahh 😁😁😁😁😁😁😁😁😃😃😃😃😃😃😃😁😁😁😁😁😁😁
Marius Angeles
, Ford Everest 2.0 Turbo Titanium+ 4x2 AT
Feb 01, 2023
Great agent! Great dealer! Great car!
Carlo Bautista
, Ford Ranger 2.0 Turbo Wildtrak 4x2 AT
Jan 14, 2023
Trisha is very accommodating and really tries her best to provide feedback to all our questions. Satisfied buyer here.
Anonymous
, Ford Territory 1.5 EcoBoost Titanium+ CVT
Nov 17, 2022
super legit and maasikaso na agent! recommending her 1million percent
Luis Montefalcon
, Ford Everest 2.0 Turbo Limited 4x2 AT
Nov 17, 2022
We are grateful that we found Trisha this days. With the high demand of 4x4 Ranger Wildtrak, many agents has so many terms and condition for you to be able to purchase and get one. Trisha is different from these agents. No ifs, no buts. Very smooth transaction, accommodating and responsive. What we love the most is when we arrive at Ford Makati, they provide us a parking slot with our name on it matching with VIP logo. Thank you Trisha for making our first brand new car purchase a swift!
John Maningding
, Ford Ranger 2.0 Bi-Turbo Wildtrak 4x4 AT
Sep 20, 2022