BAIC M50S 2021
Php 638,000 – 668,000
BAIC M50S Reviews
Find all BAIC M50S reviews, from our full review to our safety, technology and interior reviews. Find detailed scores and ratings to help you decide if the BAIC M50S is right for you.
Performance
Engine Output (HP), Acceleration, Transmission, Handling 3.5/5
Design
Exterior & Interior Design, Quality, Fit and Finish, Ergonomics 3.5/5
Ride Comfort
Cabin Comfort, Suspension, NVH Insulation 4.5/5
Safety and Technology
Convenience Technologies, Active and Passive Safety Features 3.5/5
Value for Money
Amount of the vehicle you get for the price, Fuel Efficiency 4.5/5
What You Will Like
Stellar ride comfort.
Brown micro-fiber leather's a trip.
Easy ingress and egress with low flooring.
What You Won't Like
Hard plastics on the cabin.
Flimsy turn signal sticks.
Light steering felt numb at times.
Are You Ready To Buy?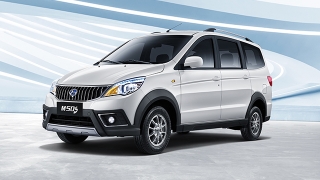 P638,000 – P668,000

3 Variants & Specifications
Get Offers From Multiple Dealers
Send Quote to 3 Local Dealers Simultaneously
Compare offers and select your preferred dealer
Communicate safely and buy with confidence
Get Quote
BAIC M50S Reviews
BAIC Philippines' entry to the small MPV market offers its own take on comfort and style. Meet the M50S Ultra Luxury.

3.9

/

5
Similar Cars
From: P 535,000 – 708,000
From: P 651,000 – 843,000
From: P 515,000 – 585,000
From: P 488,000 – 928,000
From: P 638,000 – 814,000