Ford F-150 2021
Php 2,698,000 – 2,998,000
Ford F-150 Videos
Watch Ford F-150 car reviews, unboxing and other related videos to help you research your next vehicle.
Are You Ready To Buy?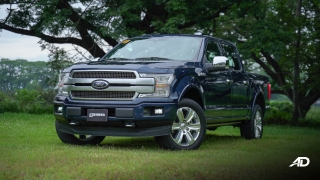 P2,698,000 – P2,998,000

2 Variants & Specifications
Get Offers From Multiple Dealers
Send Quote to 3 Local Dealers Simultaneously
Compare offers and select your preferred dealer
Communicate safely and buy with confidence
Get Quote
Other Ford F-150 Videos
The Philippines greets its the biggest Blue Oval branded pickup truck to date, the Ford F-150.
Ford F-150 Reviews
Let's see how the F-150 stacks up in a full review, though if we're being honest, it's too good for the Philippines.

4.6

/

5
Similar Cars
From: P 3,180,000 – 3,490,000
From: P 2,858,000 – 3,718,000
From: P 1,738,000 – 2,299,000
From: P 2,798,000 – 3,178,000