Verified Agent
Hi I'm Bryan Perez
Official Sales Agent for
Ford Commonwealth
My Stats
4 years, 7 months
on AutoDeal
My Customers
Ford Commonwealth Promos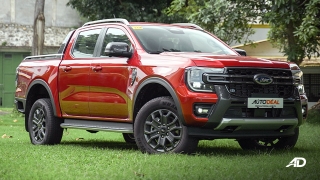 Available in: Nationwide
Price

P1,910,000

Discount

P80,000

Discounted Price

P1,830,000
View Promo
Get Quote
---
Available in: Nationwide
Price

P1,604,000

Discount

P40,000

Discounted Price

P1,564,000
View Promo
Get Quote
---
Available in: Nationwide
Price

P1,614,000

Discount

P10,000

Discounted Price

P1,604,000
View Promo
Get Quote
---
Ford New Cars
---
---
---
Great assistance by Bryan during the process of buying my Ford Territory. Very prompt response if you ask something. Thanks Bryan!
Anonymous
, Ford Territory 1.5 Titanium
Jul 13, 2023
We are greatful that we met him thru autodeal website and became our agent. He's very accomodating and patient to all our queries all through out the process. He even extend his hours to fit in with our time when our unit was released. He constantly communicates with us to remind us of the documents that we need, and things to do since we are "first timers". He also updates us with the status of the loan and the unit. He's knowledgable of the product that he's selling. To make it short, he made the whole experience easy, fun and facilitated the process efficiently. Kudos to you!
Anonymous
, Ford Territory 1.5 EcoBoost Titanium+ CVT
Feb 07, 2023
Thank you Bryan for your strong support - Best sales agent so far that I've met.
Anonymous
, Ford Territory 1.5 EcoBoost Titanium+ CVT
Mar 28, 2022