The Nissan Juke turned a lot of heads with its standout design when it was locally launched in late 2015. Besides its cool looks, this subcompact crossover is also one of the best equipped models in its class that made its P980,000 price tag so attractive to buyers. As a matter of fact, it was the most popular all-new model throughout Q1 of 2016 based on AutoDeal's quarterly report.
But what makes the all-new Juke such a hot item? We checked it out and found 5 cool features that will make you want one.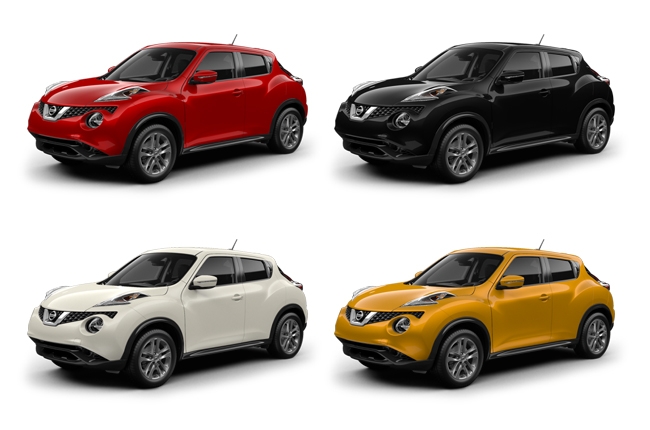 Fun Colors
While other brands are stuck with dull shades, only Nissan offers fun colors with their subcompact crossover: Pearl White, Red Alert, Black Obsidian, and Solar Yellow. These cool hues complement the Juke's quirky design, which lets it live up to its tagline "Built to Stand Out."
Fuel-efficient Engine and CVT Transmission
The Nissan Juke is the only one in its segment to have a 4-cylinder 1.6 L gasoline engine paired with a Continuously Variable Transmission (CVT). It squeezes out 116 hp and 154 Nm of torque giving it more than enough oomph for a spirited drive. Better yet, the subcompact crossover is capable of a very frugal fuel economy of just 14.5 km/l.
2-DIN LCD headunit
Although not a new feature among cars today, this makes the list because it's only one of the two compact crossovers under a million (besides the Chevrolet Trax) that comes standard with a 2-DIN LCD headunit with Bluetooth connectivity. This also doubles as a rear view camera display.
This gives passengers more things to keep them entertained especially during a long trip as compared to the regular radio available in their competitors.
Intelligent Key / Keyless Entry
The Juke's Intelligent Key allows its users to enter the Juke and start the engine without having to pull out the key fob from their pocket or pouch. It can locked/unlocked outside by pressing a button on the door handle.
The fob, which can operate up to 10 meters away from the Juke, also allows the driver to activate/deactivate the vehicle alarm if needed.
Nissan Dynamic Control System and Integrated Control System (I-Con)
Located just below the head unit, the Integrated Control System (I-Con) lets its users manage both the Drive Mode and Climate Control of the Juke.
In Drive Mode, the driver can select between Eco, Normal, and Sport. This alters the throttle, engine, and transmission response to fit their driving style or road condition with the Nissan Dynamic Control System.
Meanwhile, cabin temperature is controlled by the dual zone automatic climate control, also accessed through the I-Con.
The Nissan Juke is a bang-for-the-buck subcompact crossover. You get a fuel-efficient engine, a touchscreen headunit, fun colors, and high-tech features all for under a million pesos. These and its bold exterior styling make it a good choice anyone who wants a practical vehicle that stands out.
For more information about the Nissan Juke, visit the AutoDeal Car Guide.
Latest Features
Regardless of your oil's condition, following your car's Periodic Maintenance Service (PMS) is a must in order to keep it in pristine condition.

From their size to their fuel economy and maintenance costs, here are a couple of reasons why you shouldn't get an SUV.

Glitches such as defaults, repossession, and other problems occur when the vehicle buyer cannot afford the repayments. Keep in mind that the guarantor will also be liable to shoulder these r...
View More Articles