The Suzuki Ertiga and Mitsubishi Xpander, two renowned entries in the compact MPV segment that have captured the hearts of many Filipinos. These two Japanese contenders earned good points in terms of practicality and performance, but the question is, which one is the better pick? So if you've been eyeing either of these two, then allow us to help you choose the perfect vehicle for you.
Exterior
Exterior-wise, both vehicles look good in their own way. In general, the Suzuki Ertiga has more of has a bit of a curvaceous profile that's accentuated with some simple yet ageless design cues. The Xpander, on the other hand, looks edgier, Mitsubishi even gave its MPV the 'Dynamic Shield' treatment, allowing it to blend in with the rest of its stablemates like the Montero Sport.
In terms of size, the Mitsubishi Xpander is longer, wider, taller, and it also has a longer wheelbase than the Ertiga, with it measuring 4,475 mm in length, 1,750 mm in width, 1,700 mm in height, and it has a wheelbase of 2,775 mm. The Suzuki Ertiga, on the other hand, stretches about 4,395 mm, has a width of 1,735 mm, stands 1,690 mm, and has a wheelbase of 2,740 mm.
As for the headlights, the Xpander GLS gets LEDs while the Ertiga GLX comes with halogen projectors. As for wheels, Mitsubishi gave its MPV a set of 16-inch two-tone alloys coupled with 205/55 tires while the Suzuki has 15-inch alloys with 185/65 tires. Both vehicles come with turn-signal indicators on their side mirrors, however, only the Xpander GLS gets chrome accents on its door handles while the Ertiga GLX sticks with body-colored handles.
Beauty is subjective, and so is our decision on this round. Compared to the Ertiga, the Xpander wowed us more with its polarizing yet distinctive looks, making it the winner of this category. Despite that, we'd still give Suzuki credit for treating the Ertiga with a clean and ageless design that'll surely appeal to other buyers out there.
WINNER: Mitsubishi Xpander
Interior and technology
Space on both MPVs is absolutely generous. Legroom and headroom are roughly the same on both models, what differs though is the elbow room, with the Mitsubishi Xpander having just a little bit more. Also, ingress and egress to the Xpander's third-row seats are much easier compared to the Ertiga all thanks to its tumbling second-row seats. As for cargo space, both MPVs get 150-liters of space with all the seats up, you can even maximize its figures by folding all of its seats which gives you a flat loading area.
The overall interior layout of both vehicles feels very utilitarian due to the usage of hard yet durable materials. Standard features on both models include a push-start button with smart keyless entry, steering wheel audio controls, fabric seats, and rear air conditioning vents. An automatic climate control, on the other hand, is only available on the Ertiga GLX, while only the Xpander gets cruise control.
As for in-car entertainment, the Xpander GLS comes with a 6.9-inch screen while the Ertiga gets a slightly bigger 8-inch screen, both displays are touchscreens and come with various multimedia touchscreens. Only the Xpander gets a 6-speaker audio system while the Ertiga only comes with 4 speakers.
Both interiors are well-appointed and family-friendly, plus, there are some features that are exclusively available on each model. Given its slightly more spacious interior and other convenience features, the Mitsubishi Xpander wins this round. Despite that, we're quite surprised with how well-packaged the Ertiga is for its price.
WINNER: Mitsubishi Xpander
Power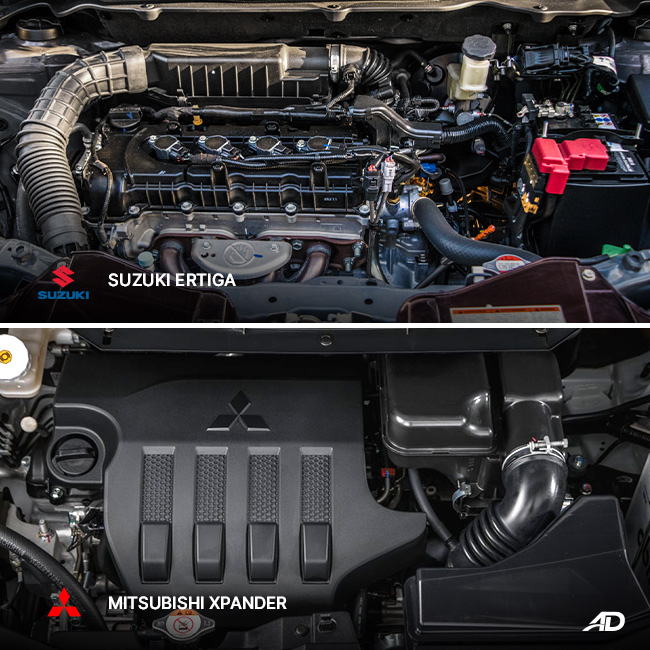 Both MPVs are powered by a 1.5-liter gasoline engine though the two units slightly differ in terms of Torque figures. The Suzuki Ertiga's mill puts out 103 hp and 138 Nm of torque, while the Mitsubishi Xpander's engine churns out 103 hp and a healthier 141 Nm of torque. While both models can come equipped with a manual transmission, both range-topping trims of the Ertiga and Xpander can only be mated to a 4-speed AT gearbox. Both vehicles are known to perform well on the road, however, given the slightly boosted torque figures, the Mitsubishi Xpander wins this round.
WINNER: Mitsubishi Xpander
Safety
Standard safety and security features on both models include dual-front airbags, ISOFIX child seat anchors, ABS, EBD, immobilizer, and a reversing camera. Only the Ertiga comes added with parking sensors, making it one step further than the Mitsubishi.
WINNER: Suzuki Ertiga
Verdict
The Suzuki Ertiga GLX is more affordable than the Mitsubishi Xpander GLS, with it retailing only at P998,000, while the latter is priced at P1,128,000. While deciding on your budget might be another story, we choose the Xpander as the better contender for this comparison. If you have the capability to stretch your budget by over a million, then the Xpander GLS is the way to go. Aside from its slightly more spacious interior, distinctive looks, greater torque figure, the Xpander also has some nifty features such as cruise control that should be beneficial during long drives. Confidently, we affirm that the extra exterior and interior bits justify the extra cost.
Now, if you're a bit short on budget, you have two choices, you could either step down from the GLS trim and consider the other Xpander variants or you could go ahead and purchase a Suzuki Ertiga which is surprisingly well-equipped for its price.
Latest Features
We compare 2 SUV-like MPV seven-seaters, one from Mitsubishi and the other from Honda, The Xpander Cross, and the BR-V.

Here are the top 10 most inquired-for used car models on AutoDeal used car listings for the year 2022.

Here are 5 things that you need to get on with your journey driving in the Philippines. From documents to other items.
View More Articles