When we talk about family cars, we usually describe vehicles with more than five seats. After all, Filipinos, in general, prefer larger vehicles for the practicality and flexibility that multiple seats and a huge cargo boot entail. Of course, there is no perfect car for anyone, and some families can range from a couple with a single child, to a couple with several children and even grandparents. Such is the Filipino way, and even more so when road trips and out of town excursions are involved.
Space is usually king, but more and more people now consider fuel efficiency as a top factor in a family car buying decision. It's great to haul everyone and their gear, but it's even better to stretch that full tank for many more kilometers and drives. In this article, we'll be narrowing down some practical and frugal vehicles that could cater to you and your family. These will range in size and price, and chances are, you'll find something for you on this list.
MG 5
The MG 5 is known for its value for money approach. Apart from its looks, this subcompact sedan offers a generous amount of features and more importantly, a spacious cabin that should be able to accommodate up to five passengers comfortably. The 1.5-liter naturally-aspirated motor combined with a Continuously Variable Transmission (CVT) does deliver good performance. Fuel economy-wise, the MG 5 average about 8 km/L in the city, now on the highway, figures are then boosted to 18 km/L. Those are indeed some good numbers for its class.
Honda Jazz
For the small family with only two kids, the Honda Jazz stands out as a platform that offers some of the most versatile seats in its class. It seats up to four adults comfortably, or two adults and three kids in the backseat, complete with seatbelts and ISOFIX car seat mounting points; it's a vehicle that can grow with your kids and then still take them to high school. The 1.5L gasoline engine mated to a nice CVT is also a plus, giving owners 7.3 km/l in urban conditions, and up to 23 km/L when cruising on the highway, meaning that 40L tank can go quite a distance.
Suzuki XL7
Admittedly, Pinoys do have a strong love for MPVs, that's why automotive brands have been flooding the market with several options of its kind. The Suzuki XL7 stays true to its sole purpose of being a spacious, seven-seat transporter, though it was spiced up a bit all thanks to the following rugged reinforcements it has. By the looks of it, it is easily distinguishable over its Ertiga sibling, however, the two family members carry the same 1.5-liter gasoline engine. With its transmission option only limited to a 4-speed automatic, the Suzuki XL7. Despite city traffic, it was able to render 9 km/L. On the highway, figures stretched by about 20 km/L.
Mitsubishi Xpander
The Mitsubishi Xpander is the Japanese brand's latest attempt at taking the small MPV crown from more established nameplates. Although late to the game, the Xpander does many things right, namely, the best cargo space in its class when all the seats are folded down. This seven-seater vehicle offers easy access to the third row, cupholders in all seats, ISOFIX mounts, and a myriad of small cubby holes for storage. The best part is, it feels and drives like a car, but with space and practicality, we've come to know and love about MPVs. The Xpander also returns around 9 km/L in heavy traffic, and a sweet 16-17 km/L on longer highway drives, making full use of the four-speed automatic transmission and 1.5L engine.
Toyota Innova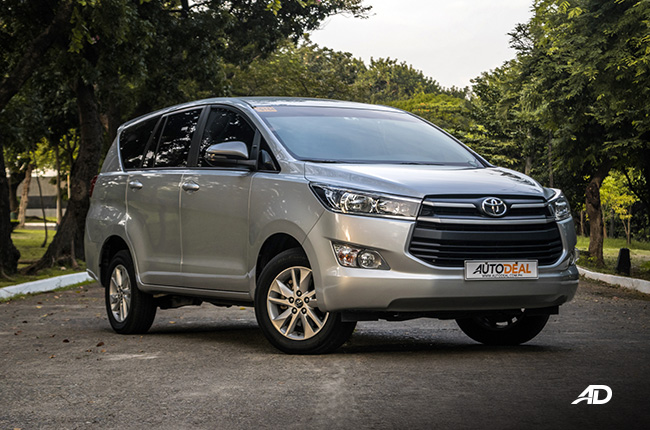 What's a family car list without one of the strongest running brands in our country? The Toyota Innova stands as the perennial answer to Filipino MPV buyers, and we tend to agree. The Innova is a seven-seater, do-it-all family car offering good space, almost bulletproof reliability, and a tried-and-true diesel mill that is more than enough for any drive. Gladly, it offers a good balance of features and fuel economy, returning 9-10 km/L in the city, and can break the 15 km/L figure on longer stints.
Geely Coolray
The Geely Coolray has instantly gained much-love and popularity here in the Philippine market. This subcompact crossover is indeed one value-packed model, even the base trim gives you a lot for what you pay for. One of its golden features would have to its powerplant, namely, it's a 1.5-liter turbocharged gasoline motor which packs a lot of pep and does spiritedly deliver 177 hp and 255 Nm of torque. The said mill is paired with a 7-speed wet dual-clutch transmission, and in terms of fuel economy, the Coolray managed to return 13.3 km/L at an average speed of 60 km/h. With the cruise control set to 90 km/h on the highway, it then rendered a booming 19.6 km/L.
Ford Territory
With the Escape now discontinued for the Philippine market, we then received this, the Ford Territory. Boasting in terms of high-tech features, cabin space, and affordability, the Territory does serve as a potential competitor in the compact crossover segment. Two of its variants are powered by one engine, namely a 1.5-liter 4-cylinder motor that produces 141 hp and 225 Nm. Surprisingly, the said mill is paired with a Continuously Variable Transmission (CVT). Going over its fuel economy figures, the Ford Territory achieved 10 km/L in the city and 15 km/L on the highway.
Kia Sportage
The Kia Sportage is indeed a breeze to drive, especially with its 2.0-liter diesel engine. Apart from its sleek and ageless looks, the Sportage does reward passengers with a spacious cabin and a decent amount of features, plus, performance that doesn't sacrifice fuel economy. Combine the aforementioned diesel engine with its 8-speed automatic transmission and this compact crossover renders impressive fuel economy numbers. In the City, the Sportage achieved its highest figure at 15.3 km/L while on the highway it rendered 20.6 km/L.
Isuzu mu-X
Taking the crown for the most fuel efficient of the midize SUVs is the RZ4E variant of the Isuzu mu-X. The 1.9L is the smallest in its class, but provides impressive numbers with 148 hp and 350 Nm of torque — that's even more than what the outgoing 2.5 variant. With that said, the mu-X 1.9L produces notable fuel economy figures at 8.6 km/L for city and 18.2 km/L for highway runs. Those are excellent numbers, and this vehicle can seat seven people, making it a great long distance SUV for family trips and outings.
Mazda6
The Mazda6 is by far the only economy midsize sedan in the local market to have a diesel option. Like the rest of its stablemates, the 6 proudly wears its sleek dress that's treated with Mazda's Kodo Soul of Motion design language. Its drool-worthy aesthetics and upmarket feel are then accompanied by the SkyActiv powertrain. The spirited yet refined 2.2-liter SkyActiv diesel engine is then paired with a 6-speed automatic transmission, this combination then gladly renders satisfying fuel economy numbers. In the city, this sedan registered its highest figure at 17.5 km/L. Proceeding on the highway, the Mazda6 got 23.7 km/L while the cruise control is set at 90 km/h.
Latest Features
Manufacturers are leaving the conventional dials in favor of TFT clusters in pursuit of innovation and clean designs.

The Ford Bronco is the perfect blend of style and capability for the Philippines that warrants its entry locally.

The Ranger Raptor is the best it's ever been, so here's what makes the 2023 model so special.
View More Articles