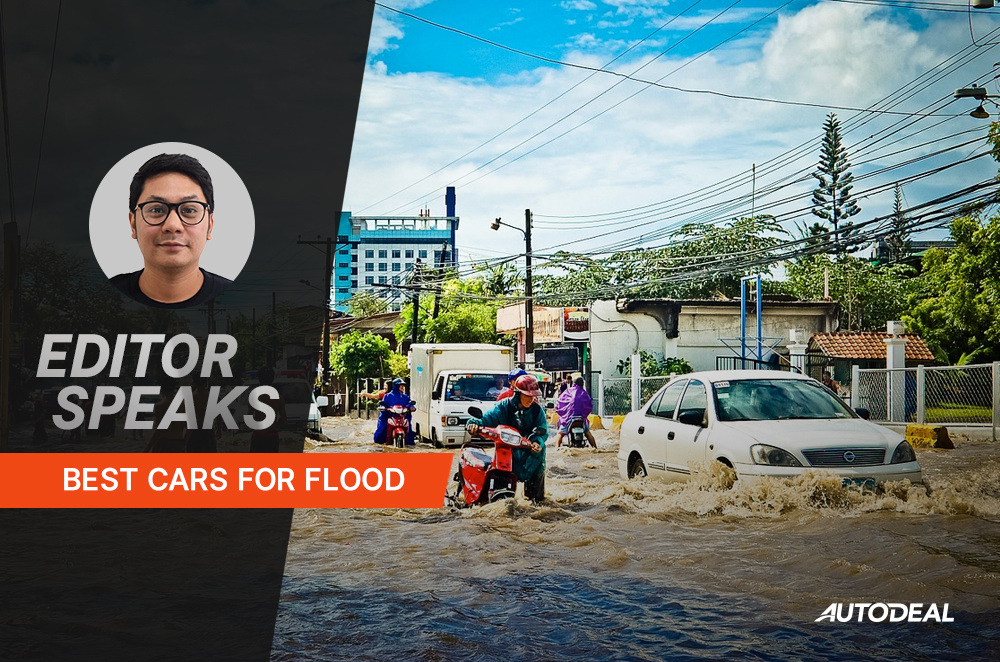 "Good morning mam/sir. Can you help me find e best car for flood-prone areas? I'm thinking of Montero, Everest, or CR-V. Or maybe you have any suggestions? Thank you. God Bless."
One of our readers sent this question over the electronic mailbox, and to be honest, it's a tricky one. If you ask me, if you live in a flood-prone area, I would invest in a speedboat, a jet ski, or a hovercraft, because that would be really, really cool.
Kidding aside, (and since amphibious vehicles aren't a thing in our country – at least not yet), this is a valid question since the Philippines has yet to completely solve the problems of flooding. Some parts of Metro Manila, like Malabon or Navotas, have flood on the streets that exist round the year.
Now, with the rainy season unfolding its wrath, this isn't a good news for the residents of these areas. Numerous floods have also been reported in and outside Metro Manila because of the torrential rains. May it be because of problems with drainage systems, people's careless trash disposal that primarily causes the former or something else, is for a different discussion all in all.
Before I answer the reader's question, let me remind you that we don't recommend driving through floods, let alone do it regularly. Cars are land vehicles, which means they are meant to be dry. They are made of metal components that could rust through constant exposure to moisture, not to mention the engine and electrical system that are both not for submarine exploration.
If you can, then avoid flooded areas at all cost. Stop your car, turn around and find another route. Additional minutes or hours to your travel time is still better than having to send your car to costly repairs due to flood-related damages.
But if you must, and you have absolutely no choice, just remember to do it with care. Don't go through more than six inches of standing flood, or more than four inches of moving water. To give you an idea, six inches of flood is shin-deep, which would reach at least the underside of a typical sedan. Also, don't go into the flood at speed as it can cause bow waves and splashes that could affect pedestrians, cyclists, riders, and other smaller cars. Be considerate of others.
Going back to the question, what are really the best cars for flood-prone areas? If it isn't obvious, vehicles with high ground clearance are the safest ones that can go through water. The reader gave the Mitsubishi Montero Sport, Ford Everest, and Honda CR-V as choices, and she's on the right track. These vehicles have considerable amount for space from the ground, with the CR-V having the least figure at 208mm (8.2 inches). With that, six-inch-deep floods will only barely touch the underside of the vehicle.
Among the three, though, I would go for the Everest. Not only that it has the most ground clearance at 225mm (8.9 inches), it also has the most wading capacity at 800mm (more than 2.5 feet). With that, driving through deeper floods is possible, but then again, we are highly against it.
Other vehicles you could consider are the entries in the midsize SUV segment like the Isuzu mu-X, Toyota Fortuner, Chevrolet Trailblazer, and Nissan Terra, as well as their pickup truck counterparts such as the Mitsubishi Strada, Ford Ranger, Isuzu D-Max, Toyota Hilux, Chevrolet Colorado, and Nissan Navara.
Crossovers with considerable amount of ground clearances, like the mentioned Honda CR-V, could also be part of your choices. Subaru's XV, Outback, and Forester, Mazda's CX-5 and CX-9, Toyota's RAV4, and Nissan's X-Trail all have substantial amount of ground clearances, so I think you're safe with them as well.
While these vehicles would allow you to safely tackle flooded roads, I would like to add that investing in a flood-free parking spot for your car is just as equally important. Make sure to keep this in mind before you proceed on making the huge purchase.
Latest Features
Even the entry-level model comes feature-packed and already has a lot to offer.

Running out of fuel is definitely a hassle, and here's what you should do if you've unfortunately run out.

When the RPMs go up, do not worry as it is a normal process that the car's engine needs to do to get itself to its optimal operating state.
View More Articles