We all have come to love and know hatchbacks for their perfect size and versatility as beginner cars and family vehicles once the kids get involved in trips. Hatchbacks provide the flexibility of most crossovers and SUVs, but without the necessary unwieldiness and fuel economy of bigger vehicles. It's got room for five, the ability to drop the second row to create a boatload of cargo space, perform with punchy engines and transmission combinations, and earn respectable fuel numbers at the pump. Simply put, these five door vehicles fit the needs of those looking for a car that can do it all, and will always occupy a space in anyone's garage.
In this list, we'll be going over some great hatchback choices in the Philippines. The best part is that almost all manufacturers have a hatchback in their family, and the number of trims and price points are varied enough to meet anyone's budget. There's a lot to go over on this list, and we've narrowed down the pickings based on the ones we've driven so far and the latest models to enter the market to give you choices that you can't go wrong with. We have selected one model from each brand that represents the best that they can offer on the consumer level. Check out our list below, and if you're in the market for a hatchback, take one of the cars on the list for a test drive or request a quote.
Toyota Wigo
One of the most affordable Toyota vehicles available on the market today also happens to be one of our picks. The Toyota Wigo presents itself as a good value-for-money car that also has low running costs, standard safety equipment, and great fuel efficiency figures. During our testing, the Japanese hatchback was able to push out 10.5 km/L in the city and 20 km/L while on the highway from its 1.0-liter engine. While you cannot split the folding seats of the second row, it does retract to reveal impressive cargo space—perfect for a long getaway for two plus a lot of gear and luggage.
Mitsubishi Mirage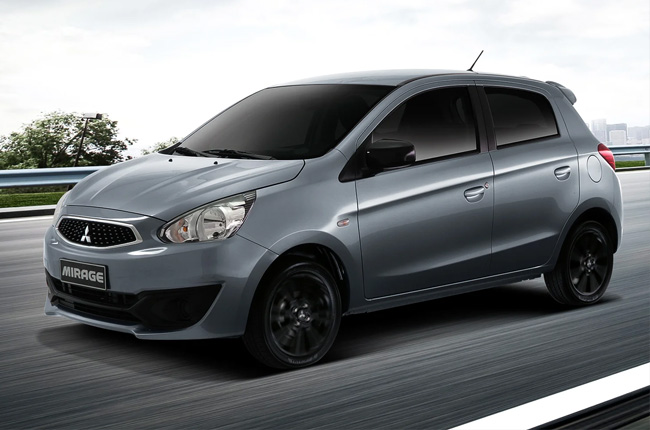 Another hot selling hatchback on the list is the Mitsubishi Mirage. The Mirage brings to the table handsome styling and is well-appointed in terms of features. It ticks most of the right boxes for those looking to get a practical family car. To add to this it also has a 2-DIN infotainment system that has AUX-in, Bluetooth, and USB connectivity as standard. It also has ABS with EBD along with dual front airbags for the entire model range. As far as fuel economy is concerned, the Mitsubishi Mirage delivers well on this front as well thanks to its frugal 1.2-liter naturally aspirated gasoline engine.
Chevrolet Spark
The Chevrolet Spark is a popular option for those looking to get a feature-packed hatchback. It offers interested buyers a plethora of toys and creature comforts for its size and price. For one, the vehicle is certainly good-looking, more if you choose a model with an interesting color. You also get tech like a touchscreen infotainment system that has Apple CarPlay connectivity. While it can seat 5 occupants, it is a bit of a tight squeeze, but the entire second row can be folded down to reveal more cargo space when needed. Traction control, ABS, and dual front airbags also help to keep things in check as far as safety features go for the vehicle. The 1.4-liter engine paired with either a CVT or a 5-speed manual transmission also returns decent numbers at the pump making for a frugal hatchback.
Suzuki Swift
Another great hatchback option to consider is the Suzuki Swift. It brings with it a sporty look along with a great number of features for its price. The Japanese hatchback can be had with either a 7- or 8-inch infotainment system depending on the variant, but whichever you choose it will come with standard features such as AUX-In, Bluetooth, and USB connectivity. The touchscreen infotainment system is also crisp and displays the infotainment you need when you need it. The Swift, like many other vehicles on this list, also returns great fuel efficiency numbers thanks to its 1.2-liter gasoline engine.
Honda City Hatchback
The Honda City Hatchback is a fairly new addition to the list and is the successor to the popular Honda Jazz in the Philippines. It also has the same great sporty looks as the Honda City sedan and even has flexible seating options that can aid the owner with creating more space. Aside from this, the hatchback is powered by a 1.5-liter gasoline engine that is paired to a CVT that also returns great fuel efficiency figures, lessening the time you spend at the pump. While only one variant is available in the country, the single model s well equipped and even has an 8-inch infotainment system that has Apple CarPlay and Android Auto connectivity as standard.
Mazda3 Sportback
The Mazda3 Sportback presents itself as one of the more distinctive entries on the list thanks to its sultry KODO design language. The Sportback version of the vehicle brings to the table sporting looks as well as technologies that pair well with its price. The Japanese vehicle has an upscale feel and the cabin reflects that—soft-touch materials and premium trim included. While it does come with an 8.8-inch infotainment system, that utilizes a rotary knob as its main method of control. Mazda has stated that, while it may take some time to get used to, it is a safer way to operate the infotainment system as the driver can keep their eyes on the road.
In terms of power, the Mazada3 Sportback can be had with either a 1.5 or a 2.0-liter SkyActiv gasoline engine that delivers a good amount of power and fuel efficiency at the same time. ABS with EBD, Dynamic stability control, a G-vectoring system, parking systems, and a 360-degree camera for its top-of-the-line model, help make the vehicle safer and easier to drive as well. All in all, this makes the Mazda3 Sportback one of the more tech-packed vehicles on this list.
Hyundai Veloster
If you want a little spice in your hatchback, the Hyundai Veloster is there to meet that need. It brings with it sporting good looks and a unique asymmetrical door layout that helps it stand out from the rest of the vehicles on this list. Under the hood, it is powered by a 1.6-liter turbocharged engine that makes 201hp and 264 Nm of torque. Power is sent to the front wheels via a 7-speed dual-clutch transmission which also has paddle shifters for those who want a sportier drive.
Nissan LEAF
A unique entry onto the list is the Nissan LEAF. It offers a different driving experience compared to the other hatchbacks on the list has an electric motor and battery pack instead of a conventional internal combustion engine. While the electric hatchback has a standard retail price of P2,780,000, it brings with it a clean mode of transportation along with instant torque on demand thanks to its electric motor. That being said, there is no displacement for electric motors, however, the Nissan LEAF does push out 148hp and 320 Nm of torque. It also equipped with Nissan's Intelligent Mobility safety suit making the electrified hatchback not only safer but easier to drive as well.
Latest Features
We compare 2 SUV-like MPV seven-seaters, one from Mitsubishi and the other from Honda, The Xpander Cross, and the BR-V.

Here are the top 10 most inquired-for used car models on AutoDeal used car listings for the year 2022.

Here are 5 things that you need to get on with your journey driving in the Philippines. From documents to other items.
View More Articles