In 2020, the Philippines cracked the top 10 countries in the world with the worst traffic. In that 2020 report, the Philippines ranked 9th in the entire world and 1st among all other South East Asian countries.
Now that traffic is getting worse, it's taking longer and longer to get through a jam and get home. The situation is getting so bad that the MMDA reintroduced the morning coding hours. With all that in mind, here are some tips that could help you on your way to work, school, or even to a date.
Give time allowances
If you're driving to work or if you need to get somewhere and be there on time, make sure you allot time for traffic jams and other things that could jeopardize your appointment, date, or attendance. As a general rule of thumb, it's better to be early than late, and it's less stressful to be exactly on time or totally tardy.
As a general rule of thumb, no matter where you go in the Metro, always budget at least one (1) hour for travel time for every 8-10 kilometers of travel within the city. If you're going through major thoroughfares and major chokepoints in the city, then allow another 15 to 30 minutes for travel time. If Waze tells you it's going to take about 30 minutes to get to a place via car, then add an additional 15 minutes to the ETA just to be safe. If you watch the news and see that traffic has been particularly bad lately, then consider an extra 30 minutes to 45 minutes depending on how bad things are.
Stay up to date
There are plenty of resources that can tell you just how bad traffic is on a given day. For one, you can use Waze which works particularly well if other drivers are contributing and reporting traffic stops and other road hazards. Use this to your advantage and plan out your trips.
On top of that, you also get more traditional methods like checking up on the MMDA's social media channels or its app or tuning into the radio to check where the bad traffic is. From there, plan your route accordingly.
Obey all traffic laws
From not being on your phone to following the lines on the road, make sure that you're always following traffic rules and regulations lest you be stopped. With the implementation of no contact apprehension in many major cities throughout the metro, it's not even a matter of if there is an enforcer or not. Number coding is also another rule that you have to follow, so make sure that you plan out your week properly.
Apart from that, it is also quite a hassle to get stopped by a traffic enforcer and be given a violation ticket. Not all violations necessitate the confiscation of your license, but either way, it is still a hassle to pay the fine by either going to a Bayad Center or a city hall. Save yourself the trouble here, just follow traffic rules, all the more because there are cameras watching. It all boils down to driver education so know all the rules before you sit behind the wheel and you should be fine.
Don't get distracted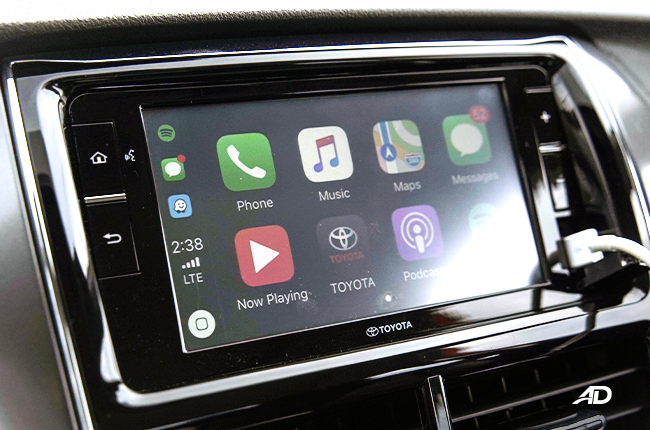 Now we know that this is counterintuitive to everything because most of us just want to forget that the car in front of us is moving at a snail's pace, but trust us, paying attention and remaining safe is better than being distracted and risking an accident. There is also a chance that you will get caught for distracted driving by the authorities, and that's a P5,000 fine.
Even if traffic is slow-moving, don't forget that you're still in a car. Don't use your phone while driving to text or browse social media. Make sure that you're paying attention to the road and make sure that you don't get into an accident. Fines are hefty and car insurance participation fees add to the hassle.
Vehicles with Apple CarPlay and Android Auto help you keep your eyes on the road. If you do need to interact with your phone, you can do it through voice commands.
Find alternate routes
You don't have to take the major highways and thoroughfares to get to your destination. There are plenty of small roads that can serve as alternative routes. It's all a matter of using them. Stay away from the worst of the traffic, and go with good traffic flow. You can use the previous tip to get a feel for where you're going.
Blast your favorite music or listen to talk shows
Traffic may drain the life force out of your soul, but that doesn't mean you can't put a bit of soul back into your long and dragging stint while stopping and going. Create a feel-good or traffic playlist on Spotify or your phone's local storage. Either that or tune in to your favorite radio station or podcast to pass the time spent crawling.
Gas up all the way
Not only does it save fuel, but it saves time as well. Gas up before your trip starts so you don't have to go hunting for a station when your low fuel warning goes off in the middle of rush hour. Don't pile on the stress of traffic with the stress of running out of fuel. That's not a great way to start or end your day.
On top of that, you also save yourself having to detour or take a trip to the station. By fueling up a full tank all the time, you get the most out of every fuel station trip, and you also save time between now and the next time that you have to fuel up.
Load up before you go
With recent developments in infrastructure like the Metro Manila Skyway, NAIA X, and more highways, it's now imperative that you keep your RFID loaded up constantly just in case you need to take a quick trip or need to take a detour away from traffic. You never know where Waze or your favorite navigation app will take you, so keep those cards and tags locked and loaded. You don't want to be that guy with insufficient balance, so best to keep the line at the toll booth flowing and going.
Make sure your car is maintained
While it may not seem like it, traffic is actually pretty damaging to your car's engine, and idling for long periods of time without any airflow is a sure-fire way to get an overheated motor. Make sure that your car's engine oil, cooling system, and all of its other parts are working and well maintained for the road ahead. Neglect will leave you stranded on the side of the road or worse, in the middle of traffic. Crawling through traffic is better than pushing your car to the side of the road.
Another thing to take note of is your air conditioning system. Make sure that this is also well maintained otherwise it's going to be a sweaty ride. Take into account that you will be stuck in your car with no airflow for minutes to hours at a time, so it pays to have a working air conditioning system to keep your head cool in more ways than one. It also helps your mood if the car's interior is nice and cool so make sure that this part is also sorted.
Latest Features
Battery banks that can jump-start your car. Here are the top five best we've seen available online.

We list down the most fuel-efficient sedans for city drives in the Philippines, ranging from small to mid-size models.

When it comes to all-electric crossovers, BYD knows their stuff. They know what it takes to make electric great.
View More Articles