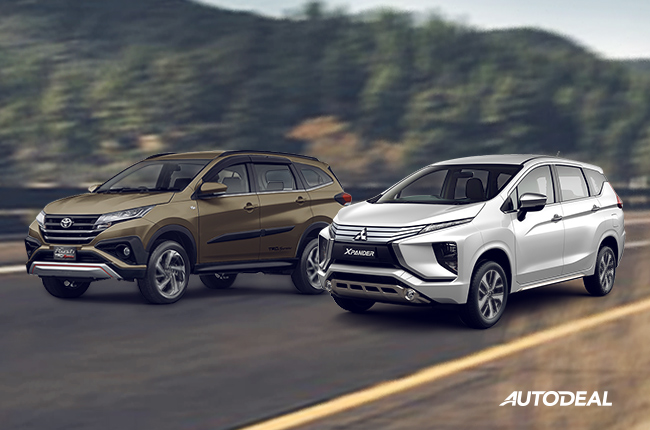 Finally, Toyota Motor Philippines (TMP) confirmed that they will bring the much-awaited Rush - a multi-purpose vehicle (MPV) whose sights are locked on Filipino car-buyers who are craving for a good-looking family car. As to when exactly, well, that's still in the limbo.
However, that confirmation from TMP doubles as a warning; a signal that there will be an impending war between SUV-looking MPVs. With Mitsubishi Motors Philippines Corporation (MMPC) opening its reservation lanes for the upcoming Xpander, it's a definite deathmatch between the two models.
Even with just the photos, you know that the Rush and the Xpander are a match made in heaven. That's actually true, in so many ways. Like, how these two cars resemble their respective midsize SUV brothers, the Montero Sport and Fortuner. However, let's see which has exact advantages when it comes to the numbers on their specsheet.
Disclaimer: Both MMPC and TMP are yet to release definite spec sheets of their contenders as of this writing. So, we took the Indonesian specs of the range-topper of the Xpander and Rush — the GLS Sport AT and TRD Sportivo AT, respectively.
With these numbers, it looks like the Xpander has a slight advantage when it comes to overall size. Also, it's interesting to point out that Mitsubishi's contender has a longer wheelbase, which says something about its cabin space.
Although, the Rush has a higher ground clearance than the Xpander. Does this make Toyota's entry more usable on flood-prone Philippine roads?
Another interesting thing to point out is that the Rush has a multi-link suspension at the rear, as opposed to the Xpander's torsion beam. Will this mean a relatively better ride comfort for the Rush? Lastly, the Rush has a rear-wheel drive layout, which can mean less understeer...and the capability to drift?
At the end of the day, it all boils down to the actual cars that will reach the Philippine soil. Each car's cabin features, materials used, and other technologies that are present inside the local units can still be different.
So, if you're among those who are eyeing these vehicles, we strongly suggest to wait for both cars to arrive here first. Schedule a test drive and feel the car. Trust us, you don't want to turn that big purchase into an even bigger mistake.
Latest Features
Here's how you can keep yourself safe from scammers ruining your buying experience.

Gain some knowledge about what could be wrong when your engine decides to quit.

We searched the internet for child car seats available in the Philippines so you won't have to.