When it comes to subcompact sedans in the Philippines two nameplates come to mind as the more popular options. The Honda City and the Toyota Vios have been battling it out in the segment to see which one will come out on top. While the Toyota offering has been winning in terms of sales it's Honda counterpart has been a go-to choice for those who want a little more tech and more power for their vehicle. With Toyota Motor Philippines recently updating the Toyota Vios to come with a new face and more features we put them in a head to head to see which subcompact sedan will be the better value for money purchase in terms of specifications.
Exterior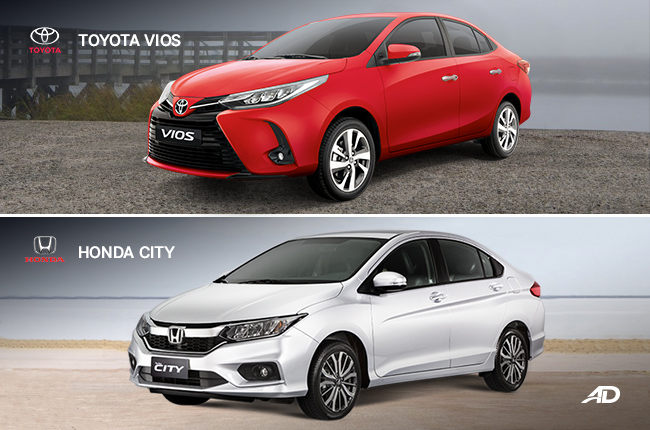 Both the Honda City and the Toyota Vios take different approaches to design. The City gives off a sophisticated look that fits well with its brand's current design language. The Vios, on the other hand, comes with a more aggressive look and sharper headlights. While the Honda offering goes with more cuts and creases its Toyota counterpart goes for more fluid and curvy sculpting.
As styling can be subjective, we took a look at the spec sheet to see which vehicle has the better kit in terms of lighting and other exterior features. Both vehicles now come with LED lighting elements for their top trim-levels giving them a near equal playing field when it comes to lighting. However, the Vios comes with an advantage in the form of a 3-tier LED system giving it an advantage over its Honda competitor. For this category, we will give it to the Vios thanks to its new and improved LED lighting system.
Winner: Toyota Vios
Interior and tech
When it comes to the inside of both vehicles there is a huge difference between the Vios and City especially when it comes to seating material. The Honda City 1.5 VX+ NAVI CVT comes with the option of having leather seats while the Toyota Vios 1.5 G does not. While leather seats are easier to clean, under a hot sun fabric seats have the advantage. The differences do not stop there as the Vios comes with a minimalist set of climate controls for the higher tier units while the Honda City comes with touch panel controls. This gives the Honda City a more high-tech feel compared to its Toyota competitor.
In terms of technology, the Toyota Vios now comes with a smartphone mirroring capable head unit through Weblink and it also comes with a backup camera. The Honda City, on the other hand, still has its 7-inch touchscreen display that also comes Navigation ready. For the addition of smartphone mirroring we will give this category to the Toyota Vios as it has stepped up in terms of features compared to its predecessor.
Winner: Toyota Vios
Safety
In terms of safety, both the Honda City and the Toyota Vios are both pretty evenly matched. The Vios brings with it 3 and 7 airbag options depending on its variants along with stability control, ABS with EBD, and hill start assist. The Honda City, on the other hand, comes with 2 airbags for its lower trim-levels and 6 for its range-topping model. Like it's Toyota counterpart the City also comes with ABS with EBD, stability control, and hill start assist. It is important to note that while both vehicles do come with 5-star ASEAN NCAP safety ratings the Vios has a better score in terms of child occupant safety.
For having one extra airbag over its competitor and for having a better ASEAN NCAP safety rating we will give this category to the Vios.
Winner: Toyota Vios
Power
Both of these subcompact sedans come powered by 1.5-liter naturally aspirated gasoline motors. However, Honda has a more powerful power plant as its engine pushes out 120hp and 145 Nm of torque, which can be had with either a 5-speed manual or a CVT. The Toyota Vios, however, despite having the space displacement as its Honda counterpart pushes out 105hp and 140 Nm of torque. Like its rival, it can also be had with either a 5-speed manual and a CVT. If you opt for the 1.3-liter variant of the Vios the power difference grows as the much smaller motor only pushes out 98hp and 123 Nm of torque.
For this category, we will give it to the Honda City as it overpowers the Vios by 14hp and 5 Nm of torque on paper. Despite being the older model it still has more power compared to its more modern rival. It is also important to note that all Honda City models come with the 1.5-liter engine as standard giving the entire range access to 120hp.
Winner: Honda City
Price
In terms of pricing, the Toyota Vios comes out with a strong advantage over the Honda City. Not only does it come with more variants for customers to choose from it also comes with a more affordable price tag. The entry-level Vios J MT can be had for P697,000 while the entry-level Honda City S CVT comes priced at P820,000. That presents a difference of P120,000 between both entry-level models. Comparing the top of the line models, things are reversed: the Honda City VX+ NAVI CVT comes priced at P1,068,000 while the Toyota Vios G comes priced at P1,071,000. That represents a price difference of P3,000 between both top of the line models.
For this category, we will have to give it to the Toyota Vios as its lineup has more offerings at more affordable prices to meet the needs of those who want to get a subcompact sedan.
Winner: Toyota Vios
Verdict
With Toyota's recent update to the Vios lineup, the subcompact sedan has gotten more competitive than ever. With the recent facelift and additions of new features such as an eco and sport mode to the Vios along with paddle shifters, the Toyota sedan has become a great value proposition. The Toyota subcompact sedan also comes with a wider array of variants to choose from that come with competitive and affordable pricing. With that in mind, we will give the overall win to the Toyota Vios.
However, it is important to note that there is a new Honda City on the horizon which could give the refreshed Toyota Vios a run for its money. With that in mind, we will be revisiting this match up again once Honda Philippines launches the new model locally.
Get the best deal - Choose multiple dealerships to compare offers!
You can compare quotations simultaneously from multiple Honda dealerships. Select your preferred dealers from the list below.

Compare quotations from multiple dealerships in minutes.
Check vehicle and color availability.
Find info on special offers and promotions.
100% Hassle-free with no obligation to purchase.
Latest Features
Here are the ins and outs of the LTO's car modification law. We simplify and explain what can and can't be done.

Volkswagen Philippines took us on a quick media drive to Tagaytay to experience the T-Cross as both a lifestyle vehicle and a road trip vehicle.

The following vehicles will surely get you through floods without a sweat.
View More Articles