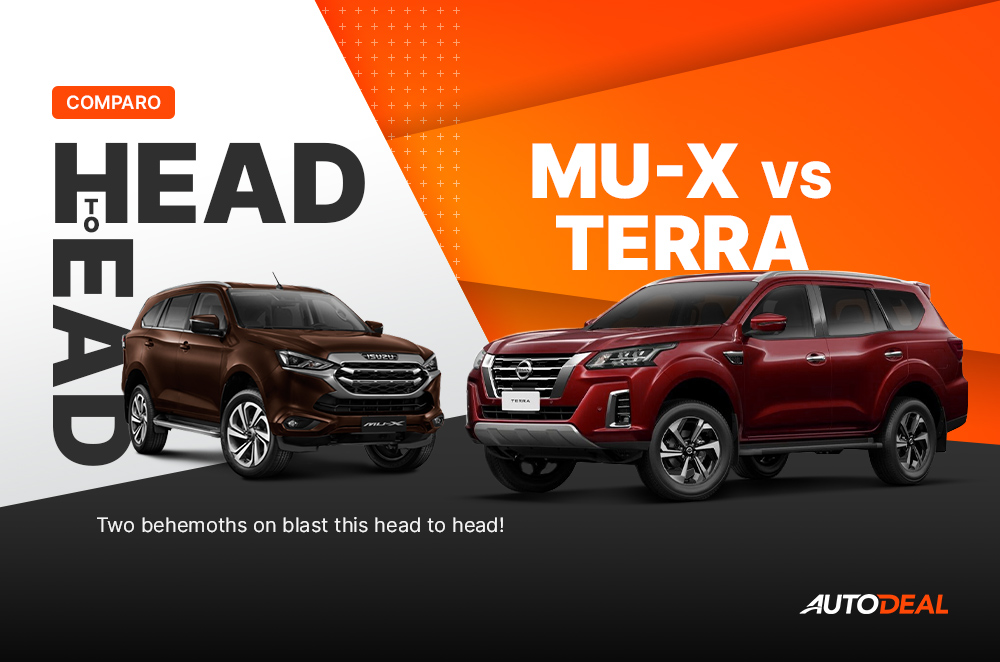 If there was a most improved award, these two titans will definitely be in the running, but who will be runner up? In our eyes, the prior Nissan Terra needed an interior update to get better. Isuzu, on the other hand, needed a full makeover for it to really compete in the modern midsize SUV arena.
Now that both models are fully updated and all-new, we have no more complaints. Which company, however, trumped the other? Does Nissan's Terra with its updates make for a more compelling buy compared to the overhauled Isuzu mu-X? Well, let's find out in a head-to-head bout. For this battle, we will be comparing the two top-of-the-line offerings of both Isuzu and Nissan. That means we'll be seeing the best of what the two brands have to offer for this generation of the mu-X and Terra.
Exterior
There is no doubt that the mu-X was the ugly duckling turned beautiful swan. We're not imposing that the SUV looks like a swan in the slightest, but we do mean to say that Isuzu has done its work in turning the once rugged SUV into an elegant vehicle.
The same can be said for Nissan, but to a lesser extent as the difference felt more incremental than a total 180-degree change. Still, it's a remarkable difference compared to the more masculine design that the old Terra had. Now, it's in line with elegance.
Even down to the headlights and taillights, you'll see LEDs with DRLs and fog lamps. Being both similarly-equipped, it's a battle of preference in this section. Both vehicles are functionally and aesthetically pleasing, and we're also divided as to which is better. Even with regard to dimensions, it was pretty dead-even. The Terra is longer, but the mu-X is wider, the Terra is also taller, but the mu-X has a longer wheelbase. Overall, the Terra is slightly bigger than the mu-X, but not by much. So with all that being said, the design is the deciding factor here, and that's subjective enough as it is so we'll end this in a tie.
TIE
Interior and technology
This is where the fun begins. Just which makeover did better? It's like watching reality TV, with two teams working to get an ugly ducking up to supermodel status. Anyway, Isuzu's mu-X got a radically new interior design much like its pickup brother, the D-MAX. Both cars now come with leather on the dashboard, on the seats, and on the door cards that no longer feel like a discount couch at a cheap discount store. These are supple leather seats and you also get an amazing steering wheel that is uncharacteristic of Isuzu, being utilitarian and all.
On its techier side, the mu-X receives the same great infotainment system that the D-MAX got back when it was updated, and compared to the outgoing mu-X, this system is night and day. The screen is as vibrant as ever, and it comes with Apple CarPlay and Android Auto too. Then it gets a 7-inch screen in the gauge cluster flanked by two dials, and it also has up to 8 speakers that'll blast your favorite music with a decent amount of quality.
Can you believe, however, that that was just the beginning of this interior comparison? It only gets better from here because Nissan is now stepping up to the plate with their Terra's interior and tech features. If you thought that mu-X was snazzy, the Terra brings it to a whole new level with colored leather for select models, a 9-inch infotainment system with an 8-speaker Bose audio system, an 11-inch flip-down monitor for rear passengers, and also a revised gauge cluster that has a bigger screen down the middle, similar in size to the mu-X. Oh and on top of that, the mu-X gets a reverse camera, but Nissan also one-ups that with the around-view monitor.
All that and a more streamlined and less truck-like design for its dashboard. Yes, folks, the Terra is now a bonafide SUV. The prior model fell a bit short in many people's eyes because of its plain dashboard and interior design, but not nobody is complaining.
As for the winner, it's clear to see that Nissan did have a good base to start with, and Isuzu was able to wow us with just how much the mu-X changed. That deserves credit, but is it better compared to the Terra? No, sadly.
Winner: Nissan Terra
Safety
As for safety features, Isuzu displays a night and day difference between the new and outgoing models. Features in the past were few and far between for fans of the mu-X, but all that is changed now. From rock bottom straight to the top, the mu-X can now be considered one of the more outfitted models that you can buy when it comes to passive and active safety features. You get ABS, electronic brakeforce distribution, brake assist, brake override system, electronic stability control, traction control, hill-start assist, hill descent control, as well as 7 airbags, and Isuzu's suite of safety systems called the Advanced Driver Assist System (ADAS). As a package, ADAS comes with a blind-spot monitoring system, rear cross-traffic alert, rear parking sensors, a reverse camera, forward collision warning, autonomous emergency braking, turn to assist, pedal misapplication mitigation, adaptive cruise control, manual speed limiter, automatic high beam, and a multi-collision brake system.
Meanwhile, Nissan fires back with a better version over the Nissan Intelligent Mobility suite of features, which include: An around-view monitor, forward collision warning, intelligent emergency braking, lane departure warning, driver alertness, blind spotting warning, hill start, and hill descent control, a tire pressure monitoring system, up to 6 airbags, and ABS with EBD as standard.
It's clear to see that there is way more that goes into the suite of Isuzu. That's not to say that the Terra is an unsafe vehicle. We just mean to say that the Isuzu will more likely keep you out of an accident.
Winner: Isuzu mu-X
Power and Torque
So far, it's been a dead heat, and so too in this category. Both cars have 187 hp on tap and 450 Nm of torque to boot. Talk about even, man.
If we were to get into the nitty-gritty, however, we can see that Isuzu makes its peak torque about 400 RPM quicker than the Terra. In practice, this doesn't amount to much, but it is a difference worth mentioning.
However, you do get one gear more in the Nissan Terra. Heck, even down to the fuel tank capacities, both cars are the same.
So who is the winner? Well, both are great to drive. Both are trading blows spec for spec, so it's yet another tie in this round.
TIE
Price
Here's where we're a little concerned about Isuzu. While you do get a better safety package, you do end up paying more for it. Between the two, Isuzu's most expensive variant stands at P2,450,000 while the Terra in its top-spec trim can be had for only P2,339,000.
Both SUVs are quite pricey, with the Isuzu coming just under the P2,500,000 mark. It's clear here that the Terra is more affordable, so we'll give it the win this time.
Winner: Nissan Terra
Verdict
Winner by a hair, the Nissan Terra just barely snatches away the win from the Isuzu, but barely. Really, it was that close. Every category we had to really think and scratch our heads here.
Don't let that take away from the mu-X, however. It's still plenty capable, and with Isuzu guts, it's definitely reliable with a lot of fancies caked on top. Just note that if safety is your priority and you do enjoy having a car that will be robust as all heck, then consider this.
If, however, you enjoy more tech features and a better interior, then just go with the Terra. You may not have as many safety features as the mu-X, but you're more affordable and you also get that kick-ass 360-degree camera that can make driving such a breeze. Either way, you can't go wrong with both. Really, you can't with competition this close.
Latest Features
With a powerful 3.0-liter diesel under its hood, it could be advantageous for the Ford F-150 nameplate in the Philippine automotive market.

Filling up with a full tank of gas all the time can be expensive, so is a partial tank the answer? Let's explain.

Filipinos love the Alphard, but why not give the Kia Carnival a shot?
View More Articles