The Land Transportation Office's (LTO) move to extend the validity of driver's licenses from a measly three years to now five was a bliss to us motorists. Why? Aside from decreasing the number of times we need to go to LTO to renew our licenses, it will also lessen the amount we spend each time we do.
However, we've heard horror stories about the waiting time when people renew to the new 5-year driver's license cards. Good thing, this author's license was up for renewal; it's time we check how long does it really take.
Disclaimer: The processing time for each renewal centers may vary depending on the centers' capacity and density of people. We chose to renew at an LTO Driver's License Renewal Center (satellite office) in Bulacan as we were told that it's much quicker in this office.
Also, these satellite offices only accept licenses that are up for renewal (correct schedule) and those that have been expired for not more than two years.
7:40 a.m. Arrival at the LTO Driver's License renewal center, 20 minutes before opening.
I was given a slip with a number on it and joined the queue. I got #29, which is quite surprising considering the time I arrived. Nevertheless, my timing was just okay as we were told that only the first 50 applicants will be given the chance to renew and get their 5-year driver's license card that day.
While waiting for the office to open, an usher went outside and gave reminders/instructions to the people in queue. He also informed us that only one printer was working for this satellite office, and it would take 10-15 minutes for this machine to print the new 5-year driver's license card. Talk about setting expectations.
7:52 a.m. They let people in.
I submitted my slip and old driver's license card at the medical examination counter. After that, I waited for my name to be called.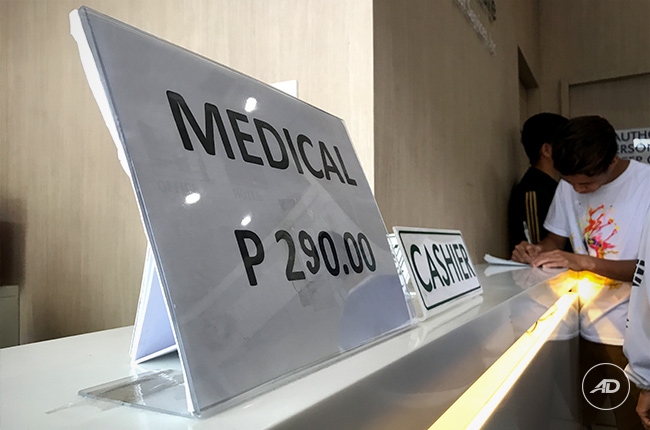 8:53 a.m. Medical examination (P290)
My name was called for medical examination, which costs P290. After paying, I was asked to fall in line. The assessment was more of checking your vision, and took only 17 minutes, including the queue.
After that, I submitted my form to Window 3 and waited for my name to be called, again.
9:17 a.m. Picture and Signature
This was a quick one. My photo was taken and was asked to sign on a digital pad. These data will reflect on the receipt.
Important: Don't smile. LTO's camera has a sensor that detects smiling so refrain from doing so as it will delay the process.
9:24 a.m. Payment (P652.63)
The 5-year driver's license renewal fee was P652.63, which includes a P67.63 computer fee. My fee didn't have penalties since I renewed mine ahead of its expiration. It's a different story if your license has already expired even for a day. After that, another waiting game. The cashier told me that I would have to wait another hour or so for the second set of photo, signature, and biometrics for the driver's license card. Oh well, towel.
10:43 a.m. Biometrics
After the second set of photo and signature, my fingerprints for both hands were taken for file. I was then asked to go inside the counter to review if the information encoded were correct before they print the license card.
10:56 a.m. Releasing
Finally, I get to hold my new driver's license card that's valid for five years. Good times.
A total of 3 hours, 16 minutes, and P942.63 for a driver's license. Not bad, really, considering that you will only have to do this every five years, moving forward.
Just a tip, allot time for your driver's license renewal, come early, and set your expectations. You will spend a good amount of time in the center, so might as well bring a lot of patience and some snacks, too.
Latest Features
Manufacturers are leaving the conventional dials in favor of TFT clusters in pursuit of innovation and clean designs.

The Ford Bronco is the perfect blend of style and capability for the Philippines that warrants its entry locally.

The Ranger Raptor is the best it's ever been, so here's what makes the 2023 model so special.
View More Articles