Philippine roads are subject to speed limits, but unfortunately, not everyone is aware of them and road signs aren't always available as a reminder. That's why we made this article as a guide when you're not sure how fast can you go on an unmarked street.
Of note, the information stated in this article are based on the Republic Act No. 4136, also known as the Land Transportation and Traffic Code, and Department of Transportation's Toll Regulatory Board. This means, violating these are against the law. Even if you're not apprehended immediately, just remember that we have a No-Contact Apprehension Policy (NCAP) in place, which can be checked via MyHuliBa.com.
Take note that these speed limits are implemented depending on the type of the road you're on. Moreover, the maximum speed of light vehicles (passenger cars and motorcycles) are higher than that of the heavy ones (trucks and buses) because the latter have longer braking distances due to their weight. Therefore, minimizing their speed will also mean shortening the braking distance.
Expressways
Expressways or highways are defined as open roads that don't have blind corners, intersections, and are not close to populated areas. In Luzon, we have 7 roads that are under this category – Cavitex, North Luzon Expressway (NLEX), Skyway, South Luzon Expressway (SLEX), STAR Tollway, Subic-Clark-Tarlac Expressway (SCTEX), and Tarlac-Pangasinan-La Union Expressway (TPLEX).
These expressways share the maximum speed limit of 100 km/h for passenger cars (with 2 axles and not more than 7-ft high) and big motorcycles (at least 400 cc), while commercial trucks and buses (more than 2 axles or higher than 7 feet) can only go up to 80 km/h. SCTEX and TPLEX, however, have a maximum speed limit of 100 km/h for both light and heavy vehicles. Those that fall under this road classification outside Luzon should also follow the same rule.
Since these are considered as speedways, vehicles aren't allowed to be slow as well. Minimum speed on all these roads is 60 km/h.
Boulevards and Avenues
Boulevards or avenues are national or major roads that have intersections, but must have no blind corners. A good example is EDSA, which we doubt you could go over the limit due to heavy traffic. Other roads in this category are Taft Avenue, Roxas Boulevard, C5, Quezon Avenue, Espana Boulevard, among others.
The restriction for these roads is up to 40 km/h only for light vehicles, while trucks and buses should only run up to 30 km/h.
City and municipal streets
Even without the presence of any vehicle, the streets within the town and the city are not meant for you to speed up. Hazards on these roads can be high due to unexpected crossing vehicles and pedestrians. Moreover, these streets are narrower than expressways and boulevards, which means you have less time to react if a human being suddenly enters your lane.
The designated speed limit on city and municipal streets is 30 km/h for all types of vehicles. Although, we highly doubt you could go over that when a slow tricycle is in front of you.
Crowded streets
Crowded streets and alleys are even narrower (single 2-way lane) than municipal and city types, therefore, you must be extra careful when traversing them. These streets usually lack sidewalks, which means that the vehicles are closer to pedestrians. Unless you're on Grand Theft Auto, you wouldn't want to run over people, would you?
You can only run up to 20 km/h on these streets for both light and heavy vehicles. We also highly suggest to be alert and be ready to engage your brakes anytime due to high risk of pedestrians carelessly crossing the street.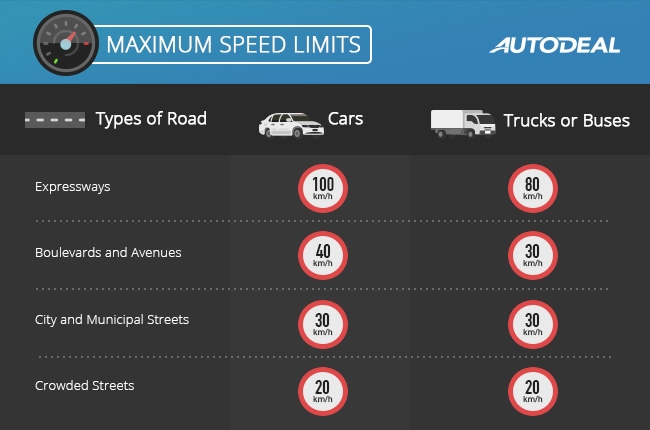 These numbers are not made to annoy you nor pacify your thirst for speed. It's for your own safety and for everyone else's as well, so it's important that we follow them religiously. If you want to test how fast your car can go, visit the nearest race track or get your own private road where you can't harm anyone.
Latest Features
Priced right, engineered to be driven, and polished premium, the Mazda3 makes for a great daily driver for enthusiasts.

Cars come with the latest and greatest tech now with adaptive, automatic, and advanced systems, but is it worth it?

We created a quick list of cars you can buy today that will give you the most amount of horsepower for the lowest price.
View More Articles