If you drive often, especially at night, chances are you will encounter a police checkpoint. While these are often for motorcycles, they can also be for passenger vehicles. This is often done if there was a crime that has been committed or if a certain area is in need of security detail. Don't be alarmed as checkpoints are set up for your safety and the safety of others around you. With that said, here are a few things you should and should not do while at a checkpoint.
What is a checkpoint and what does it look like
Before we get into the specifics let's tackle a few basic terms. According to the definition of the PNP, a checkpoint is "a place where the military or police check vehicular or pedestrian traffic in order to enforce circulation control measures and other laws, orders, and regulations which involves only a brief detention of travelers during which the vehicle's occupants are required to answer a brief question or two."
There are two possible kinds of checkpoints that you may encounter while on the road. The first is a regular checkpoint which is well lit with signage all over the place and with barriers set up in order to properly facilitate traffic through. Think of it like a toll booth on a highway. The second is a hastily-setup checkpoint. This is set up to block the escape of lawless elements from a crime scene and is also established when nearby checkpoints are ignored or during hot pursuit operations. It is set up by the police personnel conducting mobile patrol on board a marked police vehicle, or those conducting ISO and foot patrol operations within the vicinity/periphery of the national or provincial highways.
This will typically consist of a team leader, spotter, spokesperson, investigation sub-team, search/ arresting sub-team, security sub-team, and blocking/pursuing sub-team. This kind of checkpoint will also come with A collapsible signage with markings: "Stop, Police Checkpoint", indicating also the name of the concerned police office/unit conducting the operations.
What should you do at a checkpoint?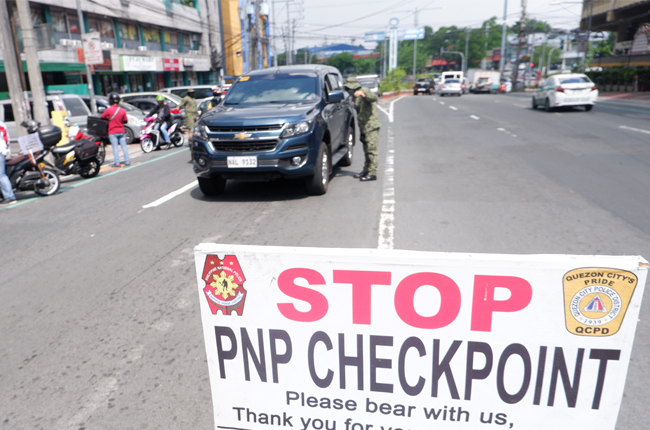 First things first, you will need to remain calm and collected, the police are only there to inspect your vehicle and not to cause you harm. Make sure that once you approach the checkpoint, you slow down, dim your headlights, and turn on your cabin lights. Do not step out of the vehicle or show signs of aggression towards the officer. Next, make sure that you lock all of your doors as only a visual inspection is allowed.
Make sure that your driver's license and registration are at the ready, the Police may want to inspect these documents in case they are looking for a stolen vehicle. The police may take pictures of your license for recording, however, you can choose not to let them do that. As a final thought make sure that you assert your rights and not panic. It's best to always have your phone at the ready in case you have to video or record anything suspicious at the checkpoint or to call any emergency numbers. Keep in mind that they will ask you ordinary/routine questions, but be courteous with your replies.
What shouldn't you do at a checkpoint?
As previously stated, a checkpoint is only for a visual inspection, the police cannot ask you to step out of your vehicle or to inspect it without your permission. With that in mind, do not submit to a physical or body search. Do not open the glove compartment, trunk, or any of your bags. Again the checkpoint is just a visual inspection.
What to do if you get flagged down?
If you do end up getting flagged down it is best to get the officer's name and badge number if possible. This will come in handy later on if you wish to file a report. You should also get the plate number of their vehicle and their assigned precinct.
If you've been slapped with a violation or ticket that you think is wrong or unfair, don't try to argue out of it. Instead, take the information you've collected and file a dispute with the proper officials. Doing this will give you a better chance of having the violation reversed or nullified. If you are proven to be correct then the officers at the checkpoint will be held accountable.
Latest Features
Hyundai Stargazer is the brand's entry into the MPV segment, but does it have what it takes to stake a claim in the highly competitive market?

Want to insure your Lexus vehicle? Here are estimates for the yearly rates that you can expect.

The vehicles on this list are true SUVs in every sense of the word, and are at the top of their respective categories.
View More Articles