The Isuzu D-MAX has long been known as one of the most trusted nameplates in its segment. Aside from its tried and tested Blue Power engines, the midsize pickup also carries a robust DNA that does not only deliver esteemed capability, but also presents that proven reliability Isuzu is known for.
The third-generation model has finally landed on Philippine soil, with a total of nine variants to choose from. Now, that might seem confusing for many, that's why we've laid out a seamless variant comparison for you to easily pick the perfect D-MAX. With that said, let's go through each of its trims, shall we?
A reliable business partner
The variant range of the all-new Isuzu D-MAX starts with the RZ4E 4x2 Single Cab MT, which actually serves as the most basic offering in its lineup. This particular variant usually caters to the fleet requirements of businesses. Out of all its variants, only the D-MAX RZ4E 4x2 Single Cab MT has a two-door setup, while the rest gets four-doors. Plus, this one also comes with a lower 195 mm ground clearance.
Its exterior gets multi-reflector halogen headlamps, 15-inch steel wheels, and black details on the bumper, side-mirrors, and door handles. Inside, it gets convenience features including cloth seats, a single-DIN radio partnered with a two-speaker sound system and a dial-type manual climate control.
Under the hood is the small yet mighty 1.9-liter RZ4E turbo-diesel engine, capable of producing a humble 148 hp and 350 Nm of torque. The said motor can only be paired with a 6-speed manual transmission. Of course, Isuzu didn't forget its safety features, as the D-MAX RZ4E 4x2 Single Cab MT comes with dual-front airbags and a brake override system as standard.
This entry-level variant retails at only P857,000. At such an affordable price, Isuzu is already giving you a reliable partner for your business.
Been wanting the larger Blue Power mill at an affordable price?
Next up, is the LT series of the Isuzu D-MAX. Unlike the entry-level Single Cab MT, stepping up to the LT range of variants give buyers the flexibility to opt for the mightier 3.0-liter Blue Power turbo-diesel engine, producing a healthier 187 hp and 450 Nm of torque. Likewise, others can still opt for the smaller 1.9-liter RZ4E turbo-diesel engine that puts out identical figures from the previous variant. A 4x4 drivetrain is also available, however, LT trims can only be had with a 6-speed manual gearbox.
On the outside, both the RZ4E 4x2 LT MT and 3.0 4x4 LT MT still get that basic look which is somewhat reminiscent of the entry-level Single Cab variant. However, both variants now get four doors along with a cargo bed. Only the 4x4 option, though, has the higher 235 mm ground clearance, while the 4x2 option retains the 195 mm ground clearance from the entry-level trim. Also, the LT 4x4 gets larger 17-inch steel wheels while the LT 4x2 still comes with a smaller set of 15-inch steels. Lastly, the following black details applied on the bumper, side mirrors, and door handles were retained as well.
Both trims still get the same standard cloth seats and the dial-type manual climate control. The single-DIN radio, on the other hand, gets an upgraded two-speaker system with a provision harness at the rear. Safety and security features still include dual-front airbags and a brake override system. Additionally, these two variants now come with Anti-lock Braking System (ABS) and Electronic Brakeforce Distribution (EBD).
Respectively, the LT 4x4 retails at P1,288,000 while the LT 4x2 is priced lower at P987,000. The LT series does give you the flexibility to opt for the larger 3.0-liter Bluepower mill along with the inclusion of a 4x4 drivetrain.
Your gateway to an automatic gearbox
Like the previous set of variants, the D-MAX LS range also gives you the two powertrain and drivetrain options. The biggest difference, though, is that the 1.9-liter RZ4E powertrain can now be paired with a 6-speed automatic transmission.
This is perhaps where you're going to see some major exterior enhancements. The RZ4E 4x2 LS MT, RZ4E 4x2 LS AT, and 3.0 4x2 LS MT feature black details which are then replaced with body-colored accents. Aside from this, the steel wheels were also replaced with 17-inch rims that are wrapped in 255/65 tires. Lastly, power-adjustable side mirrors with blinkers, halogen fog lamps, and a cargo bed are also other welcome features on the LS variant range.
The 3.0 4x4 LS MT, on the other hand, sits below the range-topping LS-E trim. Instead of body-colored accents, this particular variant gets chrome accents. Aside from the larger 18-inch alloys wrapped in 265/60 tires, the 3.0 4x4 LS MT also comes with an upgraded front lighting system, specifically Bi-LED projector units and a pair of LED fog lamps. The taillights are also treated with LEDs, plus, it also comes with rear fog lights for added safety. Lastly, the side mirrors now feature a power-folding function along with blinkers.
Notably, the 10.1-inch touchscreen display is standard on all LS variants. Like most modern cars nowadays, the infotainment system comes ready with Apple CarPlay and Android Auto for seamless phone integration. Sound is then released through a 6-speaker audio system. Only the all LS trims also benefit from black fabric seats and steering wheel-mounted audio, phone, and voice command controls. However, only the 3.0 4x4 LS MT gets a push-start button and leather steering wheel while the rest of the LS range gets a conventional key and a urethane-wrapped steering wheel. All of its cabins are cooled by a dual-zone manual climate control.
The following variants also get the aforementioned safety features from the LT range. Additions include electronic stability control, traction control system, hill-start assist, hill-descent control, keyless entry, immobilizer, a reversing camera with rear parking sensors, and many more. The 3.0 4x2 LS MT and the 3.0 4x4 LS MT, on the other hand, get exclusive features including a blindspot monitoring system and rear cross traffic alert.
Now, in terms of pricing, the RZ4E 4x2 LS MT is priced at P1,219,000, while RZ4E 4x2 LS AT retails at P1,309,000. As for the 3.0 4x2 LS MT, pricing is at P1,320,000, and lastly, the 3.0 4x4 LS MT is tagged at P1,630,000. This is by far the most extensive variant range of the all-new Isuzu D-MAX. Perhaps, if you're considering this pickup with an automatic transmission, then this is your starting point.
The ultimate makeover
While several features of the 3.0 4x2 LS-A AT appear to be similar with the LS 4x2 MT, its exterior, however, seems to be radically enhanced. Therefore, this makes its overall look reminiscent of the range-topping LS-E variant. Yet again, it still gets the same 3.0-liter Bluepower mill that produces the same figures.
On the outside, there's an abundance of gun metallic details applied throughout the midsize pickup, specifically on the side mirrors, door handles, on its 18-inch wheels, and even on the front bumper and fenders. It is almost as identical as the D-MAX LS-E, except that the front headlights and fog lamps are only treated with halogen units.
In terms of hierarchy, the Isuzu D-MAX 3.0 4x2 LS-A AT sits below the 3.0 4x4 LS MT. Aside from its desirable aesthetics, this particular trim shall also cater to those buyers who have been wanting the 3.0-liter Blue Power turbo-diesel engine paired with a 6-speed automatic without the inclusion of a 4x4 drivetrain.It's nicely packaged for a P1,390,000 pickup, not to mention you still get the glorious 10.1-inch infotainment system and other notable safety features such as blindspot monitoring system and rear cross traffic alert.
Literally into new heights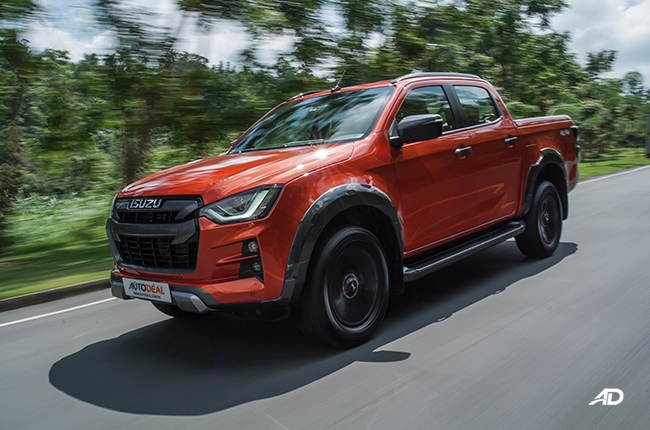 Now, up to the pinnacle of its variant range. The Isuzu D-MAX 3.0 4x4 LS-E AT goes beyond the looks of the LS-A trim. Aside from the addition of a 4x4 drivetrain, this range-topper also benefits from additional features.
Inside, the cabin has definitely stepped up compared with other variants, all thanks to the black and brown theme. Notably, this is the only trim that gets leather seats and a dual-zone automatic climate control. Aside from that, a remote engine start is also an exclusive feature on the LS-E.
One of the main highlights of this trim is its suite of advanced driver-assist features which comprises forward-collision warning, adaptive cruise control, lane departure warning, rear cross traffic alert, automatic high beam, and many more.
Come to think of it, the following additions justify its P1,825,000 price tag. Aside from its boost in terms of capability, drivers will also feel safer and more confident all thanks to its advanced driver-assist features.
Verdict
Like most variant comparisons we often insist that your choice leans towards your personal preference and needs. With that said, the extensive Isuzu D-MAX range does have its own market to cater, from business owners, to families, and even adventurous individuals. It really is just a matter of personal choice. However, out of all the nine trims, the range-topping LS-E 4x4 is indeed a certified standout in terms of looks, capability, and features. At just under P2-million pesos, buyers already get an extensive range of equipment, from convenience to safety features. Not to mention, many buyers will continue to consider the D-MAX on top of their list, all thanks to Isuzu's strong approach to reliability.
Get the best deal - Choose multiple dealerships to compare offers!
You can compare quotations simultaneously from multiple Isuzu dealerships. Select your preferred dealers from the list below.

Compare quotations from multiple dealerships in minutes.
Check vehicle and color availability.
Find info on special offers and promotions.
100% Hassle-free with no obligation to purchase.
Latest Features
There are ways to help your passengers have an extra layer of protection in the event of a crash, this all depends on your policy and what it can do to help them.

How will the new Changan fare against the veteran Ford Territory? Pretty well. Find out why in this head to head.

Get an extra bit of protection for your expensive BMW. Make sure your car's got comprehensive insurance.
View More Articles